A Translation of Mark Chapter 1
April 5, 2016, 1:41 pm
Randal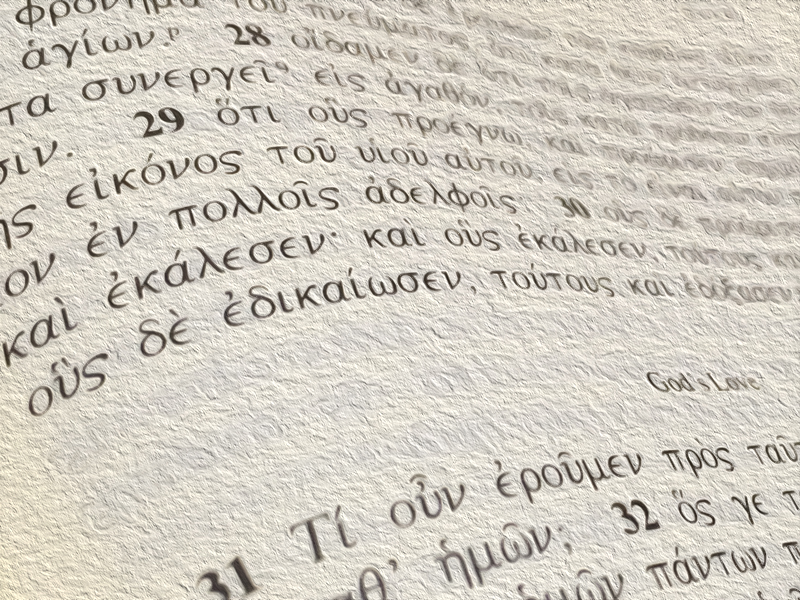 The Lord is continuing to show his people many things. Of course, you wouldn't know that if you've been checking what I've been writing lately. I've actually got quite a few things I could write about (How Israel's enemies are over-reaching, and a Red Sea event is approaching, how the Lord is building his Body into an ethnically diverse community where everyone in it has the best job in the world, how lines of demarcation are coming in the Church that will change our perceptions of Christianity, and how the Lord is about to answer the cry, "Lord, help me learn to love," among other things—and that's all fairly recent). But I haven't been publishing a lot lately because it feels like God's people are a bit distracted, and even a bit angry and impatient with each other over political choices (we should probably read 1 Corinthians 1:10-13 over and over so that we continue to be patient and love one another even though we may prefer different political candidates).
However, I know that one thing that draws us together is a love for the Word. Back in November, I posted a translation of Romans 8 that I had done, explained a bit about my credentials, and why I did that translation (You can read that post HERE). It was only one chapter, but it was well received.
At about that same time, I began teaching through the book of Mark, and decided that when I teach at our congregation, I will use my own translation of the scriptures I am teaching whenever time allows. I have especially focused my attention on the Sunday morning messages and the book of Mark. I actually started doing this with Mark chapter two, but went back and translated chapter one just to have the whole book translated by the time I finish.
Over the course of the next several weeks, I will be posting my translation of the book of Mark. We are currently in chapter six. So I will publish a chapter a week until I catch up with where we are, and then I will publish the chapters as I finish them.
As an added bonus, you can listen to the messages that I taught using my translation if you so desire. I remind those who attend our congregation every week that we are using my translation from the Greek language as we study Mark. However, I ask them to bring their favorite version of the Bible along so that they can compare the choices I have made in translation compared to their translations. Many times I will also mention why I made a choice that their favorite translations did not, and explain the reason and implications of the way I translated it.
For instance, did you know that in Mark 3:21, that when Jesus' family thought that he was "out of his mind," that the Greek word used can refer to an ecstatic religious experience? That certainly fits the context far better than the "out of his mind" translation. Thus, I translated that verse, "When his relatives heard about this, they set out to take control of him; for they said that he was overcome with religious ecstasy." That makes a huge difference in our understanding, don't you agree? Actually, the implications and the applications are completely different than the traditional translation. You might want to listen to my message on Mark 3: 21 to see why. You can listen to the audio HERE, or download the video HERE. You can find all my messages by going to NewDawn.org, our congregation's web page, and following the appropriate links to either audio or video copies of the messages. You can also stream the three most recent messages from the front page of our site.
Please feel free to ask any questions, especially about chapter one. I hadn't started doing this while I was teaching chapter one, so if you listen to the teachings from chapter one, I am not using my own translation yet. However, you can often hear reasons that I have chosen a particular translation direction just by listening to my teaching on that scripture. Enjoy the variety, and I trust the new translation will help with our understanding.
Mark 1:1-45
A Translation by Randal Cutter
1:1     The beginning of the Gospel of Jesus Christ, the Son of God.
1:2     Just as it is written in Isaiah the prophet: "Behold I am sending my messenger before you, who will prepare your journey.
1:3     "A voice calling in the desert, 'Prepare the way of the Lord. Make his highways straight.'"
1:4     John came baptizing in the desert, and preaching a baptism of repentance for the forgiveness of sins.
1:5     At that time, all the region of Judea, and all those in Jerusalem, went out to him. Confessing their sins, they were baptized by him in the Jordan River.
1:6     John was wearing camel hair with a leather belt around his waist, and he was eating locusts, and honey gathered from the fields.
1:7     While he was preaching, he explained, "One stronger than I am is coming after me. I am not even worthy to stoop down and loose the thong of his sandals."
1:8     "I baptize you with water, but he will baptize you in the Holy Spirit."
1:9     In those days events transpired so that Jesus came from Nazareth of Galilee, and was baptized by John in the Jordan.
1:10   As soon as he came up out of the water, he saw the heavens rent open and the Spirit descending on him like a dove.
1:11   Then a voice came from the heavens, "You are my beloved Son. I am well pleased by you."
1:12   Then the Spirit immediately compelled him to go out into the desert.
1:13   As a result, he was in the desert forty days being tested by Satan. He was with the wild animals, but the angels were attending to him.
1:14   Later, after John was arrested, Jesus came into Galilee preaching the good news about God
1:15   by reporting, "The time is complete, and the Kingdom of God has drawn near. Repent and believe the good news."
1:16   At another time, while he was going along beside the sea of Galilee, he saw Simon and his brother Andrew casting a net into the sea, for they were fishermen.
1:17   Then Jesus said to them, "Come after me, and I will make you into fishermen who catch men."
1:18   At once they dropped their nets and followed him.
1:19   After he went a little further, he saw James, the son of Zebedee, and his brother John mending their nets in their boat.
1:20   So he immediately called them. Then they left their father Zebedee in the boat with the hired workers, and followed after him.
1:21   They went into Capernaum, and on the next Sabbath, Jesus went into the synagogue and was teaching there.
1:22   Those in attendance were overwhelmed by his teaching, for he was teaching them as one who had authority, and not like the scribal scholars.
1:23   Right at that time, a man who was in their synagogue and had an unclean spirit shouted out
1:24   demanding, "Why are you bothering us, Jesus of Nazareth? Have you come to destroy us? I know who you are, the Holy One of God."
1:25   So Jesus rebuked him and said, "Be silent and come out of him!"
1:26   After it convulsed the man, and cried out with a great cry, the unclean spirit left him.
1:27   Everyone was so astonished that they questioned each other asking, "What is this? It is a new teaching demonstrated with authority. He even commands the unclean spirits, and they obey him."
1:28   Consequently, the report about him quickly went out everywhere into the entire region of Galilee.
1:29   When they came out of the synagogue, they went directly to the house of Simon and Andrew. James and John accompanied them.
1:30   But Simon's mother-in-law was lying down with a fever, so they spoke to Jesus about her as soon as he arrived.
1:31   Then he went to her. He took her by the hand and raised her to her feet. At that moment, the fever left her and she was able to begin serving them.
1:32   Then when evening came, when the sun had set and the Sabbath ended, they brought to him everyone who had any type of illness, and those troubled with demons.
1:33   So the whole city was gathered at the door.
1:34   At that time, Jesus healed many who had various severe diseases. He also sent many demons away, but he did not permit the demons to speak because they knew him.
1:35   He rose early the next morning while it was still dark, and went out of the house. Then he traveled to a desert place where he spent time praying.
1:36   Then Peter and those with him searched for him.
1:37   When they found him, they told him, "Everyone is seeking you."
1:38   But Jesus said to them, "Let us go to other cities that have a market places, in order that I also might preach there. I have come for this very purpose."
1:39   So he went into all of Galilee preaching in their synagogues and compelling demons to flee.
1:40   Then a leper came to him. He pleaded with him on his knees and said, "If you are willing, you are able to heal me."
1:41   Jesus was filled with compassion, so he extended his hand and touched him. Then he said to him, "I am willing. Be clean!"
1:42   The leprosy immediately left him, and he was clean.
1:43   Then Jesus bluntly warned him, and immediately sent him away.
1:44   He said this to him, "See that you tell nothing about this to anyone, but go show yourself to the priests and make the offering for your cleansing that Moses commanded, as a testimony to them."
1:45   But when the man had gone, he began to share what happened openly, and spread the word everywhere, so that Jesus was no longer able to come into a city openly. As a result, he remained outside in desert places. In spite of this, people kept coming to him from everywhere.
——————————————————–
Subscription Notice: I have found that the most dependable way of notifying subscribers of a new post is through email. So I have added an email subscribe option below. Just add your email address and click subscribe (you will receive an email asking you to confirm your subscription—so check your spam folders if you don't). You will receive an email alert whenever I publish an article. Your emails will be used for no other purpose.
Image credit: Randal Cutter/iPhone 6s (Berean Version)/Photoshop Oil Paint Filter
Share on Facebook