Four Years of Increase
August 21, 2015, 6:00 am
Randal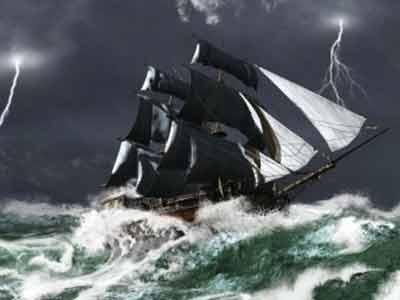 Almost everywhere I turn recently, I have found secular observers and prophetic sources stating their concern over what is going to happen this fall. I know that many Christians have spoken about what is coming, and the news has gone out through books, Christian television, and pulpits around the western world. When people have asked me about it, I have only been able to respond, "The Lord hasn't shown me those things." That statement was not a rejection of what other people were saying could be on the horizon. It was just a clear statement that the Lord had not given me the ability to affirm what other people were saying. However, I can no longer state that the Lord has not spoken to me about these things. He spoke to me in a dream last week about the next four years.
The Lord often speaks to me in dreams about specific things. He has given me dreams, and at the same time he often gives me the ability to interpret them. In the past, through a series of dreams that I have been able to interpret, the Lord has given us the name of a hurricane that was going to hit our area, the exact location of its most intense impact, the year it would hit, how strong it would be, and that it would hit without hurricane warnings being posted. He also invited us to pray so that it would not be the devastating storm that it would have been without our prayers and the prayers of churches throughout our county. All of those things happened just as he had shown to us in dreams.
If you are unfamiliar with the details of that last paragraph, I invite you to click over to Amazon and purchase my book on the topic (click HERE). Alternately, you can do a search of the name Irene on this blog, and read the posts that mention the history of 1999's Hurricane Irene.
More recently, back on November 10, 2004, the Lord spoke to me in a dream about economic reforms that were coming to Cuba. He made it clear in that dream that those reforms would begin seven years from the time of the dream. Seven years later to the day, on November 10, 2011, Cuba's laws on the possession of personal property were changed so that Cubans can now own land and other property. You can read about that HERE and HERE.
Of course, there are far more recent dreams I could reference, but the two situations mentioned above are the most documented of our dreams. You can easily verify that I wrote articles about the dreams, and my interpretation of them, before the events predicted in the dreams came to pass. In that sense, I have a positive track record.
I am rehearsing all of this for a reason. What I am about to write is counter to the current tsunami of articles and opinions about what is going to happen this fall. Last week Thursday, the Lord gave me a dream that has given me some insights that do not necessarily fit the current narrative. What caught my attention, is that the dream felt much like the economic dream he had given me about Cuba. That dream proved spectacularly prescient. That leads me to believe that this one is also.
There really wasn't much to the dream. I was told that house prices would continue to rise for another four years. At the end of the four years they would go down, and anyone that sold at that time would reap a windfall if they positioned themselves appropriately.
Obviously, there is good news and bad news in this dream. The good news is that the U.S. economy would have to remain fairly consistent over the next four years in order for house prices to continue their upward march. The real estate market is based on a functioning banking system. I cannot see how a banking crisis of any type could occur this fall, or any time in the next four years, without negatively impacting the housing market. Therefore I conclude that we have at least four years before a significant crisis hits.
That, of course, is where the bad news comes in. As far as I understand, the only way that a homeowner reaps a windfall from selling during a housing downturn, is when the housing downturn is significant. We went through such a downturn in 2008, and most would agree that it was not fun. It shook our economy. But even then there were people who sold properties just before the housing crash that year, and they will testify that they made a windfall as a result.
There are other implications of this dream that those who major in economics would see far more clearly than I do. I am neither an economist nor a financial advisor. I simply had a dream that I believe was from the Lord, and have drawn a few basic interpretive conclusions from it.
Those of you who have been anxious about this fall might not be convinced that things will not shake. I'm not certain that I would disagree with you. There is so much in flux at this time, that certainly some things will shake. However, the dream encourages me to believe that it will not be such a severe shaking that real estate prices would stop increasing. For me, that is a significant bit of supernatural information.
So what about all of the contrary predictions that are out there? I certainly cannot answer for them. Based upon what I have now received, I'm not certain that they are correct. However, we only know in part, and we will soon see how things shake out. If we do indeed avoid a major economic shaking this fall, then my faith in how I have understood this dream will be strengthened, and I will turn my eyes with expectation toward a specific point in time four years hence. Of one thing I am certain in all of this: Deus gubernat navem.
——————————————————–
Subscription Notice: I have found that the most dependable way of notifying subscribers of a new post is through email. So I have added an email subscribe option below. Just add your email address and click subscribe (you will receive an email asking you to confirm your subscription—so check your spam folders if you don't). You will receive an email alert whenever I publish an article. Your emails will be used for no other purpose.
Image credit: algolonline / 123RF Stock Photo
Share on Facebook