The Cross or the Switchblade
March 20, 2012, 11:04 am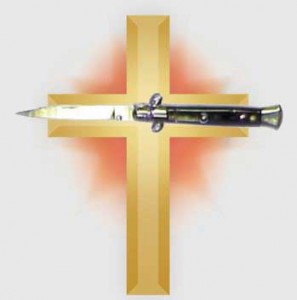 I have been reading various news reports about the expected price of gasoline this summer. The word from those who know is that gasoline prices will continue to rise for the near term. I read one report this morning that predicted that when the summer gas supply begins to arrive, we will see prices jump another twenty cents a gallon. After that, we can expect gas prices to peak at about $4.20 a gallon. This scenario, of course, doesn't take into account the chance that an Israeli-Iranian confrontation would drive prices much higher based upon fears of a diminished flow of oil out of Iran. This could be an interesting summer.
Last June, the Lord spoke to us about gasoline prices. He told us that when gasoline hits $5.00 a gallon, it would be the cross or the switchblade.
Of course, we all know about David Wilkerson's book (and movie) The Cross And The Switchblade. I had not read the book or seen the movie for years. But I realized that the Lord was using the imagery in that book to communicate to us. I also knew that the Lord changed the conjunction in the title of the book from and to or in order to highlight a choice that we will have when gas prices reach $5.00 a gallon.
If you have not read the book or seen the movie, you will not as readily appreciate the imagery that the Lord chose to use. The cross, of course, represents dying to our own selfish choices and fears in order to let the power of God flow through us. It represents the power of God to redeem even the most violent urges within humanity. On the other hand, the switchblade represents the base tendencies of our nature. The desire to provide for self without giving thought to the needs of others, or the consequences to self and society. If you read The Cross and the Switchblade, you will quickly see that the switchblade represents mindless hate and perverse greed released in violent attacks as gangs focus on their own turf to the exclusion of all else.
I believe the Lord is telling us about a line of demarcation that is swiftly approaching in these United States. When gas prices reach $5.00 a gallon throughout the United States, we will have crossed a boundary line in the spirit. Up until that point, it will still be possible to live in the United States without giving much thought to issues of principle. Things will still be relatively stable enough so that the thin veneer of civilization functions to hide our more crass instincts. But when we cross this spiritual boundary, the illusion created by civilization will begin to crumble. It will quickly become more evident who is embracing selflessness (the cross) and who is embracing selfishness (the switchblade).
The truth is that most people simply get up and walk through their day without much regard to their bedrock principles. Those principles show themselves at times of stress or temptation. We usually do not confront open stress or public temptation on a daily basis. We are not often faced with difficult situations that reveal our core selflessness or selfishness. That will change once we cross this boundary. Things will change in our culture to such a point that it will be obvious who is embracing the cross, and who is grasping the switchblade.
When gas prices reach $5.00 a gallon throughout the United States, our choices are soon going to become more obvious. It will be a time that God's people begin to show who they really are. It will also be a time when those who do not yet know him or his cross, reveal that lack in their own lives. This will provide many opportunities to let the power of God flow through us to others. The switchblade takes life. The cross releases it.
——————————————————–
As a side note, I am not unaware that the late David Wilkerson had some prophecies about the world economy that were not all that rosy, and that could be an additional reason that the Lord used David's imagery. The Vision, which David published in 1973, included some pretty stark reminders of how difficult things could get, and how God can use such events to accomplish his purposes in the United States.
——————————————————–
Subscription Notice: I have found that the most dependable way of notifying subscribers of a new post is through email. So I have added an email subscribe option below. Just add your email address and click subscribe (you will receive an email asking you to confirm your subscription—so check your spam folders if you don't). You will receive an email alert whenever I publish an article. Your emails will be used for no other purpose.
Share on Facebook