Watch the Pope
April 9, 2012, 10:34 pm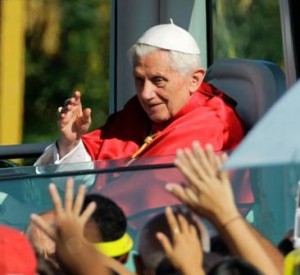 This bit of information may appear to be a bit odd, being that I am a protestant and all, but over the weekend the Lord told us to pay attention to what is going on with the Pope. He indicated that we should watch the stands that the Pope is taking, and also let us know that he is approaching the end of his tenure as Pope.
While protestants usually don't spend a lot of time thinking about the Pope, and some are even antagonistic to him, most appreciate how he has attempted to represent Christ to the best of his knowledge and ability.
This blog post is not about theological debate or disagreement on Roman Catholic teaching. This is about praying for a man who, for better or worse, represents Christianity to much of the world.
Since the Lord told us to watch the Pope, I read several articles about the Pope today. Our local newspaper mentioned that he looked tired as he gave his Easter address at St. Peter's Basilica yesterday. Another article stated that he would be curtailing his travel schedule because it was too much for him. Both articles raised alarm in my soul about his health.
I believe it would please the Lord if we would pray for the Pope. No, I'm not saying that we bless all of his theology. I do believe that he loves the Lord and has taken courageous stands based upon that love. I would like to see him stay firm in his resolve and focus, and stay healthy to do his job. I'm not asking for prayers for the office, but the man who bears the weight of that office. He is a brother.
——————————————————–
Subscription Notice: I have found that the most dependable way of notifying subscribers of a new post is through email. So I have added an email subscribe option below. Just add your email address and click subscribe (you will receive an email asking you to confirm your subscription—so check your spam folders if you don't). You will receive an email alert whenever I publish an article. Your emails will be used for no other purpose.
Share on Facebook