Storms, Bad Storms, and More Storms
April 18, 2012, 12:22 pm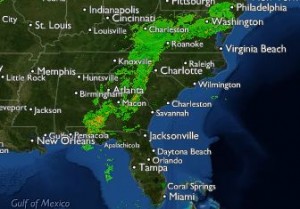 Those of you who have followed my blog posts on the Northwest (Watch the Northwest and Are We Done Watching the Northwest Yet?) knew to expect the severe storms that we have been experiencing throughout the United States these last couple of months. Many of you, like the folks at my congregation, have been praying to diminish the strength and ferocity of these storms, and asking the Lord to preserve human life. As the season has progressed, I have found my focus shifting from praying that no bad storms develop, to praying that lives would be preserved in the storms.
I am not saying that we should stop praying that no storms ravage our geographical areas. I will continue to lead my congregation to pray ferociously against any possibility that major storms hit our area of influence. We will release a hedge of protection in intercession that we believe no violent storm will penetrate. But I do not not currently have unlimited authority over every geographic area in the United States. My primary authority lies in the geographical area that God has posted me. As I have prayed against storms in other areas of the United States, I have seen storms, bad storms, and more storms. This has confirmed something that I suspected in January. When I watched the northwest I saw anointed local intercessors in the northwest rise to the challenge and pray for their area. I saw intercessors throughout the United States respond to the call and pray for the northwest. And yet an incredibly bad storm still hit the northwest.
As I wrote in January, I believe the intercessors, especially the local ones, had an impact on the storm which hit the northwest. Here is an excerpt from what I wrote in January:
Since I know that prayers have authority, I can tell you that the storm was not as severe as it could have been. When I alerted the friends whom I had dreamed about in Washington state, they shared that they were already praying against negative weather patterns. They then took the alert I issued to heart and prayed with more focus. As a result, I was not surprised that the Seattle-Tacoma area (where they live) was not hit as hard as had been forecast. At the last minute one of the Low pressure areas dropped a bit further south than expected, and forced the worst weather just to the south of their area. I don't believe that was an accident. I believe that was a sign of their intercessory authority.
However, even with this victory, the storm still hit. I was, and am, extremely concerned about this. The Lord had told us that what they experienced was going to come to the rest of the United States. Since then, even with all the prayer coverage, we have seen brutal weather patterns and many deaths. I am certainly not saying that the prayers have been ineffective. I believe, especially in view of the severity of the tornado outbreaks, that many more people would be dead without those prayers. I believe the intercessory coverage is having an effect and that we must continue to pray for all those in harms way when storm systems threaten. But I also believe that we are going to see many more storms this year. They will continue to impact all over the United States.
So, my strategy is this: I will continue to raise a hedge around our immediate area of influence so that no storm winds bring damage or death to our area. I will also pray for God's mercy to be evident throughout the United States as these storms continue to manifest. My main focus outside my immediate area is that life be preserved through the storms. Last week's outbreak in which 6 people died in Oklahoma highlighted this primary need. I may not be able to stop these storms, but I can sure pray that lives be spared. I suggest this strategy as one that will help focus intercessors throughout the world. Raise hedges of protection around your area, and cry out to heaven for those in harms way outside your area of primary geographic influence. The storms may come, bad storms may occur, and more storms may multiply, but mercy triumphs over every judgment. His mercy is what we desperately need in the face of this stormy onslaught. Cry out for it.
——————————————————–
Subscription Notice: I have found that the most dependable way of notifying subscribers of a new post is through email. So I have added an email subscribe option below. Just add your email address and click subscribe (you will receive an email asking you to confirm your subscription—so check your spam folders if you don't). You will receive an email alert whenever I publish an article. Your emails will be used for no other purpose.
Share on Facebook