The Next Great Wave
May 3, 2012, 4:58 pm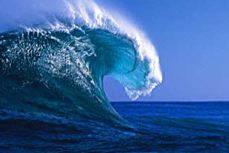 I recently had a dream in which the Lord gave me an item of great spiritual value. He then pointed to my belt and told me that the item worked in conjunction with it. When I woke from the dream, I knew that the belt was the belt of truth (see Ephesians 6:14). When I later spoke to a prophetic mentor about this, he agreed, and also referenced Isaiah 11. Isaiah says, "Righteousness shall be the belt of his waist, and faithfulness the belt of his loins" (Isaiah 11:5). My prophetic friend was pretty excited about this dream. He believed the dream was speaking about the next great wave of the Holy Spirit.
There have been two great moves of God's Spirit since the nineties. The first great wave began in Toronto and spread out around the world. It was characterized by refreshing and renewal. People flocked to Toronto, and to other cities and ministries that had concurrent outbreaks of this wave. They found a refreshing that brought deliverance and healing. The second great wave began shortly after the first. God began to pour out his presence through the Brownsville Revival on Father's Day 1995. While the first revival brought healing and refreshment to the Body of Christ, the Brownsville Revival focused on a change of mind. The word repentance is from the Greek word metanoia, which means a change of mind. The Brownsville Revival gave the Body of Christ an opportunity to change its mind about its ways, and to come clean before the Lord about things that did not honor him.
Both of these waves accomplished their purposes and have ebbed. The Body of Christ is now looking for God to send a third wave of his presence. As we look forward to his presence, we wonder in what form he will manifest himself this time. He came with refreshing. He came with repentance. What is next?
This would be a good time to read the article I posted last week entitled, Deeper Waters Are Calling. I wrote it as a precursor to this article. It is about the next wave of the Holy Spirit. That wave is commitment. My prophetic mentor believes that this is the next step that we take together in the Ezekiel River. I wholeheartedly agree with him, not only because he is an incredibly accurate prophetic voice, but also because the Lord has been showing me these same themes.
If we take the Ezekiel River as a metaphor, then the Toronto Revival was ankle-deep. It was about the body of Christ being reminded how great it was to splash around in the river of life, but it didn't call us into deep relationship or commitment. It was a refreshing that restored relationship with the Lord.
Of course, that would make the Brownsville Revival knee-deep. As I explained in Deeper Waters Are Calling, knee-deep water represents reverence for the Lord. The repentance that was released at Brownsville was seated in an understanding of and reverence for the holiness of God. That deep level of reverence changed people's minds about God (repentance) and highlighted how important it is to follow his will.
The next wave will be the waist-deep waters of commitment. When we stand in waist-deep water, we are committing ourselves fully and freely to the Lord. We then become the bond-slave who can respond to even the slightest shifts in the Holy Spirit's current. We will become Kingdom People. Jesus said, "Seek first his kingdom and his righteousness, and all these things will be given to you as well." When we truly understand that our lives are better spent building his kingdom than our kingdom, the world will change, and the Church will step into its destiny.
This is what the Lord is waiting for. He wants to release more power, and more things of great spiritual value to us, but those things will only work with the belt of truth, commitment. They will only work while we are standing in waist-deep water. That is why this next wave is so important. The Body of Christ will get some valuable new equipment.
The next great wave of the Spirit is upon us. I do not know exactly how it will manifest, but its fruit will be a commitment that results in power. I'm eagerly looking forward to that wave.
——————————————————–
Subscription Notice: I have found that the most dependable way of notifying subscribers of a new post is through email. So I have added an email subscribe option below. Just add your email address and click subscribe (you will receive an email asking you to confirm your subscription—so check your spam folders if you don't). You will receive an email alert whenever I publish an article. Your emails will be used for no other purpose.
Share on Facebook