Choosing Not to Participate
May 15, 2012, 1:08 pm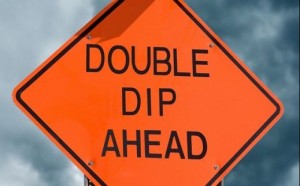 The other night the Lord gave me a dream about the economy. He showed me some things that are currently happening, and what people fear might happen. He also showed me how we can prosper no matter what happens to the economy.
While I was preparing to turn in that evening, I had asked the Lord for some insights on behalf of some friends of mine. He responded to that request by giving me a series of dreams. One of those dreams not only spoke to my friend's situation, but it also contained an important message for all of us. It was a dream about living in God's supernatural economy.
Before I explain the dream, I want to remind us about something from 2009. On April 23, 2009 Christian financial counselor Dave Ramsey held a Town Hall for Hope in order to, as he put it, "get real answers about the economy and turn back the tide of fear . . ." The event was streamed to over six thousand host locations—many of them churches—where over a million people watched the event live. During the event, Dave Ramsey made a memorable statement. He said that he was choosing not to participate in the recession. That statement sparked much discussion about whether it is even possible to make such a choice. My dream addresses that very issue.
Now, on to the dream: I was a passenger on a large commercial aircraft. I was sitting toward the front of the plane, and learned that the pilot was going to perform a particular maneuver as we approached the city to which we were headed. He planned to make his approach to the airport over water at a low altitude, and to dip his right wing twice on the approach. I didn't know why he wanted to do this, but I didn't like the idea at all because it felt too risky. Fortunately for me, the plane had a stopover at another city before we got to our final destination. I took advantage of that opportunity and exited the plane. Then, as things often happen in dreams, the scene changed and I was at the destination airport explaining to some people what the pilot of that aircraft planned to do. The people to whom I was speaking were very concerned about the possibility of a crash. That was the end of the dream.
As I prayed about the dream, I realized that the pilot planned a "double dip." Since the news is filled with concern about a double dip recession hitting by the end of 2012, I don't think the interpretation is too difficult. I believe the airplane represents the United States (or world) economy. People are riding that economy to what they hope is a positive destination. Even though we have been riding a recession for the last couple years, we are hoping to soon get the end of this recessionary dip. While double dip ice cream is usually a good thing, double dip recessions are not so good, especially since people often begin to fear an economic crash.
First, let's look at the bad news included in the dream. We are going to experience that second dip. Actually, those of you who follow financials more closely realize that many sectors of the economic world have already been experiencing a double dip cycle, but the dream indicates that it will probably get worse. As we look at current headlines, we have to agree. Greece and France are making moves that are threatening the Euro. As a result, financial markets around the world are a bit shaky. These financial tremors will continue to fuel negative speculation about a potential crash—though please note that the dream does not include a crash, only fear about one (in other words, a crash is not a certainty).
Now, let's look at the good news. This dream makes it clear that Dave Ramsey was right, we don't have to participate in any of this. In the dream, I chose to get off the plane before it performed the dips. That means it is possible to avoid riding the economic turmoil of our world or country. The question, of course, is, "How?" The answer is faith.
A recession begins when faith in the economy begins to collapse. When the Lord speaks to me in dreams, the right side often represents faith. That is why, in the dream, the pilot dips the right side of the plane. The double dip recession involves a loss of faith, not only in the economy, but in God's ability to bless us through the economy. That is why we must refuse to participate.
The Lord has challenged my congregation not to participate in the natural economy, but to intentionally live in the Father's supernatural economy. His supernatural economy doesn't divorce us from the current economic system, but it does separate us from the negative cycles of that system. The Father's supernatural economy is about giving and generosity. It is about giving firstfruits and sowing seed. It believes Jesus when he teaches us that the Father in heaven cares for our financial needs (see Matthew 6:25-33). It refuses to give place to fear and works to cultivate a generous spirit. It recognizes that there is a supernatural economy that works far better than the natural one.
When Dave Ramsey did his financial Town Hall back in 2009, he taught a bit on God's supernatural economy, though he did not call it that. He explained that people who had stopped giving needed to start giving again. Dave said, "We can't win if we can't give." He reminded his viewers that if they wanted to win with money and change the nation, they needed to learn to give again.
This is sound advice. When we do this, we will learn that the supernatural economy will actually take us to our economic destination far faster than the natural economy. This was a major point in the dream, though you might miss it. In the dream, I actually made it to the destination ahead of the plane I was on, even though I had chosen to get off of the plane early. This part of the dream communicates the exact same thing that Jesus did in Matthew 6:33, "But seek first his kingdom and his righteousness, and all these things will be given to you as well." When we choose to participate in God's economy, the Father responds by giving us all the things that the world chases after in its economy, but with a major difference. Their economy is slower, less stable, and fraught with striving and worry. The Father's economy is faster, rock solid, and filled with peace and joy.
When we begin to understand this, why would we choose to stay on the world's economic airplane? If we have not yet done so, we need to take the steps necessary to get off of it, and live in faith again.
——————————————————–
Subscription Notice: I have found that the most dependable way of notifying subscribers of a new post is through email. So I have added an email subscribe option below. Just add your email address and click subscribe (you will receive an email asking you to confirm your subscription—so check your spam folders if you don't). You will receive an email alert whenever I publish an article. Your emails will be used for no other purpose.
Share on Facebook