Tropical Storm Beryl
May 26, 2012, 12:48 pm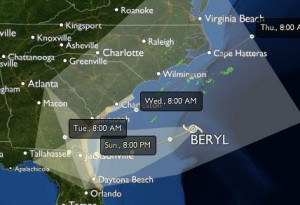 "The last time two tropical storms formed before the official June 1 start of hurricane season, Theodore Roosevelt was president and the year was 1908." That quote from this morning's (05/26/12) South Florida Sun-Sentinel just about says it all. The Lord showed us back in January that we would have some intense weather this year (see Are We Done Watching the Northwest Yet?). The hurricane season isn't even here—it begins June 1—and we have already broken a record of over one hundred years.
Those of us who are praying for South Florida have a lot on our plate this year. I will update this more fully after the hurricane season begins, but what I will say now is that we will see some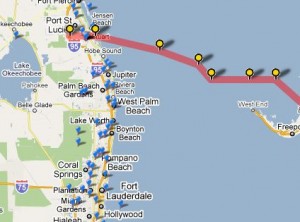 hurricane threats this year. The Lord has given us many encouraging words about our authority over the storms. However, hurricanes are going to be a threat, and as we turn them away from our area, our neighbors also need to provide hedges of protection for their areas. If they don't, we will see repeats of 2004 and 2005.
Back in 2004 both Francis and Jeanne were on track to bring hurricane force winds into Broward County. In both cases, the hurricane force winds were stopped
at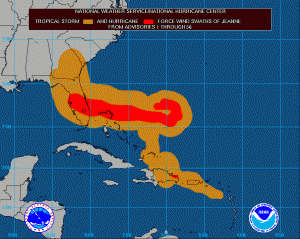 the eastern county line, and the storms could not proceed across Florida until the hurricane force winds were north of Broward County. The top picture on the right is of Hurricane Francis. Notice the significant jump to the north that the eye took at the last minute. That jump spared Broward hurricane force winds. The bottom picture on the right is of Hurricane Jeanne's wind field. The red area represents the hurricane force winds. Notice how the wind field contracts on the southern edge of the wind field as it approaches landfall with Florida. That contraction on the southern edge of the wind field spared Broward County hurricane force winds.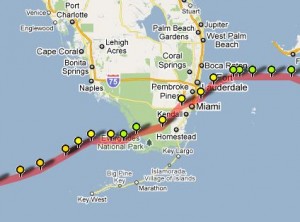 In 2005 Katrina was headed right for Fort Lauderdale as a tropical storm (map on left). At the moment the National Hurricane Center declared it a hurricane, it took a sharp turn south and did not come across Florida until it reached the county line. The south side of Katrina brought damage to Miami-Dade county, but the north side of the storm had no strength and Broward was spared. The only storm that made it through was Hurricane Wilma in 2005. Without getting into all the details of why we could not turn that storm I will simply point out two things: 1. She came in the back door. We had been trained to think that any storm coming from the west and crossing Florida would not be a big deal for us (we've learned that lesson); and 2. Wilma was one of the cleansing storms of 2005 that could not be turned.*
The Lord has clearly shown us that the respite of the last six years is over. While we've never stopped manning the wall, it is time to be on the alert, to stay in spiritual rest, and listen for the Lord's direction. We will man the walls for our area. Those of you who live in areas threatened by hurricanes must also man your walls.
The hurricane season has not yet officially started, and yet we have already broken a hundred year old record. It is time to be on the alert.
——————————————————–
*Cleansing Storms are those storms that contain a cleansing call to repentance. The Lord uses such storms to call us to evaluate our ways—Wilma sat on top of Cancun and Cozumel for twenty-four hours as a category five storm. The message to them, which has been ignored, was about repenting of the debauchery and excess of Spring Break. Fort Lauderdale, the location that originated and popularized this major stumbling block to college age youth, also came in for some judgment as a result.
——————————————————–
Subscription Notice: I have found that the most dependable way of notifying subscribers of a new post is through email. So I have added an email subscribe option below. Just add your email address and click subscribe (you will receive an email asking you to confirm your subscription—so check your spam folders if you don't). You will receive an email alert whenever I publish an article. Your emails will be used for no other purpose.
Share on Facebook