South Florida's 2012 Hurricane Season
June 9, 2012, 4:07 pm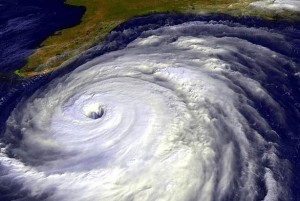 South Florida has enjoyed a six year respite from significant hurricane threats. That respite is over. This year will see significant threats, not just to South Florida, but to many other areas along the Atlantic and Gulf coasts.
The Lord began to speak to me about the hurricane season back in December and January (see Watch the Northwest and Are We Done Watching the Northwest Yet?). He told us that we would see some very difficult weather systems throughout this year. Those of you who have followed this year's weather patterns know that prophecy has been validated by the last five months of extreme weather. However, we are just entering the hurricane season. Hurricanes, by their very nature, bring definition to the term Extreme Weather.
The Lord has shown us that three significant storms will threaten South Florida this year. That does not mean that all three of these storms will hit South Florida. God has given his people authority over weather systems. Like Jesus, his people can take authority over storms (see Matthew 8:23-27). I believe that when God's people pray, the storms can be turned away, or their strength diminished. So, first and foremost, this article is intended to stir prayer among those who live in South Florida. It is time to man the walls of intercession.
Of the three storms that the Lord has spoken to us about, one of them will be larger than the other two. I also believe that at least one of these storms will move from a minor storm to a major storm extremely quickly. In a dream, the Lord showed me a storm that was riding a motorcycle. While that could speak to a storm's ability to turn quickly, in this case I believe that it emphasizes the ability for a storm to accelerate quickly.
Many Texas and Louisiana residents will remember Hurricane Humberto from 2007. That storm went from a 35 mph tropical depression to a strong category one hurricane overnight. Texas residents fell asleep knowing that they might be in for a minor tropical disturbance, and found themselves battered by a hurricane just hours later. If the motorcycle represents such fast acceleration, we must watch every system carefully. We cannot assume that a low-level disturbance will stay a low-level disturbance.
As I wrote in my last post (see Tropical Storm Beryl), the Lord also showed us that we are in for a cleansing year. In fact, he gave some indication that we may see as many as three cleansing events, though I do not know if these events are all for South Florida. Cleansing storms are those that contain a call for repentance, and some level of  judgment on those areas that they hit. Don't think of them as direct judgments from God (though they can be). Think of them rather as discipline as the Lord attempts to get our attention about inappropriate things in which we are involved. Inappropriate things are things that hurt people. The gambling industry, those areas that promote debauched lifestyles, and those who attempt to lure Spring Breakers with licentious promises, are all included in things that hurt people. If you live in a region that promotes things that hurt people, begin to cry out for mercy already.
We are also going to have to face fear this year. The storm pictured at the start of this article is Hurricane Floyd. Floyd threatened Florida in 1999. Immediately after Floyd missed Florida, I sat down with one of our city's emergency management officials to warn him that we were going to be hit by Hurricane Irene that year.* While I was pleased that he received this information graciously, I most remember his eyes as he described the fear in South Florida when Floyd threatened. I remember him asking, "Where do you hide when a storm that big is coming right at you?" He then described the fear that enveloped South Florida. That type of fear wants to make a comeback this year. We must not allow it. We must remain in rest, even when monstrous storms approach. We must have our feet firmly fitted with the good news that brings peace (see Ephesians 6:15). When we walk in peace, we can stand in victory, no matter what happens.
I will provide more updates on the season as the Lord gives us more information. This is all I feel I have the liberty to share at this point. This feels like it is going to be a whale of a season. However, if God's people stand in the authority he has given, we may come out of it with a whale of a tale.
——————————————————–
* I also told him that it would be a surprise when it hit, but that the Lord had given us authority so that it would not be catastrophic. Please see www.hurricaneirene.com or New Dawn Community Church's website for more information on this event.
——————————————————–
Subscription Notice: I have found that the most dependable way of notifying subscribers of a new post is through email. So I have added an email subscribe option below. Just add your email address and click subscribe (you will receive an email asking you to confirm your subscription—so check your spam folders if you don't). You will receive an email alert whenever I publish an article. Your emails will be used for no other purpose.
Share on Facebook