Tropical Storm Debby
June 23, 2012, 9:22 pm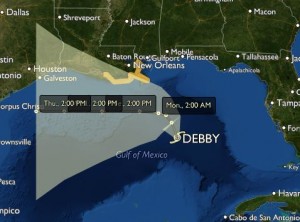 My friend Denise, who lives in Lake Charles, Louisiana, emailed me on June 1st with a dream that she thought might be about a tropical cyclone of some sort (tropical storm or hurricane) that would form on June 23rd. This was part of my response to what she had written: I certainly believe this wasn't just a dream . . .  It will be interesting to see if that area is being threatened on June 23. I would watch Debbie [sic] this season for your area.
I think it is apparent, now that Debby formed today (June 23rd), that Denise' dream was most definitely about this storm. The Lord showed her that the storm that would start with "D" this year, would form on June 23rd, and that it would come near her location.
Her dream did not give a lot of other details about the storm. The dream was filled with symbolism, and I believe that the Lord was using this storm and its formation as a way of showing her the timing of some things that he is going to release to her.
That doesn't mean that we can simply assume this storm will not be much of a problem. The current forecasts about Debby don't appear very threatening, but things can change. We need to stay alert. The official forecast is for it to head west from its current location, a forecast with which I would agree because of a location (in the Houston area) mentioned in my friend's dream. Please join in praying that Debby stays a minor storm as it continues on its path wherever it goes.
I am most encouraged that the Lord is speaking in such detail about storms to his intercessors. He is helping us. I pray that he will speak to many more as the season progresses.
——————————————————–
Subscription Notice: I have found that the most dependable way of notifying subscribers of a new post is through email. So I have added an email subscribe option below. Just add your email address and click subscribe (you will receive an email asking you to confirm your subscription—so check your spam folders if you don't). You will receive an email alert whenever I publish an article. Your emails will be used for no other purpose.
Share on Facebook