Extreme Weather: Sixth Worst Drought Since 1895
July 17, 2012, 3:53 pm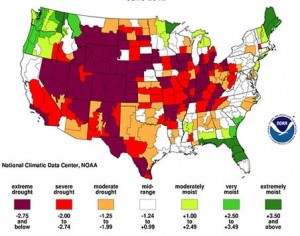 The National Oceanic and Atmospheric Administration (NOAA) has issued a report that we are now in the sixth worst drought since records first began to be kept in 1895. Fifty-six percent of the continental United States is experiencing some form of drought. NOAA reports that fifty-five years have passed since the last time so much of the United States experienced this type of drought (since 1956). This year, NOAA predicts that the drought will only get worse through the end of July.
I haven't posted on the weather lately because everything has appeared calm. Then I read this report and realized that the extreme weather about which the Lord spoke to us isn't just about storms, it is also about the lack of rainfall. Drought is extreme weather. The drought is just another fulfillment of what the Lord has spoken.
As a reminder, I wrote this in a post on Tropical Storm Debby (see Tropical Storm Debby):
The Lord began to speak to me about the hurricane season back in December and January (see Watch the Northwest and Are We Done Watching the Northwest Yet?). He told us that we would see some very difficult weather systems throughout this year. Those of you who have followed this year's weather patterns know that prophecy has been validated by the last five months of extreme weather.
We are going to continue to see extreme weather. For this reason we must continue to stand prayer watch over our nation. The part of the year with the most severe weather potential is still ahead of us. I'm sure we will still have plenty of opportunities to pray.
I was very encouraged over a conversation that my wife, Dawn, had with a relative from a drought-stricken area of the United States. The lack of rain has taken a major toll on their crops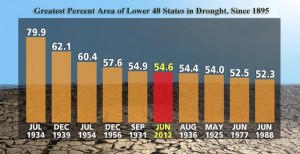 this summer, and people are very concerned. Dawn asked the relative, who attends a very traditional conservative church, whether the church has been praying for rain. Their church has been praying. That is great news. This particular denomination, though very focused on the Bible, isn't known for its prayer meetings. But extreme weather brings out the prayer in us. That is certainly a God-pleasing result of this year's extreme weather. It reminds us that there are things we cannot control with our own ingenuity, and that we must step toward the Kingdom of God.
Though we are experiencing a calm on the violent weather front, we can still pray and help those who are experiencing the drought. We can lean toward the Kingdom of God, and pray as he taught us, "on earth as it is in heaven."
——————————————————–
Subscription Notice: I have found that the most dependable way of notifying subscribers of a new post is through email. So I have added an email subscribe option below. Just add your email address and click subscribe (you will receive an email asking you to confirm your subscription—so check your spam folders if you don't). You will receive an email alert whenever I publish an article. Your emails will be used for no other purpose.
Share on Facebook