That's One Down
August 29, 2012, 11:53 am
Well, I'm glad that is past. I'm sure that the residents of Louisiana and surrounding areas will be saying the same thing when Hurricane Isaac finally passes them by. Although Isaac was only a tropical storm while it was in our vicinity, and it never came close to our county, it was a large enough system to cause widespread flooding and minor wind related damage.
But that is not the story that could have been. All last week we were told that Isaac was going to increase in strength and become a hurricane by the time it hit the Florida mainland or the Florida Keys, but that didn't happen. We were told repeatedly that Isaac was strengthening, or trying to strengthen, but something always prevented it from doing so. Even after it passed us, it did not strengthen as forecast. Without a doubt, the prayers of thousands of God's people prevented Isaac from being a violent wind event.
That doesn't mean that the people of Louisiana are enjoying themselves right now. Isaac has slowed down to a crawl. A category one hurricane is still no walk in the park. And if it is sitting right on top of you for an extended period of time, bad things can happen. We will find out just how bad when it moves inland from the gulf coast. The latest report from the National Hurricane Center is that Isaac has slowed to 6 mph as it buffets New Orleans and its environs. This is not a good thing.
We learn from every one of these storms. Most intercessors would have been praying to diminish the strength of the winds in the storm. I believe we accomplished that goal. However, in the future, we will probably want to pray that the storms do not spend a long time over any one area. If you are like me, I did not pray that over Isaac. I would suspect, since it is now sitting on top of Louisiana, that very few people did. I'm taking notes for the future.
Let me share an encouraging graphic from Sunday morning. I have noted the storms position at 11:00 AM and 11:00 PM on the graphic below. Please note that until 11:00 AM Tropical Storm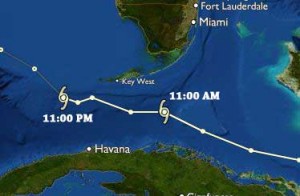 Isaac was making a beeline northwest toward the Florida Keys. Right at the time that churches were meeting across South Florida praying against the storm, it veered west down the center of the Florida Straits and never made the expected landfall in the Keys. When the storm got past the Keys, it resumed its march northwestward. To me, that is ample testimony to the power of the praying Church.
Of course, folks have asked if I believe that this storm is one of the three that the Lord has shown to me for this year (see South Florida's 2012 Hurricane Season). My answer is, yes, I do believe this is one of the storms that was on our plate this year. If I am correct, then we have two more to go. After seeing how effectively the prayers of God's people covered South Florida, I am breathing easier about them.
Thanks for praying with us. Please keep it up.
——————————————————–
Subscription Notice: I have found that the most dependable way of notifying subscribers of a new post is through email. So I have added an email subscribe option below. Just add your email address and click subscribe (you will receive an email asking you to confirm your subscription—so check your spam folders if you don't). You will receive an email alert whenever I publish an article. Your emails will be used for no other purpose.
Share on Facebook