Tropical Storm Sandy
October 23, 2012, 2:31 pm
The weather has been wonderful for the past several days. Temperatures have hovered around the seventies, humidity has plummeted (by South Florida standards), and there has been a glorious breeze. All of this produces a siren-like influence that draws heat-and-humidity pummeled South Floridians out of doors to work and play. It feels like our glorious winter season has already slipped in the door. But just as we are beginning to plan our outdoor adventures, the National Hurricane Center delivers a dose of reality. Tropical Storm Sandy formed yesterday. Sigh.
The good news is that we are not yet in the cone of uncertainty. The bad news is that when a storm is this far away, it is a simple matter for the track to change in the next couple days to include us. Those of us who remember another late season storm named Wilma are not amused by this development. But we are not all that concerned either. We, and many others, have been manning the prayer walls.
If you have followed this blog for a while, you know that the Lord began to speak to me about an active hurricane season already back in December and January (2011/12). The Lord had warned of extreme weather this year, something that we have seen all year. Although the hurricane season has, thankfully, not caused major stress, Sandy is the eighteenth named storm.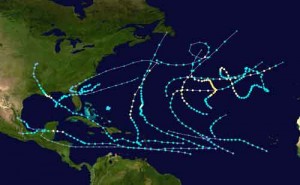 The 2012 hurricane season has now tied for the seventh most active hurricane season on record. As the graphic to the right shows, it has been busy. However, those manning the prayer walls have been busier, and very effective.
I'm certainly not beginning my post-hurricane season celebration yet. But I have been very pleased about what has transpired this season. Let me remind you of what I posted in early June about this hurricane season (You can read the whole post HERE):
The Lord has shown us that three significant storms will threaten South Florida this year. That does not mean that all three of these storms will hit South Florida. God has given his people authority over weather systems. Like Jesus, his people can take authority over storms (see Matthew 8:23-27). I believe that when God's people pray, the storms can be turned away, or their strength diminished. So, first and foremost, this article is intended to stir prayer among those who live in South Florida. It is time to man the walls of intercession.

Of the three storms that the Lord has spoken to us about, one of them will be larger than the other two. I also believe that at least one of these storms will move from a minor storm to a major storm extremely quickly. In a dream, the Lord showed me a storm that was riding a motorcycle. While that could speak to a storm's ability to turn quickly, in this case I believe that it emphasizes the ability for a storm to accelerate quickly.
That second paragraph from my June post keeps me from celebrating the close of the hurricane season prematurely. A fast developing storm that has the ability to quickly change directions can really ruin your day. I don't want to give Sandy a chance to be that storm.
Whenever the Lord shows us threats, he is showing us threats as they exist before intercessory prayer is applied. He shows us the threats so that we will thwart the threats. Like Jonah, a prophetic voice calls people to do something to change the outcomes that would have occurred without the revelation. The revelation is intended to inspire prayer, repentance, or change in direction so that the disaster/problem is averted.
I'll give a full update and recap of the hurricane season, and what the Lord has shown us through it, after it is officially over. I will be watching Sandy this week. I will be praying for those in harm's way, and will continue to stand on the intercessory wall protecting my area of influence.
——————————————————–
Update: With the formation of Tropical Storm Tony on Wednesday, October 24, this hurricane season is now tied for the third busiest since records first began to be kept in 1851.
——————————————————–
Subscription Notice: I have found that the most dependable way of notifying subscribers of a new post is through email. So I have added an email subscribe option below. Just add your email address and click subscribe (you will receive an email asking you to confirm your subscription—so check your spam folders if you don't). You will receive an email alert whenever I publish an article. Your emails will be used for no other purpose.
Share on Facebook