The Weather Outside
December 27, 2012, 11:16 am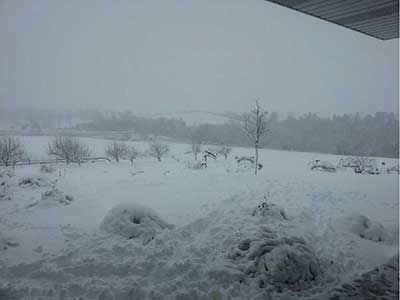 In my last post, written almost a month ago, I wrote, ". . . we certainly are not done with the year. I expect that we will have some intense winter storms to finish things off." As we close out the month of December, I think we can safely say that this was an accurate prophetic expectation.
Winter storm Draco slammed a large part of the United States just before Christmas. Then there was a large tornado outbreak on Christmas Day, and another large storm added to the air travel chaos yesterday and today. Far worse than the travel chaos is the death toll. According to news reports, the current storm has already killed nine people, and Draco killed several more. These are nasty storms.
The Lord has not added anything to what he had shown me last year about our weather patterns. I believe that means that we are still on the same path as last year (see Watch the Northwest and Are We Done Watching the Northwest Yet?). That means that we can expect more severe weather in the coming days, weeks, and months.
I'll give you more as the Lord gives it. It would be worthwhile to continue to pray for our areas of influence. We are going to see more severe weather, but it does not have to be near us.
Merry Christmas and Happy New Year!
——————————————————–
Subscription Notice: I have found that the most dependable way of notifying subscribers of a new post is through email. So I have added an email subscribe option below. Just add your email address and click subscribe (you will receive an email asking you to confirm your subscription—so check your spam folders if you don't). You will receive an email alert whenever I publish an article. Your emails will be used for no other purpose.
Share on Facebook