Another Attack on the Prophetic
February 6, 2013, 5:20 pm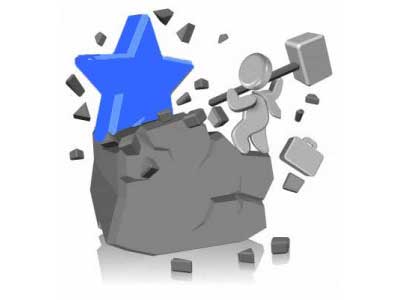 Last week I had a disturbing dream and a disturbing experience. The dream involved a Lena Dunham look-alike starring in an advertisement mocking the prophetic. Lena Dunham is the creator and star of the HBO series Girls. I would not have known who she is, except that she did a rather sleazy commercial before the November election comparing voting for Barack Obama with losing your virginity with that "special guy." It was a morally outrageous commercial aimed at a morally bankrupt subculture. You can imagine that I did not enjoy having someone who looked and acted like her show up in a dream that attacked the prophetic.
The advertisement in the dream mirrored the setting of Miss Dunham's election commercial. The ad purposed to mock the prophetic by appealing to American independence and self-reliance. The Lena look-alike asked, "Who is more qualified to determine your calling and purpose, you, or someone you don't know?" While the actress asked the question, the camera cut from her to some rather nondescript, and even slightly disreputable, looking people who represented those who walk in the prophetic. The clear inference of the advertisement is that those who walk in the prophetic attempt to control you, and they aren't to be trusted.
Of course, there are wicked and evil people who try to control others through revelatory prophecies. That is the stock and trade of mediums and spiritists. However, this is not a picture of biblical prophecy. Biblical prophecy is for strengthening, comfort, and encouragement (see 1 Corinthians 14:3). While this type of prophecy certainly could encourage someone in their calling and purpose, it never attempts to violate a person's will, nor does it attempt to replace a person's ability to hear from God for himself or herself. In fact, that is one of the primary purposes of the prophetic, to help people connect with God for themselves.
You can understand why this dream disturbed me. It used a false question to paint the prophetic in a slanderous way, and it did so in a very slick fashion. The dream disturbed me so much that I woke up and could not get back to sleep right away. I meditated a bit on its meaning, and then just when I began to relax back into sleep, I had the disturbing experience. I saw a reddish colored mocking spirit. It was almost in the shape of a ball of fire. It spoke with absolute contempt in its voice as it summed up its feeling for the prophetic, "The prophetic, ha!"
These two things left me with the conviction that we are about to see a renewed attack upon the prophetic. I believe Satan's kingdom is about to launch targeted strikes against the prophetic. His objective is to neutralize faith in the revelatory, and mock it in such a way that some of God's people shy away from it. Satan does not want people to hear from God.
After I shared this revelation with my congregation last Friday night, one young man told me about a conference he heard being advertised on a national Christian radio network. The conference will not be held until October, but they are already advertising it today. That is an amazing amount of lead time to advertise a conference, and it reveals how important the conference leaders believe the topic is. When I investigated, I found that several nationally known evangelical ministries are joining together to host this conference. The purpose of the conference is to expose the charismatic movement as a theologically aberrant movement. As part of its advertising it states, "For the last hundred years, the charismatic movement has been offering a strange fire of sorts to the third Person of the Godhead . . . the conference will expose the dangers of offering strange fire—and what the church can do about it."
As a member of the charismatic movement, I think that description of the conference sounds rather ominous. While the broad sweep of this conference reaches far beyond the prophetic movement, it certainly illustrates and informs the dream and vision that I had last week. Satan is going on the offensive once again, attempting to turn the Church against itself in a civil war.
I can only hope that the organizers of the conference are more moderate in their presentations than they are in their advertising—for their sake. We must remember that the only time that Jesus warned anyone about the sin against the Holy Spirit was when the religious leaders of the day began to describe the works of the Holy Spirit as strange fire (ascribing the Spirit's work to Satan). This was among the harshest warnings that Jesus gave to the religious teachers and leaders of his day. I personally would be extremely nervous about participating in a conference that purports to look at an entire movement in the Church, and describes its activities as strange fire. If the Holy Spirit is the force behind the movement, or parts of that movement, then those who lead this conference are in an extremely tenuous position before the Lord. I trust that they will not make this grievous mistake.
Of course, conferences such as this are only a small part of Satan's plan. He has also been specifically attacking the prophetic because so many prophetic voices appeared to prophesy incorrectly about last November's election results. While we must acknowledge that even our most respected prophets could have been incorrect, we also must leave room for other explanations of this phenomena (see my post entitled The Curve). In the aftermath of the elections, many voices were raised against the prophetic movement in the United States. Satan's plan is to press his momentary advantage in an attempt to deal the prophetic movement a setback from which it will be difficult to recover.
Fortunately for us (and thus, not so fortunately for Satan's plans), God has no intention of allowing this to happen. Many of you who read these posts are intercessors. Your prayers will have an impact on Satan's plans and strategies. While we may not be able to avert the actual campaign against the prophetic, we can provide the prayer support necessary for it to survive and flourish. We can also pray that those who walk in the prophetic, and all those in the charismatic movement, respond to the attacks that Satan is orchestrating with grace and compassion. When the attack comes from within the Church, we can certainly recognize that our brothers and sisters do not know what they are doing. Like Jesus we can forgive, and respond with grace to correct and bless those who curse us.
If we can do this, Satan's plans will fail, God's people will mature, and we will all begin to hear on even higher levels.
——————————————————–
Subscription Notice: I have found that the most dependable way of notifying subscribers of a new post is through email. So I have added an email subscribe option below. Just add your email address and click subscribe (you will receive an email asking you to confirm your subscription—so check your spam folders if you don't). You will receive an email alert whenever I publish an article. Your emails will be used for no other purpose.
Image credit: sdmania / 123RF Stock Photo
Share on Facebook