The Pope Steps Down
February 11, 2013, 11:05 am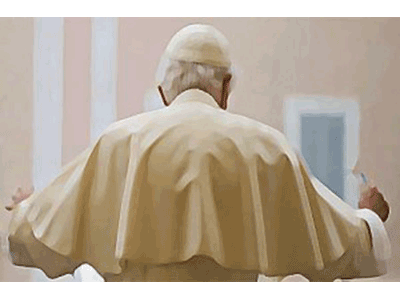 Last April the Lord told us that Pope Benedict was in the last days of his tenure as pope (See Watch the Pope from April 9, 2012). Today the Pope surprised the Church and the world by his surprise resignation. In his written statement, he states that he will step down on February 28th because his health is no longer up to the rigors of the papal schedule. His move is shocking because he is the first pope to resign in almost six hundred years.
I certainly applaud his deep humility, and his obvious concern that the sheep in his flock get the best possible care. This, perhaps, is why the Lord told us to watch for this event. It is a great example of a shepherd more concerned for the sheep than for himself.
When the Lord told us to watch the pope, he also told us to watch the stands that the pope would take. He has been a fierce advocate of the family, while also opposing gay marriage, abortion, and euthanasia. I look forward with interest to Pope Benedict's remaining several weeks in office. I will be watching this pope, and listening carefully to what he says.
——————————————————–
Subscription Notice: I have found that the most dependable way of notifying subscribers of a new post is through email. So I have added an email subscribe option below. Just add your email address and click subscribe (you will receive an email asking you to confirm your subscription—so check your spam folders if you don't). You will receive an email alert whenever I publish an article. Your emails will be used for no other purpose.
Share on Facebook