Stretching Backward
May 31, 2013, 11:16 am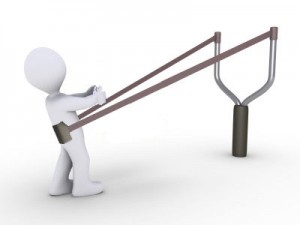 Dawn recently had an experience in which she was walking with the Lord. The Lord was showing her some items of interest as they passed through a cavernous area. Then she saw a long row of slingshots stretching off into the distance. She noted that each slingshot had a place where a person could be firmly placed upon the launching band. She saw many people in this position, and she saw many more lined up, waiting their turn to be launched. The Lord showed her several things about these slingshots. First, they were there to launch his people forward into significant destiny and calling. Secondly, the Lord showed her that when the slingshot was being stretched into launch position, the person who was going to be launched was feeling stretched, and felt like they were going backward instead of forward. Third, many of the slingshots were ready to fire.
Within a day or two of that experience, I had a dream in which I saw Paul, the apostle. The Lord highlighted something so that I would recognize that he had been on one of those slingshots in his day. This helped me understand the stretching backwards a bit more fully.
Paul was an intelligent and learned man. He, by his own testimony, was a Hebrew of the Hebrews and a member of the well-respected sect of the Pharisees. He had learned at the erstwhile feet of Gamaliel, and was an intimate of the Sanhedrin and the High Priest. He had credentials plus. His life, and his destiny as an important man in the Jewish nation was assured. But then Jesus intervened. He gave him a calling and a destiny, and then placed him on that slingshot.
I am certain that when Paul was called by Jesus, he thought like most of us think when God initiates a call in our lives, "Now things are really going to start happening." Things did start happening for the apostle. He started to be stretched backwards. He started his ministry with persecution from those who opposed Christ, and rejection by those who served Christ. He went from being a notable star in the Jewish nation, to almost complete obscurity for the best part of thirteen years. I'm sure there were times during that thirteen years that the apostle wondered how he had messed things up so badly; I can't imagine that there were not times in which he wondered about all the ground he had lost in his life. He was being stretched backwards in preparation for his launch.
The Lord certainly has a purpose in this stretching, just like he has purpose in our stretching. Paul had to unlearn much of what he had learned. The religious system in which he was trained had touched every area of his life. Religious ambition and misunderstanding was bound up in Paul's life. The Lord needed to burn all that out of Paul in order to use him fully. The Lord gave Paul time to unlearn his previous life, and grow in the life of the Spirit. In Paul's life this took about thirteen years from the time Jesus called him to the time that God's slingshot launched into his ministry to the Gentiles (see Acts 13).
I know that many people who feel "stretched backwards" read this blog. Some of you have had significant impact in life or ministry before the Lord called you for his special purposes. We often answer the Lord's call with high expectation without realizing that the Lord's call also implies that he is going to take the time to remodel our souls. That remodeling, that time of real spiritual growth, can feel like we are losing ground rather than gaining ground. But as God is preparing our soul's, he is also arming the very mechanism that will launch us into his purposes. At just the right time, he will release us into the true purposes of his calling, and that launch will be breathtaking.
Are you feeling a bit stretched lately? Does it actually feel like you have been losing ground? That is probably a sign that you are getting close to the launch. Press on. When that launch comes you will quickly see your destiny unleashed.
——————————————————–
Subscription Notice: I have found that the most dependable way of notifying subscribers of a new post is through email. So I have added an email subscribe option below. Just add your email address and click subscribe (you will receive an email asking you to confirm your subscription—so check your spam folders if you don't). You will receive an email alert whenever I publish an article. Your emails will be used for no other purpose.
Image credit: 6kor3dos / 123RF Stock Photo
original image has been slightly modified
Share on Facebook