Turning Away Hurricanes
June 22, 2013, 3:22 pm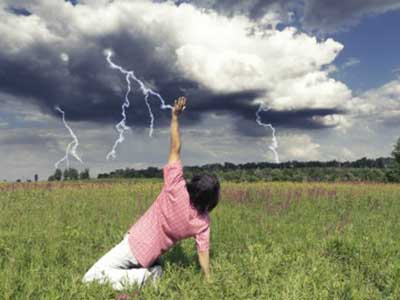 After speaking with a prophetic mentor today, I felt I needed to issue this warning about what he has seen about this hurricane season. As I wrote in an earlier post (see The 2013 Hurricane Season), Bob Jones had seen a threat to our South Florida area this year. In that post I wrote: "Bob told me that he had seen at least one [hurricane] that we would need to push away, but that he was confident that we would be able to do so."
He reiterated that same thing to me today, but added some sobering things. He believes that the storm that he has seen is a powerful storm that would bring a lot of damage wherever it hits. The good news is that he is confident that our congregation, and those who are praying with us for our area of influence, will be able to turn the storm away. The bad news is that as we turn this storm away, it will turn toward other vulnerable areas where the intercessory coverage, and the understanding of intercessory authority, may not be as developed. He has asked me to get the word out to as many leaders as I can. He wants entire coastlines protected by churches who understand their authority in Jesus Christ.
Bob asked me to remind people that we have the keys of authority that Christ has won for us. When we ask the Lord to intervene in things over which he has given us authority, we ask amiss. We need to take authority over storm systems and command them not to come into our arenas of influence. Bob said that we have enough degrees in the body of Christ, now we need decrees. That doesn't mean that education isn't good, or that the pursuit of educational degrees is somehow bad, but we should seek to grow in Christ's authority even as we aspire to further education. While degrees are optional, standing in Kingdom authority is not.
Jesus taught us clearly on this topic. He said, "I will give you the keys of the kingdom of heaven; and whatever you bind on earth shall have been bound in heaven, and whatever you loose on earth shall have been loosed in heaven." (Matthew 16:19 NASB). He has given us the keys of authority, we must use them in accord with heaven. As the Head of the Church, the Lord issues decrees in heaven, then his Body binds or looses on the earth according to his decrees. Our authority derives from Christ's finished work, and our direction comes through the Holy Spirit, but we are the ones exercising the authority he has given to us on this earth. If we choose not to use that authority on the earth, or do not understand our authority, we cannot blame heaven. We need look no further than the mirror. We have a job to do, and we must do it.
Please do what you can to stir up intercession during this hurricane season. We do not walk in fear. Peace is our mandate, and a major part of our protection. God will protect his people, but we also want to protect our regions as those who stand in the gap. The Lord is still looking for those, who like Abraham and Moses, intercede for those who deserve judgment. His heart is revealed in Ezekiel, "I searched for a man among them who would build up the wall and stand in the gap before Me for the land, so that I would not destroy it; but I found no one" (Ezekiel 22:30). His is still looking for those who will build the walls of protection, who will stand in the gap between grace and judgment, and release mercy to a region.
——————————————————–
Subscription Notice: I have found that the most dependable way of notifying subscribers of a new post is through email. So I have added an email subscribe option below. Just add your email address and click subscribe (you will receive an email asking you to confirm your subscription—so check your spam folders if you don't). You will receive an email alert whenever I publish an article. Your emails will be used for no other purpose.
Image credit: eillen1981 / 123RF Stock Photo
Share on Facebook