Chantal's Short Run
July 11, 2013, 12:39 pm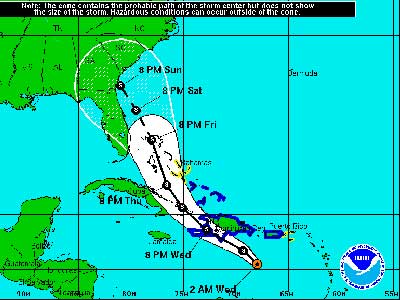 Tropical storm Chantal, the first Cape Verde-type tropical cyclone of the season, sputtered to an ignominious end yesterday afternoon, days earlier than expected. While forecasters are blaming several key atmospheric conditions, I believe that the real cause of its demise rests on the prayers of Kingdom people.
When I last spoke to Bob Jones, a prophetic voice who has an incredible record of predicting storms, he urged me to get the word out to churches in Florida and other coastal areas about the importance of praying for their geographic area this year. He is very concerned that there are areas where the Church is not praying against storms. This could be a costly mistake this year, especially for Florida. If we do not take the time to use our authority, we should not be surprised if bad things happen to our area of influence. It is that simple.
Bob also told me that the season would begin early this year. Chantal has fulfilled Bob's word about the early start to the hurricane season. Chantal became a named storm late Sunday evening, July 7, and ended on Wednesday. Even so, it fulfilled Bob's prediction, and may be a harbinger of a busy storm season. Dr. Jeff Master's, from wunderground.com, wrote this about Chantal's early formation:
Formation of a tropical storm east of the Lesser Antilles Islands in early July from an African tropical wave is an uncommon occurrence. Since Atlantic hurricane records began in 1851, there have been only thirteen tropical depressions or tropical storms that have formed July 15 or earlier that have passed through the Lesser Antilles, an average of one early-season tropical cyclone every thirteen years. Note that two of these storms, Dennis and Emily, occurred during the notorious Hurricane Season of 2005. There were five other pre-July 16 storms that formed east of the Lesser Antilles Islands, but did not pass through the islands (Bertha of 2009, Barry of 1989, and tropical depressions in 1967, 1978, and 2001 that did not become named storms.)
He then adds why he believes this portends a busy season:
Chantal's formation on July 8 is an usually early date for formation of the season's third storm, which usually occurs on August 13. A large number of early-season named storms is not necessarily a harbinger of an active season, unless one or more of these storms form in the deep tropics, south of 23.5°N. According to Phil Klotzbach and Bill Gray, leaders of Colorado State's seasonal hurricane forecasting team,

"Most years do not have named storm formations in June and July in the tropical Atlantic (south of 23.5°N); however, if tropical formations do occur, it indicates that a very active hurricane season is likely. For example, the seven years with the most named storm days in the deep tropics in June and July (since 1949) are 1966, 1969, 1995, 1996, 1998, 2005, and 2008. All seven of these seasons were very active. When storms form in the deep tropics in the early part of the hurricane season, it indicates that conditions are already very favorable for TC development. In general, the start of the hurricane season is restricted by thermodynamics (warm SSTs, unstable lapse rates), and therefore deep tropical activity early in the hurricane season implies that the thermodynamics are already quite favorable for tropical cyclone (TC) development."

Two of this season's three storms have formed in the deep tropics–Tropical Storm Barry, which formed in the Gulf of Mexico's Bay of Campeche at a latitude of 19.6°N, and now Tropical Storm Chantal, which formed at a latitude of 9.8°N. With recent runs of the GFS model predicting formation of yet another tropical storm southwest of the Cape Verde Islands early next week, it appears that the Atlantic is primed for an active hurricane season in 2013.
In response to Chantal, and out of an abundance of caution, we scheduled a prayer meeting last evening to stand in authority against any negative consequences of this system. However, before we could gather, the storm had degenerated to a tropical wave. We had prayed against the system on Sunday, before it became a named storm, however, we thought we would take another shot at it last night. When it dissipated, we canceled our meeting. If Bob Jones and Doctor Masters are correct, we will have other opportunities to gather.
Get the word out. It is time to stand in our authority (see Matthew 16:19).
——————————————————–
Subscription Notice: I have found that the most dependable way of notifying subscribers of a new post is through email. So I have added an email subscribe option below. Just add your email address and click subscribe (you will receive an email asking you to confirm your subscription—so check your spam folders if you don't). You will receive an email alert whenever I publish an article. Your emails will be used for no other purpose.
Image credit: NWS National Hurricane Center
(http://www.nhc.noaa.gov/)
Share on Facebook