The Miracle of Peace
July 18, 2013, 9:43 am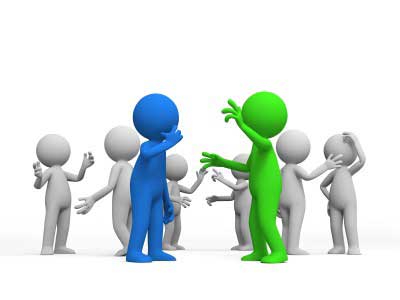 Some might prefer juggling with sharp objects over doing what we did Tuesday evening. A group of pastors, just slightly under a dozen to be more precise, decided to discuss the verdict of the George Zimmerman trial. This topic has polarized our culture as people from different ethnic backgrounds have interpreted the trial, and the events preceding the trial, in wildly different ways. Our decision to discuss this trial presented risk because, while the the group consisted of Bible-believing Christian clergy members, we were from a broad range of ethnic backgrounds. As a result, the discussion was sometimes loud—even a little heated, but even as we respectfully disagreed on points of view, we forged ahead for about two hours attempting to see things from each other's perspective. At the end, I, for one, realized that it's a miracle that people from different backgrounds get along at all.
The problem is that we all have different life experiences. Those life experiences color how we interpret everything around us. We cannot assume we know how other people are interpreting the events we are witnessing. We haven't lived in their shoes. We haven't seen life from their perspective. We are seeing events through the grid of our experiences, and others are seeing those same events through the grid of their experiences. When our life experience differs greatly, our interpretive grids also vary greatly.
This came out in our meeting on Tuesday. As we hashed through things we knew about the two young men whose lives intersected in tragedy, we came to understand that both young men were angry, and both had just reasons for their anger. One young man was angry that the homes in his neighborhood were being burglarized on a regular basis. He felt justifiable anger over this violation. He saw another young man walking through the neighborhood whom he did not recognize. He did not know that the young man was visiting someone in the neighborhood. He saw that other young man as part of the problem, and directed his anger at him.
For his part, the other young man was also angry. One of the pastors at our meeting, a man of African-American heritage, helped us understand why he was angry, even justifiably so. He told us that black young men get tired of being treated like bad guys in their own neighborhoods. They get tired of being asked what they are doing and why they are there, especially when they are doing nothing wrong and have every right to be where they are. They get angry because many people do profile them. From witness testimony at the Sanford trial, it is obvious that the younger man felt violated by the man who was following him. No doubt he resented being viewed as a threat when he was simply walking back from the store to the house of a family friend. His anger, understandably, was directed at his pursuer.
Both young men had justifiable reasons for their anger. Unfortunately, there were no peacemakers to step between them that evening. There were no peacemakers to help them explain their anger to each other, and to resolve it in a peaceful manner. There was no one there who was able to pour oil on turbulent waters. As a result, as often happens, anger lead to confrontation. The confrontation escalated beyond words, and an awful tragedy occurred.
We couldn't be in Sanford to help that evening. But we can help now. We can be peacemakers. If we will attempt to see events through the interpretive grid of both young men, rather than just the one we most identify with, we can become peacemakers. We can pour the oil of peace on the troubled waters of our time. That is our opportunity, that is our job description. If we take up that challenge, we will see a miracle. That miracle is the unbelievable grace of people from different backgrounds getting along.
"Blessed are the peacemakers, for they shall be called sons of God" (Matthew 5:9 ESV).
——————————————————–
Subscription Notice: I have found that the most dependable way of notifying subscribers of a new post is through email. So I have added an email subscribe option below. Just add your email address and click subscribe (you will receive an email asking you to confirm your subscription—so check your spam folders if you don't). You will receive an email alert whenever I publish an article. Your emails will be used for no other purpose.
Image credit: abluecup / 123RF Stock Photo
Share on Facebook