A Slow Hurricane Season?
August 24, 2013, 10:11 pm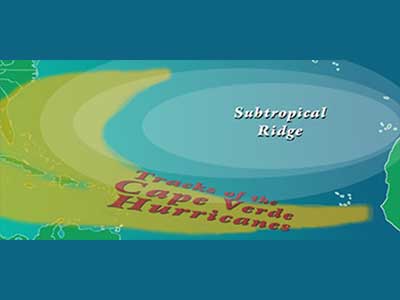 Several sources are reporting that this has been the slowest start to a hurricane season on record. Those reports are incorrect. The erroneous reports state that this is the first season on record that we have not had an Atlantic hurricane by this time. However, the Weather Channel found five hurricane seasons where the first Atlantic hurricane did not form until September (67, 84, 88, 01, 02). While this certainly is a season with a slow start, we will have to get through September 11 with no hurricanes in order to set a record.
Even though this isn't yet a record breaking season, it certainly has had a slow start. One of the reasons for such a slow start is that there is a large area of dry air over the Atlantic. None of the storms coming off Africa—the so called Cape Verde-type storms—have been able to survive passage through that dry air. Those of us who live in hurricane-prone areas truly appreciate that. This South Floridian extends his thanks to everyone who has prayed against hurricane force winds this season. I'm certain the dry air is an answer to our prayers and intercession.
However, the Lord has shown us that we are not out from under threat, no matter how slow the season may seem. The National Hurricane Center would heartily agree. We have much of the season in front of us. Even if we successfully fend off all the Cape Verde-type storms so that none become hurricanes, we still have those late season Caribbean disturbances to deal with. As if that isn't enough to keep us on the prayer wall at this time, the Lord has also given us some indication that a storm may develop in an unusual way in order to get around our normal prayer patterns. I don't know exactly what that means, but it will keep me on the alert.
The last time a hurricane did something that got through our defenses was in 2005. At that time, we simply did not expect significant hurricane threats to come at us from the west. Though we watched hurricane Wilma closely, and even prayed about her in our regular meetings, we didn't call a special prayer meeting. Forecasters told us that Wilma would be a spent storm as it hit Florida's west coast. Since it had to travel a hundred miles over land to get to us on the east coast, we didn't think it was much of a problem. So when Wilma strengthened as it passed over Florida, and released destruction in our area, we learned a lesson and closed that gap in our understanding.
While we certainly still have gaps in our understanding, we can learn. We can ask the Lord to teach us how to pray even more effectively in this arena. We can ask the Lord to teach us more about the intricacies of hurricane development so that we can counter any plans from Satan's Kingdom to get one through.
Do I believe that we can stop every hurricane? I think the biblical answer to that question is obvious. The one who quieted a raging storm with a word has given us his authority (See Matthew 16:18-19). He has also called us to stand in the gap for our geographic areas (See Ezekiel 22:30). Until he warns me that the gap is too large to cover, I will pray believing that our prayers will stop hurricanes from hitting our area of influence.
Can our prayers stop any hurricanes from developing this year? Or at least delay them to the point that we do set a record for the slowest start to a hurricane season? Let's continue to pray, and find out.
——————————————————–
Subscription Notice: I have found that the most dependable way of notifying subscribers of a new post is through email. So I have added an email subscribe option below. Just add your email address and click subscribe (you will receive an email asking you to confirm your subscription—so check your spam folders if you don't). You will receive an email alert whenever I publish an article. Your emails will be used for no other purpose.
Image credit: PD-USGOV-NOAA
(http://www.nhc.noaa.gov/)
Share on Facebook