A Disastrous Hurricane Season
November 29, 2013, 2:17 pm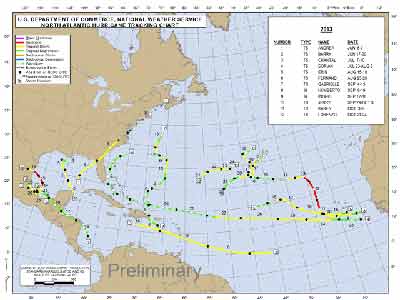 It was a disastrous hurricane season for those who attempt to forecast hurricanes. "Pretty much everyone who tried to forecast the number of hurricanes bombed," said Jeff Masters, chief meteorologist of Weather Underground. Twelve forecast teams predicted an average of sixteen named storms. Yet this season, which ends tomorrow (Nov. 30), saw only thirteen named storms, including two lowly Category 1 hurricanes (see this story from the South Florida Sun-Sentinel for more).
Ken Kaye, staff hurricane watcher for the South Florida Sun-Sentinel, who wrote the above referenced article, also added this:
"It was one of the most remarkable hurricane seasons on record, largely because it was so calm – right in the middle of a period of heightened intensity."
The famed hurricane forecasters at the University of Colorado, William Gray and Phil Klotzbach, lost their funding this year. Though sources state that it has little to do with their errant forecasts this year, the insurance company that is the source of their major funding has refused to disclose its reasons. Certainly, in view of the fact that insurance companies need solid information to set their rates, the spectacularly inaccurate forecast for 2013 had to play a part.
I am not celebrating the humiliation and embarrassment that hurricane forecasters suffered this year. But I am celebrating. I am celebrating the fact that God's people are clearly stepping into their authority. Since hurricane forecasters cannot factor the Body of Christ into their forecasts, they have an impossible job. While I feel for them, I cannot but celebrate the good news that God's people are beginning to understand their authority over negative weather events. Ever since Jesus told the disciples that they were demonstrating little faith in the face of a storm, his implicit challenge to step into faith has resonated with his disciples through the ages. We need to exercise faith over all such storms.
I can't end this post without this comment from the National Oceanic and Atmospheric Association (NOAA):
The 2013 Atlantic hurricane season, which officially ends on Saturday, Nov. 30, had the fewest number of hurricanes since 1982, thanks in large part to persistent, unfavorable atmospheric conditions over the Gulf of Mexico, Caribbean Sea, and tropical Atlantic Ocean. This year is expected to rank as the sixth-least-active Atlantic hurricane season since 1950, in terms of the collective strength and duration of named storms and hurricanes.
If I were to edit their comment, it would read, "thanks in large part to the intercessory understanding of the Body of Christ."
Unless something comes up, this will be my last post on the 2013 Atlantic hurricane season. Most news articles are stating that it was uneventful. In the natural that is true. However, in the realms of spiritual authority, it was remarkable. God's people have done their jobs. Thanks for standing in authority with us. Well done.
——————————————————–
Subscription Notice: I have found that the most dependable way of notifying subscribers of a new post is through email. So I have added an email subscribe option below. Just add your email address and click subscribe (you will receive an email asking you to confirm your subscription—so check your spam folders if you don't). You will receive an email alert whenever I publish an article. Your emails will be used for no other purpose.
Main image credit: National Weather Service
Share on Facebook