An Epic Winter Snowstorm
December 30, 2013, 6:35 pm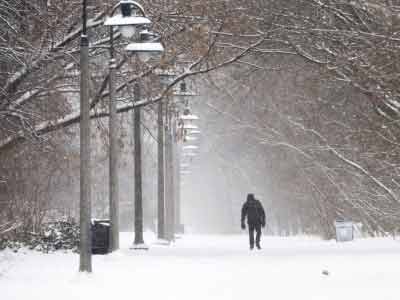 At first the title to this post, An Epic Snowstorm, almost sounds like fun. I can remember growing up in northern climes, and looking forward with anticipation to every snowstorm. To my mind, and the minds of my equally young schoolmates, snowstorms conjured thoughts of closed schools, snow forts, and sledding. We gave little thought to the economic impact of such storms, or the other inherent dangers that accompany them. Our thoughts were far more focused on the fun of such storms, rather than their furor.
But their furor is a reality. It is because of this reality that we must once again pay close attention this winter. The Lord has spoken to many of his prophetic people about severe winter weather, weather that many parts of the United States have already begun to taste. He also recently spoke to us about a particular storm for the Midwest that he called epic.
When the Lord uses words like epic, it means something. We have had many bad snowstorms that the Lord has barely spoken to us about. Bad snowstorms happen. They drop a lot of snow in a short period of time, slow or stop transportation routes, and generally bring things to a standstill for several days. The Lord's language indicates that the storm that is coming will disrupt things far beyond the norm, last much longer, or otherwise create a lasting impact.
When the Lord speaks to us about severe weather, it is because we need to pray against it. Thus, this is an intercessory alert for the Midwest (and because of the way winter weather moves, regions to the east of it).
The Lord also showed us something else about this storm that brings us great concern. He showed us the demonic influences that Satan's forces will attempt to release with this storm. He has prepared a type of insanity that will accompany the storm. I don't know exactly how it will manifest, but I can imagine people doing irrational things that put lives at risk, especially if power outages and extended transportation disruptions develop. Such insanity can turn a bad situation much worse.
The last time the Lord gave us a warning about severe winter weather, he gave us about three weeks of advance warning to marshal his prayer warriors (see Watch the Northwest). The Lord has not given us any time frames, but we can assume that he will give us enough time to adequately respond to this alert.
Please stand with us for those who will be impacted by such a storm. Stand in spiritual authority against any level of insanity that Satan's forces would attempt to release attendant to this storm. Pray that lives would be preserved, and that the storm would not be so epic that it would cause mass suffering or hardship. Stand in the gap for all those in harms way.
——————————————————–
Subscription Notice: I have found that the most dependable way of notifying subscribers of a new post is through email. So I have added an email subscribe option below. Just add your email address and click subscribe (you will receive an email asking you to confirm your subscription—so check your spam folders if you don't). You will receive an email alert whenever I publish an article. Your emails will be used for no other purpose.
Image credit: canadapanda / 123RF Stock Photo
Share on Facebook