The Earth is Groaning
February 3, 2014, 2:32 pm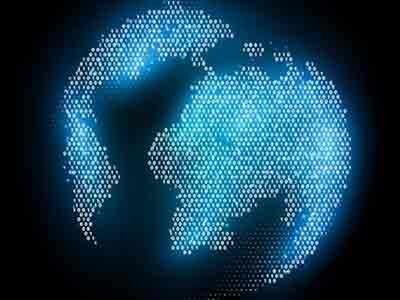 I have a vivid and not particularly pleasant memory from my childhood. My family had been attending a family reunion on a hot summer day at a great uncle's property several hours drive from our home. These family reunions were always a lot of fun, and for most of the day I enjoyed the festivities, but by early evening I was sicker than the proverbial dog. A flu bug, or more likely, a touch of food poisoning from a salad gone bad in the afternoon heat, brought a miserable end to an enjoyable day. I remember the long drive home. I was sitting in the back seat of the family car feeling absolutely miserable. I needed relief from the misery, and I discovered one thing that did help. If I groaned softly, it took a bit of the pressure off. I actually felt slightly better. Unfortunately for me, I was not alone, and I soon found out that the rest of my family didn't enjoy listening to my pressure relief valve. Though they certainly felt compassion for me, one of them reminded me that groaning wasn't going to make me feel better. I was too sick to argue, but if I could have worked up the energy I would have announced, that yes, groaning was making me feel better.
The Lord spoke to us recently about the earth's pressure relief valve, its groaning. He indicated that we needed to think about the earth's groans in a bit more literal fashion than was our wont. The passage to which he was referring in this discussion is Romans 8:22, and it speaks about the entirety of creation groaning. It says, "We know that the whole creation has been groaning as in the pains of childbirth right up to the present time" (NIV).  When the Lord spoke to us about this, he narrowed our focus from the entirety of creation down to just our planet. He wanted us to think about the earth, and he wanted us to know that it, too, is groaning.
When I have read Romans 8:22 in the past, I have speculated about what Paul meant in this passage. The apostle Paul wrote about the entire universe being subjected to frustration and groaning. As I have grappled to understand this passage, I have envisioned an impatient groaning as a kind of universal background noise. I never really credited inanimate objects with groaning, rather I would think about the created beings. I would think of the senseless waste and slaughter that takes place in the animal world, and how animals who were created to fill a peaceful role must now kill and be killed in order for species to survive. I can imagine the groaning of the feral female cat in our neighborhood as she loses kitten after kitten to predators, or the groaning of a duck hen being trailed by the ever-shrinking number of ducklings. I can also imagine that, at some core level of being, the predators who must stalk, crush, and kill to survive, must groan over this change to their basic purpose and design.
While I can imagine these things accounting for the groaning mentioned in Romans 8, that is not how the Lord presented it. He didn't anthropomorphize the earth, that is, he did not give it a groaning human personality, nor did he point to the animal creation. Instead, he showed us that the groaning is a physical manifestation of the planet's subjection to decay. He directed our attention to the earthquakes, the tsunamis, the mudslides, and the ferocious storms. He pointed to the many different ways that natural disasters manifest, and he showed us that these are the groans of the earth. These are its pressure relief valve. He wanted us to think in terms of the earth groaning whenever we see these natural disasters manifest.
This change in focus helps me understand the dynamics of our time even more fully. The planet itself has been subject to frustration and decay. This physically impacts the planet and its atmosphere in such a negative way that pressure must be released. It must groan. When it does, we call that groaning a natural disaster.
This is a bit of a perspective change on my part, but in another way, it is not. In the Romans passage mentioned above, Paul also added that the creation has been groaning "as in the pains of childbirth." This is imagery we understand because Jesus used it. When he referred to the end of the Jewish age in Matthew 24, he described the disastrous things that would occur as the birth pangs of the church age. In that same way, Paul reveals that the groans of the earth are the birth pangs for the age to come. This is familiar to us.
In addition, since the tempo of the groans are compared to the pains of childbirth, we can understand what an increase in the tempo of the earth's groans means. We know that painful contractions increase in intensity and frequency as a birth is about to happen. That means that we can expect to witness an increase in the frequency and intensity of these groans as the day of creation's liberation draws near. We are literally witnessing the birthing of the new heaven and the new earth. While that will not release celebration over each new disaster, it will help us understand what is happening.
I also believe we can help mitigate the negative impact of these contractions if we are alert to their timing. In that way, we can act as a sort of anesthesiologist. In the same way a deft anesthesiologist's intervention makes the labor more manageable without hindering the delivery, I believe our active intervention through intercession can help alleviate the pain of these groaning events. We do that by standing in the gap for those in harms way, and by using our authority to mitigate intensity of the contractions in population centers.
The earth is groaning. We will see more evidence of that in the days ahead. If we keep our ears on the ground, we can hear it. If we turn our ears heavenward, we can help ease the negative impacts. The Lord is giving us eyes to see, and ears to hear. Let us use the information he is revealing for his glory, and for his purposes.
——————————————————–
Subscription Notice: I have found that the most dependable way of notifying subscribers of a new post is through email. So I have added an email subscribe option below. Just add your email address and click subscribe (you will receive an email asking you to confirm your subscription—so check your spam folders if you don't). You will receive an email alert whenever I publish an article. Your emails will be used for no other purpose.
Image credit: rszarvas / 123RF Stock Photo
Share on Facebook