Danny, Erika, and Grace, Oh My!
September 11, 2015, 2:12 pm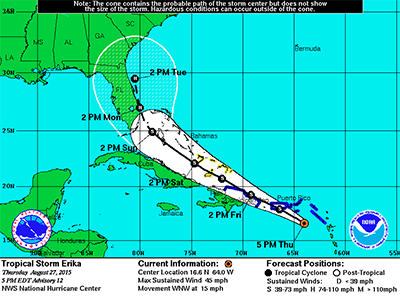 When I was contemplating this year's hurricane season earlier today, I heard this line from The Wizard of Oz: "Lions and tigers and bears, oh my!" Except I didn't hear it in quite that way. I heard, "Danny, and Erika, and Grace, oh my!" Of course, Danny, Erika, and Grace are three tropical cyclones that we have exercised authority over this year.
As I wrote in my post about Erika (see post HERE), we used Danny for intercessory practice even though it was never a threat to Florida. Virtually as soon as Danny disappeared, the Lord showed us that Erika would be a threat to Florida. While I do not believe that Erika would have been the type of storm that would have brought widespread destruction to Florida, it would have taken a bite out of a particular testimony that I have been privileged to use as I explain the Church's intercessory authority over storms of all types.
That testimony is this: Since 1851 when records started to be kept, Florida has been hit by a hurricane every two years on average. Prior to 2005, the longest stretch without a hurricane was only five years, and that only happened once. There were several times that there have been four-year stretches with no storms. Otherwise, prior to 2005, Florida has been hit by at least one hurricane every two or three years. As I write this, we are currently in our tenth year without a hurricane strike. If we have anything to say about it—and we do—we will finish our tenth year without a hurricane strike.
The Lord spoke to us about Erika because it posed a threat to that wonderful testimony of God's grace. The National Hurricane Center predicted that Erika would hit Florida as a hurricane. The graphic above was the storm center's prediction on Thursday, August 27 at 5:00 PM. That evening our congregation came together for a night of intercessory prayer. We specifically commanded the storm, in many creative ways, to shift and dissipate. We left that evening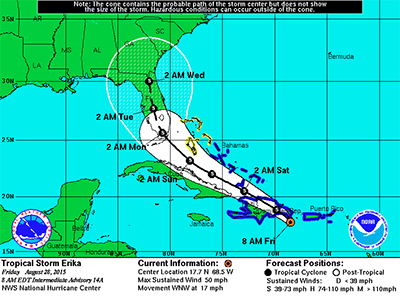 recognizing that we had an impact. This hurricane center released the graphic to the right on Friday morning. By Friday at 8:00 AM Erika had shifted to the west enough that the high mountains of Hispaniola promised to neuter its power, and the hurricane center downgraded Erika's potential impact on Florida to that of only a tropical storm. By later on Friday, it had shifted even further west and its survival was in question.
On Friday afternoon and early evening, I was contacted by two different ministries that were meeting to pray about Erika. One was a ministry from Tampa, and one was from Boca Raton. They both asked if I had any insights or direction on Erika. Essentially, I told them both to drive a stake through its heart so that Hispaniola would end any storm threat. As a result, it was no surprise to me that even though the hurricane center had predicted Erika would last another week, it was gone by Saturday morning. That is the authority that God has given as we pray in agreement, linking shields to protect our areas of geographic influence. To me, that is exciting stuff.
I only mentioned Grace in the title, because it is a storm that we prayed about last Sunday. It was headed in our general direction, so we simply commanded it to dissipate before it got anywhere close. It disappeared by Wednesday. Oh my!
I am sharing this report as an encouragement to all those who are linking shields together against hurricane threats. We are doing the job that the Lord has called us to do. We have been called to stand in the gap for our areas of influence. I am pleased to be linking shields with many through these articles who have the heart to stand in the gap as the Lord has invited us to do. We are making an amazing difference.
——————————————————–
Subscription Notice: I have found that the most dependable way of notifying subscribers of a new post is through email. So I have added an email subscribe option below. Just add your email address and click subscribe (you will receive an email asking you to confirm your subscription—so check your spam folders if you don't). You will receive an email alert whenever I publish an article. Your emails will be used for no other purpose.
Images credit: National Hurricane Center
Share on Facebook