Hurricane Joaquin Prayer Thoughts
October 1, 2015, 2:33 pm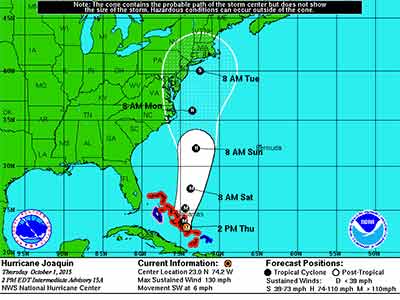 Joaquin means Lifted by Yahweh. For that reason, I would be a bit nervous if I lived near Washington. That city has done enough in recent history to warrant a reminder that the Lord is the one who is in charge, no matter what the three branches of our government tend to think. Hurricane Joaquin would not be a subtle reminder.
When the Supreme Court made gay marriage a civil right, it defied millennia of social consensus, and more importantly, God's intent for marriage. At that time, I pondered whether a good-sized hurricane might bring a measure of humility to the judicial branch of our government. Now that Washington is actually included in a hurricane's track, I've pondered that thought again, and concluded that I really don't want to find out what a severe hurricane impact might do for Washington's spiritual atmosphere. For the sake of all those who live there, I would much rather see mercy released instead of judgment (See James 2:13). I suspect that the people who live in that region would agree with me.
As I have observed Joaquin's stunning increase in strength, and the associated reports of potential damage to the east coast, I have found myself interceding. While I recognize that the areas that are threatened have been hit by hurricanes in the past, I also understand that those areas are not built to withstand such storms in the same way that we are in South Florida. Even with our strict hurricane codes, we do not appreciate hurricanes of any size. I can't imagine what it is like in areas that do not have the same types of codes.
For that reason, I thought I would write about what I would do if I lived in areas that are under threat from Joaquin. This is what I would do if I lived anywhere on the East Coast of the United States north of South Carolina, and I had no other information from the Lord about this particular storm.
I would begin to watch the National Hurricane Center site for its frequent updates (I would not watch the television updates—they tend to exaggerate and impart fear to improve their ratings). I would most definitely read the discussions that go with each NHC update. Often those discussions reveal things that can be incorporated into prayer.
I would begin to pray against this storm personally, and at every regularly scheduled meeting of my congregation. I would encourage my congregation to pick up the Keys of authority and use them to turn this storm out to sea.
The Keys of Authority work best with agreement (see Matthew 18:18-19), if my area of geographic influence was included in the cone of uncertainty for the three day track, I would call a prayer meeting for the first available time that interested parties could participate. If my geographic area was included in the five day track of a hurricane, I might call a prayer meeting depending on the circumstance, but at a minimum, I would alert my congregation that we may be having a prayer meeting soon so that they can plan accordingly.
When we met for prayer, I would build faith by recounting the many storms that our prayers have turned in the past. If I did not have a personal testimony in this arena, I would use testimonies that other Christians have. I most definitely would show this video from an NBC affiliate in Florida to reinforce that storms can be impacted by prayer: Hurricane Irene 1999. You might also watch this hour-long message that recounts story after story of what my congregation has done with the Keys of Authority and weather patterns: Picking Up the Keys. If you take the time to watch it, you will have increased faith to take on any storm.
When we met for prayer, I would acknowledge before the Lord that my geographic area is an area filled with wickedness (so is yours). Then I would pray for mercy, and recognize the fact that the Lord is always looking for intercessors to stand in the gap for their geographic area. No matter how wicked my area is (in my opinion), I would remember that the Lord is the one who initiated Abraham's intercession for Sodom by telling him about the approaching storm. The Lord is always offering us opportunities to stand in the gap.
When we met for prayer, I would ask, seek, and knock on behalf of my area. At the same time, I would realize that this is not using the Keys. This is simply approaching the throne of grace with confidence because Jesus has opened the way.
When we met for prayer, I would also use the Keys. I would address the storm by name, and lock the door to any damage or destruction it might cause. I would raise hedges of protection against hurricane force winds and storm surges. I would call in shearing winds, dry air, cooler ocean currents, and whatever else is available to degrade the storm. I would use information from the NHC discussions about hindrances to the storm to strengthen those hindrances. I would command the storm out to sea away from my coastline. I would send the storm to the UK where they can use the rain (Okay, I really wouldn't do that last one—that was a joke for my readers from the UK who have made it this far in the article . . .).
When we met for prayer I would let those who understand our authority also pray, so that agreement might be built. I would encourage them to pray in faith, even repeating things that have already been prayed as a form of agreement.
The above is a basic outline for our practices, developed over more than fifteen years of praying with effect about hurricanes and other weather patterns. I would like nothing better than to have intercessory voices up and down the east coast using this, or whatever outline the Lord has given them, to bring protection to their regions. As God's people step into their authority, storms like Joaquin lose their ferocity, and mercy is extended to entire geographical regions. In that way, mercy can triumph over judgment.
——————————————————–
UPDATE (10/02/15): When I wrote this yesterday, I assumed, incorrectly, that the storm was only going to brush the Bahamas. It has become a category four and is pounding the Bahamas. I know many have been praying for the Bahamas as they have watched what the storm is doing. I simply wanted to acknowledge that fact, and encourage continued prayer for the people of the Bahamas.
——————————————————–
Subscription Notice: I have found that the most dependable way of notifying subscribers of a new post is through email. So I have added an email subscribe option below. Just add your email address and click subscribe (you will receive an email asking you to confirm your subscription—so check your spam folders if you don't). You will receive an email alert whenever I publish an article. Your emails will be used for no other purpose.
Images credit: National Hurricane Center
Share on Facebook