The Winnowing Has Begun
November 4, 2015, 6:00 am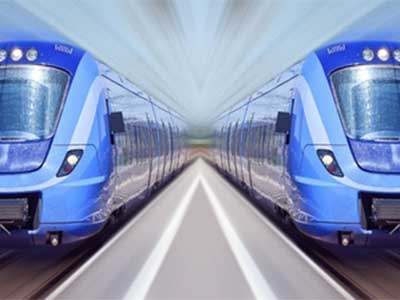 The Body of Christ is currently being separated into two groups. One group will be used in amazing ways in the days ahead. They will unleash the power of the Kingdom of Heaven with such love and grace that the world will stand in awe that such things are being done by mere humans. Those in this group will become God's end time agents who will help turn Satan's kingdom upside down, and will initiate the restoration of all things (see Acts 3:19-21). The other group will find themselves on the outside of God's purposes, looking with longing and regret on what could have been.
The good news is that the group you join is your choice. The bad news is that many are currently choosing the path to disaster.
The Lord recently gave us a picture of the choice that we now face. The picture was that of two trains that run on parallel tracks side by side. The trains look almost the same. They appear to be going to the same destination. For all practical purposes they will run in the same direction at the same speed for quite some distance. But in the end, only one of the trains will get to its destination. The other will suffer loss.
The Lord then said that the two trains are the Encouragement Train and the Discouragement Train.
The Lord has warned us that there is a wave of discouragement coming. He issued a strong warning that it will be such an intense wave of discouragement that many will begin to waver. Even as he gave us this advance warning, he mentioned the Discouragement Train and said, "Don't get on that train!"
I know this warning is necessary. I have been surprised at the amount of discouraging hype that has recently been released in the body of Christ. Relatively prominent teachers have released predictions about the times in which we live. I do not know their intent, or the full extent of their teaching, but I have seen the results. I have seen an onslaught of fear and self-focus among God's people. Fear and self-focus are not a fruit of the spirit. Instead, they are evidence that we have boarded the Discouragement Train. If you have given in to fear and self-focus, get off that train right now!
Do not misinterpret what I am saying. I believe that there are certainly difficult times ahead. But one thing I know, we do not get through those difficult times by endlessly parroting what this moon or that seven year cycle portends for the future. Difficult times are upon us. Get over it. The world is under judgment. Get over it. We overcome all of it by focusing on the Kingdom authority we have been granted in Jesus Christ. We overcome it by focusing on our mission and purpose in a lost world as we lay down or lives for those around us. We overcome it as we have always overcome every obstacle in this new covenant era—by the blood of the lamb, the word of our testimony, and not loving our lives so much that we shrink back from laying them down if necessary.
Jesus told his disciples, "I have given you authority to trample on snakes and scorpions and to overcome all the power of the enemy; nothing will harm you" (Luke 10:19). He said that before his victory on the cross. Now that he has crushed Satan's head, we have even more authority, and more power to overcome. We are overcomers. There is nothing that Satan can unleash against the Body of Christ that is able to overcome it. The gates of hell, all the evil that Satan is capable of marshaling against the Church, will not be able to stand against the power of God's overcomers. Rather than focusing on the judgment and the evil, why don't we focus on our job description? Why don't we extend the Kingdom of God and the shelter it provides (see Matthew 13:31-32) wherever we go?
The Lord showed us another picture recently. He showed us that he was setting out nets to trap those who were releasing fear among his people. When he told us this, I knew that some of the very things that have recently released so much fear in the Body of Christ were part of the trap. As the Lord showed us the trap, he said, "It is a huge challenge when you hang around chickens. Chickens have a tendency to make you doubt and second guess yourself. They are not encouraging at all. They're always skeptical, and they are always chickens."
The Lord is beginning to draw the chickens away to the Discouragement Train so that the chickens do not hinder the people of God. Then his people will board the Encouragement Train and can encourage each other once the chickens have been separated in the current winnowing.
There is a time soon coming, and even now upon us, where the righteous will shine forth as the sun exercising the authority of the Kingdom of Heaven. However, before that can happen, the winnowing must take place. Those who claim to be a part of God's Kingdom will board the one train or the other. Those who preach fear and discouragement will be removed, just like the ten spies who discouraged Israel (see Numbers 14:36-38). It is a time like that which Jesus prophesied in Matthew 13 when he said,
"The Son of Man will send forth His angels, and they will gather out of His kingdom all stumbling blocks, and those who commit lawlessness, and will throw them into the furnace of fire; in that place there will be weeping and gnashing of teeth.
"Then THE RIGHTEOUS WILL SHINE FORTH AS THE SUN in the kingdom of their Father. He who has ears, let him hear." (Matthew 13:41-43 NASB)
If you are on the wrong train, I don't believe it is too late to jump off, but now is the time. Get on the right train.
——————————————————–
Shameless Plug for Drinking Water in Kenya:
A friend of mine, Pat Selvey, is living in Kenya digging wells to save the lives of children there. He asked if I would advertise an opportunity to purchase a drilling rig. The ministry has already raised most of what is needed for the drilling rig. Here is what Pat wrote, and a few excerpts from the website:
There is a water crisis in Africa. In many areas waterborne disease is the biggest killer of children under the age of 5. Water born disease is preventable. Clean drinking water for 150,000 school children requires that Hydrating Humanity purchase a deep-hole drill rig. We have been able to raise over $265,000 so far. Our goal is to raise $300,000 as quickly as possible to get this drill rig purchased and deployed into the Kuria School District in Southwest Kenya.
Would you consider being a part of raising the additional money needed? Every dollar given in this fundraiser will be used to purchase this critical equipment. Your gift of $10, $50, $100, $1,000 or $10,000 gets us one step closer to helping kids get clean water for the first time ever! It truly is a gift that will keep on giving!
If you would like to help, or to find out more, click HERE.
——————————————————–
Subscription Notice: I have found that the most dependable way of notifying subscribers of a new post is through email. So I have added an email subscribe option below. Just add your email address and click subscribe (you will receive an email asking you to confirm your subscription—so check your spam folders if you don't). You will receive an email alert whenever I publish an article. Your emails will be used for no other purpose.
Images credit: tonygers / 123RF Stock Photo
Share on Facebook