Earthquakes And Your Prayer List
February 5, 2016, 5:50 pm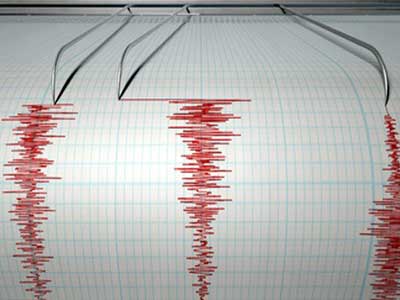 The Lord recently spoke to us about earthquakes. He said, "This is a year that is ripe for earthquakes." He then showed us that there is a soft spot along the New Madrid fault line.
Now, before we begin to get excited about that, remember that this is an intercessory blog. When the Lord speaks to us about something, he does so that we can alert intercessors to add earthquakes to their prayer lists. He lets us know where it would be good to focus our prayer attention so that people and property are preserved. That is his heart.
You will not usually see me post "doom and gloom" prophecies, simply because I understand the role intercessors are supposed to take. Since 1998, when the Lord first showed me 1999's Hurricane Irene, he has been training me to view every potential disaster as an opportunity to manifest the power and love of the Kingdom. There are really two ways to manifest the love and power of the Kingdom. The most common way is to respond to a disaster. We see something really bad happen, and the love of Christ wells up in us so that we respond to the human suffering and need with generosity and life. I believe this is the way of Romans 8:28 where Paul taught us,
And we know that God works with those who love Him so that all things result in good; He works with those who are called according to His purpose. (My Translation)
Bad things happen in this fallen world. However, God has purposed to use his people to release as much life as possible through his people in order that when a bad thing happens, more life is released through his people than the death that the disaster and destruction brought.
Most of you who are reading this post probably see the flaw in this first way of manifesting the power and love of the Kingdom. The bad thing actually happens, people are injured or killed, and suffering is released. While it is absolutely important that we rush to respond to those needs, wouldn't it be nicer if we could be like the comic book super heroes who actually prevent the disaster from happening? Wouldn't it be great if God's people got so good at hearing from him, and so good at wielding the Keys of Authority, that disasters were averted and human suffering was avoided?
The answer to that question is obvious. And this is where we leave the comic book scenarios behind. Instead we pick up the truth of what Jesus said about the authority he would give his Church:
Truly, I say to you, whatever you bind on earth shall be bound in heaven, and whatever you loose on earth shall be loosed in heaven. 19 Again I say to you, if two of you agree on earth about anything they ask, it will be done for them by my Father in heaven. 20 For where two or three are gathered in my name, there am I among them. (Matthew 18:18-20 ESV)
The Church is becoming the Kingdom when it understands its authority, and uses that authority to protect those who live around them. Eventually the whole Church will understand this mandate (see Matthew 13:33). But for now, those with ears to hear must take up the Keys whenever the Lord focuses our attention in a particular direction.
At this time he has focused our attention on earthquakes. As an aside, we might ask, "Why hasn't he focused our attention on the Zika virus?" In response I would write, "If we need the Lord to tell us to pray against a deadly virus that is spreading through the world at such an explosive rate that it threatens a generation, then we do not yet recognize our role." One doesn't wait on direction from the Lord when one sees an out-of-control truck hurtling down the street at an unsuspecting child. One acts quickly and reflexively to rescue the child. For intercessors, the Zika virus should have already gained a major part of our attention simply because it is such a horrific threat, and it should stay in major focus until it is vanquished.
The Lord may not need to speak to us about the Zika virus threat because it is so obvious, but he does focus our attention on such things as earthquakes because we are often unable to detect their imminent arrival by natural means. So the Lord helps us to focus on them through supernatural communications. He is always looking for those who will stand in the gap for an area that is under threat (see Ezekiel 22:30). That means that when he tells us that we are in a year that is ripe for earthquakes, he is giving us an invitation to stand against them on behalf of our geographic areas of influence. In truth, he is telling us that the Kingdom of God is now ripe for some incredible uses of the authority he has given us. When he tells us that the New Madrid fault has some weaknesses, those who live along that fault line, and those who support them from afar, have an opportunity to exercise our authority so that built up stresses are relieved through small and relatively inconsequential movements of the earth, rather than through one gigantic slip that releases death and destruction. While we can certainly manifest the Kingdom of God by responding to an earthquake with the love of Christ after it has happened, I would much rather use the Keys to prevent the death and destruction that one would bring. I know that those who are reading this article are with me on this.
So the year is ripe for earthquakes. I believe that by telling us this that the Lord is saying that the year is even more ripe for intercessors to use their authority and stop devastating earthquakes. That is how we need to read every prophetic headline, even the "gloom and doom" variety, written by people who often do not yet know their authority in the Kingdom. We live in a broken world. Those who understand Kingdom must do their best to fix it wherever they have opportunity.
——————————————————–
Update: I wrote this article on Friday during the mid-afternoon, and schedule it to be published on Monday morning because more people read the article on weekdays. However, in view of the fact that an earthquake in Taiwan of magnitude 6.4 has been reported, I am publishing immediately. Please pray for the people of Taiwan, and be prepared to demonstrate the Kingdom in other tangible ways as opportunities become available.
——————————————————–
Subscription Notice: I have found that the most dependable way of notifying subscribers of a new post is through email. So I have added an email subscribe option below. Just add your email address and click subscribe (you will receive an email asking you to confirm your subscription—so check your spam folders if you don't). You will receive an email alert whenever I publish an article. Your emails will be used for no other purpose.
Image Credit: albund / 123RF Stock Photo
Share on Facebook