A Translation of Mark Chapter 2
April 11, 2016, 6:00 am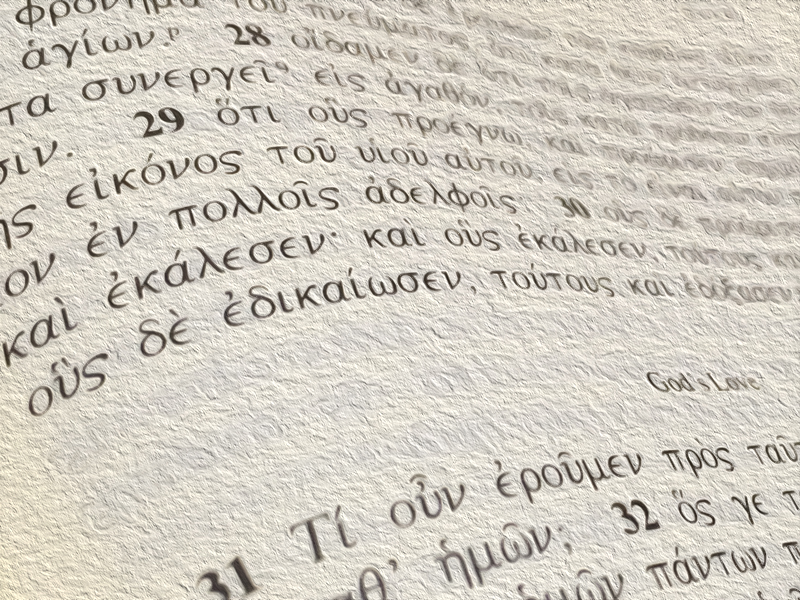 This past week someone asked me about my translation of Mark 1. As I answered the questions, I realized that it might be helpful to explain my translation philosophy. Some translations are word for word translations, which can be awkward, difficult to understand for modern day English readers, and often do not communicate the fullness of what a Greek reader of two thousand years ago would readily understand as they scanned the printed text. Even with these problems, word for word translations are beneficial because they do bind us closely to the words of the Greek and Hebrew text.
Other translations attempt to convey a thought for thought translation of the original language. Rather than bind the English reader to awkward constructions, or things that a modern reader may not understand, they do their best to convey the thought that a reader of the Greek or Hebrew text would have understood thousands of years ago. While these translations may be far easier to read than a word for word translation, the cultural or theological presuppositions of the translators can cause them to misinterpret what the original authors were trying to communicate. Again, even with this potential problem, such translations are beneficial because they help us more easily read and understand the Bible. They also flow so well that it is easier for us to read a lot more of the Bible at any given time.
Of course, it is good to have one translation that you can easily read in order to devour larger chunks of Scripture in your devotional reading times. However, it is also good to get the more awkward word for word translations for your deeper study times. In this way, you get the best of both worlds.
How do I attempt to translate? While I strive for a word for word translation as much as possible, I am quite comfortable going thought for thought when I believe it is appropriate. I'll even add italicized words to add thoughts that the author and his original readers easily understood, but modern readers might miss because we live in different cultures or contexts (see verse four below). In that way the reader gets the benefit of something that was obvious to the original writer, but can clearly see that I added it to the translation as an aid to understanding.
Starting today, I will also add a few explanatory notes at the end of the translations I post on this blog, if I feel there is a benefit to doing so. I wouldn't let a particular asterisk interrupt reading through the entire translation, but would peruse the additional notes after you are done reading.
Mark 2:1-28
A Translation by Randal Cutter
2:1   Some days after the healing of the leper, when Jesus came again to Capernaum, the word went out that Jesus was home.
2:2   As a result, so many gathered that there was no longer any room at the house, not even near the door. Then Jesus spoke the word to them.
2:3   Then four men came to him bringing a paralytic whom they were carrying.
2:4   Since they were not able to bring him through the crowd, they took the outside stairway to the roof and removed some tiles above where Jesus was speaking. After they were finished breaking it open, they lowered the bed on which the paralytic was lying.
2:5   When Jesus saw their faith, he said to the paralytic, "Son, your sins are pardoned."
2:6   But some of the scribal scholars* were sitting there and thinking in their hearts,
2:7   "What is this man implying? He is blaspheming! Who is able to forgive sins except the only God?"
2:8   Then immediately, when Jesus perceived in his spirit that they were thinking this way, he said to them, "Why are you thinking these things in your hearts?"
2:9   "What is easier, to say to the paralytic, 'Your sins are pardoned,' or to say, 'Get up, pick up your bed and walk around?'"
2:10   "But in order that you might know that the Son of Man possesses authority to pardon sins upon the earth," he said to the paralytic,
2:11   "I say to you, 'Get up! Pick up your bed and go home.'"
2:12   Then the paralyzed man got up, picked up his bed immediately, and went out in front of everyone. This astonished everyone, and they glorified God by saying, "We have never seen such things!"
2:13   In another instance, Jesus went out again beside the sea, and all the people kept coming to him, so he continued teaching them.
2:14   Then, while he was walking along, he saw Levi the son of Alphaeus sitting at the tax collection station, and so he said to him, "Follow me!" As a result, he stood up and followed him.
2:15   As the events of the day unfolded, Jesus ended up dining at Levi's house, and many tax collectors and sinners were enjoying a meal with Jesus and his disciples; for many tax collectors and sinners were already following him.
2:16  When the scribal scholars who belonged to the party of the Pharisees saw that Jesus was eating with sinners and tax collectors, they began pestering his disciples asking, "What possible reason does he have in eating with tax collectors and sinners?"
2:17   When Jesus heard about it, he said to them, "Those who are healthy have no need of a physician, but only those who are ill. I have not come to call righteous people, but sinners."
2:18   At another time, John's disciples and the Pharisees were fasting. So they came and pursued this line of questioning, "Why do John's disciples and the disciples of the Pharisees fast, but your disciples are not in the habit of fasting?"
2:19   So Jesus responded to them, "The guests at a wedding cannot fast while the bridegroom is with them, can they? As long as they have the bridegroom with them they are not able to fast."
2:20   "But the days will come when the bridegroom is taken from them. In that day they will fast."
2:21   "No one sews a piece of shrinkable cloth upon an old garment. But if someone does try this, the old garment's new patch will separate from the main part of the garment, and the tear will become more severe."
2:22   "In the same way, no one puts new wine into old inflexible wineskins.* But if someone does try this, the fermenting wine will break the wineskins, and the wine and the wineskin will be destroyed. On the contrary, new wine must go into new flexible wine skins."
2:23   At another time, while he was passing by a grain field on the Sabbath, his disciples began to walk along picking heads of grain.
2:24   Then the Pharisees questioned him, "Look, why do they do what is not legal to do on the Sabbath?"
2:25   But Jesus said to them, "Have you never read what David did when he had need, when he and those with him were hungry?"
2:26   "How he went into the house of God during the days of Abiathar the high priest, and he ate the bread of presentation, which you are not permitted to eat if you are not a priest? And how he also gave it to those with him?"
2:27   Then he said to them, "The Sabbath was created to serve man, but man was not created to serve the Sabbath."
2:28   "For this reason the Son of Man* is also master of the Sabbath."
——————————————————————
2:6   Scribal Scholars: Most translations call these gentlemen scribes; however, they were more than that. The NIV calls them "teachers of the law," which they certainly were. But, when we identify them only as teachers of the law, we risk disconnecting them from their historic role as scribes of the word.
2:22   I translated "old wineskins" as "old inflexible wineskins." The term for "old" includes the idea of being worn out. Since a worn out wine skin is inflexible, this translation captures the picture that Jesus' hearers understood. In the same way, the word translated "new" can also mean fresh. The main feature of a fresh or new wineskin was its flexibility. That is what made it safe to store fermenting wine in.
2:28   When Jesus uses the term "Son of Man," he is emphasizing his human nature. If we pay attention to his use of this term during his ministry, we can find out more fully what fallen humanity had lost, and what Jesus came to restore.
——————————————————–
Subscription Notice: I have found that the most dependable way of notifying subscribers of a new post is through email. So I have added an email subscribe option below. Just add your email address and click subscribe (you will receive an email asking you to confirm your subscription—so check your spam folders if you don't). You will receive an email alert whenever I publish an article. Your emails will be used for no other purpose.
Image credit: Randal Cutter/iPhone 6s (Berean Version)/Photoshop Oil Paint Filter
Share on Facebook