A Translation of Mark Chapter 3
April 18, 2016, 6:00 am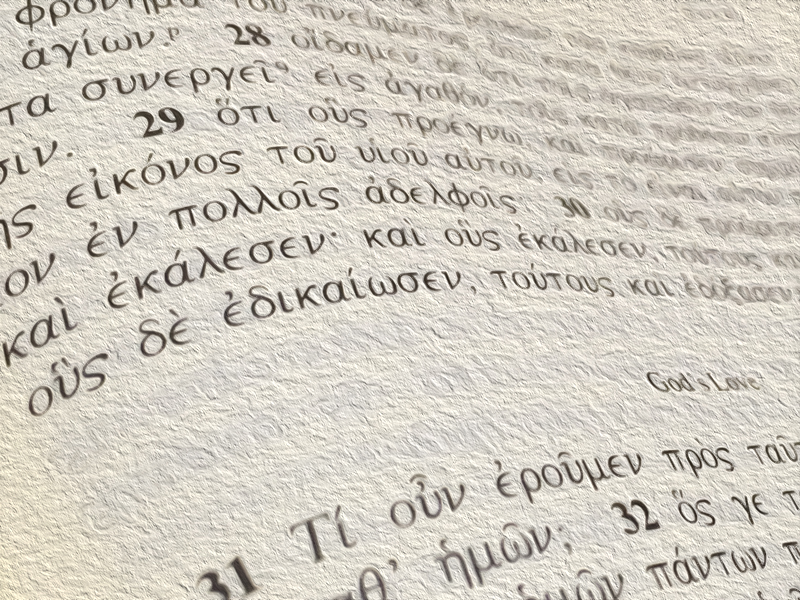 "When his relatives heard what Jesus was doing, they set out to take control of him; for they agreed that he was overcome with religious ecstasy." (Mark 3:21)
Sometimes when I am translating, I come across things that amaze me. Over the years, I had developed a pattern of checking the Greek or Hebrew languages as I prepared a message. I would check grammar, as well as the biblical author's word choices, and generally walk away from my study well-prepared to share what a particular passage meant. However, when I began to dig deeper in order to actually translate the passage so that I could preach from my translation, I had to grapple with every word in a more intense, and much more time consuming, way. Instead of depending on a primary translation to do the heavy-lifting, I had to delve more deeply into word meaning and usage in a new way. The benefit is that I have learned a lot more about the words used in the New Testament than I had previously known, and I am enjoying the surprises.
One of the surprises was Mark 3:21 (quoted above). I know most translations indicate that the relatives thought that Jesus was out of his mind. That is not a bad translation. But as I studied the words more closely, I found myself reading articles on religious experiences and religious ecstasy, because that is what the particular word Mark uses often signifies. As the light bulb turned on, my understanding of what Mark was saying also shifted. Instead of portraying Jesus' relatives as absolutely out of touch with his mission and purpose, it instead shows that they understood his life's work, but thought that he had gone too far into the religious experience of it.
In my opinion, that opens up my understanding of this scripture at a far higher level, and in a way that I can more easily apply it to the lives of those I am teaching. Anyone who has pursued God with more zeal than their parents and relatives, has encountered similar misunderstanding. Many have heard loving relatives caution them that they must not go "too far." In that way, Jesus' relatives were just like ours. They thought he had gone too far, and they were on a mission to bring him back to reality.
How did that work out for them? As we see in the translation below, not so well.
Mark 3:1-35
A Translation by Randal Cutter
3:1   Then Jesus went again into the synagogue. A man was there who had a paralyzed hand.
3:2   So the Pharisees were watching Jesus to see if he would heal the man on a Sabbath day, because they wanted to accuse him of violating the Sabbath.
3:3   At one point, Jesus said to the man who had the hand with the withering paralysis,* "Stand up in the middle of the congregation."
3:4   When the man had done this, Jesus said to them, "Is it lawful to do good on the Sabbath or instead, to allow evil to occur; to rescue someone's life, or allow him to die?" But they refused to speak.
3:5   He looked around at them with exasperation, and was deeply grieved by the hardness of their hearts. Then Jesus said to the man, "Extend your hand." The man extended his hand, and it was healed.
3:6   When the Pharisees left the meeting, they immediately took counsel with the followers of King Herod about how they might destroy Jesus.*
3:7  After that Jesus traveled with his disciples from there to the sea, and multitudes of people from Galilee followed. Multitudes more also came from Judea,
3:8  Jerusalem, Idumea, the far side of the Jordan, and the region of Tyre and Sidon, because they heard all that he was doing.
3:9  There were so many people that he directed his disciples to make a small boat ready for him, so that the people would not crush him;
3:10   for he had healed so many people, that those who still had afflictions would fall against him in order to touch him.
3:11   In addition, whenever unclean spirits saw him, they fell down before him and shrieked, "You are the Son of God!"
3:12   In response, he repeatedly rebuked them so that they would not make him known.
3:13   At another time, Jesus went up a mountain and summoned the ones he himself preferred,* and they came to him.
3:14   Then he selected twelve, whom he also named apostles, in order that they might be with him, that he might send them to preach,
3:15   and that they might walk in authority to expel demons.
3:16   So he selected the twelve, and he gave the name Peter to Simon;
3:17   he also gave the name Boanerges, which means "Sons of Thunder," to James* the son of Zebedee, and to his brother John.
3:18   He also selected Andrew, Philip, Bartholomew, Matthew, Thomas, James son of Alphaeus, Thaddaeus, Simon the Zealot,
3:19   and Judas Iscariot, who also betrayed him.
3:20   Afterwards, he came to his house, and again the crowd gathered there. Jesus and his disciples were so busy that they were not even able to eat a piece of bread.
3:21   When his relatives heard about this, they set out to take control of him; for they agreed that he was overcome with religious ecstasy.
3:22   At that same time, the scribal scholars who came down from Jerusalem began to say, "He has Beelzebul," and, "He casts out demons by the leader of the demons."
3:23   After Jesus had summoned the scribal scholars, he spoke to them in parables: "How is Satan able to cast out Satan?"
3:24   "If a kingdom has been divided against itself,* that kingdom cannot stand."
3:25   "In the same way, if a house has been divided against itself, that house cannot stand."
3:26   In like manner, if Satan has risen against his own followers, and is divided against them, he cannot stand. On the contrary, his end has come."
3:27   "In reality, it is like this: No one is able to enter into the house of a strong man to steal his goods, unless he first restrain the strong man. Only then can he steal from his house."
3:28   "I am telling you the truth, all sins will be forgiven the sons of men, even the many slanders* by which they have abused each other."
3:29   "But whoever slanders the Holy Spirit will never find forgiveness, even if he lives to the end of time. As a matter of fact, he is guilty of an eternal sin."
3:30   He said this because they were saying: "He has an unclean spirit."
3:31   Then Jesus' mother and brothers arrived. They decided to stay outside of the house, and instead sent a message summoning him.*
3:32   By this time, a crowd of disciples was sitting around him, and they said to him, "Look, your mother and your brothers and sisters are outside asking about you."
3:33   He responded by asking them, "Who is my mother and my brothers?"
3:34   With that, Jesus looked at those seated in a circle around him and said, "Look, my mother and my brothers."
3:35   "For whoever does the will of God, this one is my brother, sister, and mother."
——————————————————————
3:6   How they might destroy Jesus: Though many translations state that they plotted to kill Jesus, the Greek word means "to destroy" (Used here and in Matthew 12:14). While it certainly could mean that they were plotting to kill him, something that they clearly did later, here it probably means that they were only plotting to destroy his influence and ministry. Compare how Luke describes their discussion, "But they were furious and began to discuss with one another what they might do to Jesus" (Luke 6:11 NIV).
3:13   He himself preferred: Note how Mark emphasizes Jesus' choice. Although it may be a bit awkward in English, Mark emphasizes that it was Jesus "himself" who wanted each of these men. That himself is very emphatic.
3:17   James: This man's real name is Jacob. The book of the Bible is also really "Jacob" rather than "James." However, as the name Jacob passed through many iterations, James became the pronunciation of Jacob. Yaʻaqov (Hebrew) → Iacobus (Greek) → Iacomus (Latin) → Jammes (Old French) → James (English).
3:24   Has been divided against itself: Most translations render this phrase with the linking verb (is). While that makes for a smooth translation, it misses the passive nature of the verb. The house and the kingdom "have been divided," meaning that someone did it to the house and kingdom. While this doesn't make a huge translation difference, I chose to retain the slightly awkward passive construction so that the readers can see the passive nature of the phrase.
3:28   Slanders: The word blasphemy means to slander or to denigrate someone or something. Since very few people really know that, I like to translate this word as "slander" because people know what that word means.
——————————————————–
Subscription Notice: I have found that the most dependable way of notifying subscribers of a new post is through email. So I have added an email subscribe option below. Just add your email address and click subscribe (you will receive an email asking you to confirm your subscription—so check your spam folders if you don't). You will receive an email alert whenever I publish an article. Your emails will be used for no other purpose.
Image credit: Randal Cutter/iPhone 6s (Berean Version)/Photoshop Oil Paint Filter
Share on Facebook