A Translation of Mark Chapter 5
May 2, 2016, 6:00 am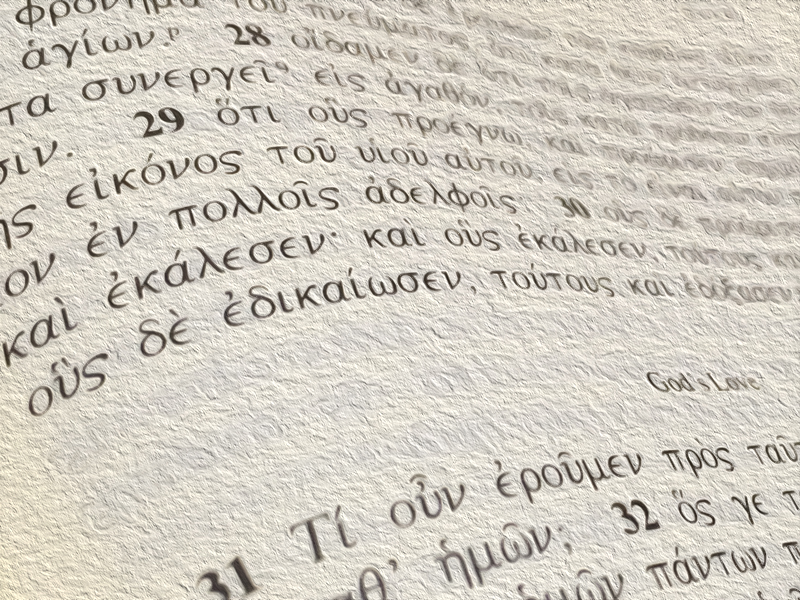 "But while Jesus was entering the boat, the man who had been demonized begged him that he might stay with him. However, Jesus did not permit him, but said to him, "Go to your home, to your family and friends, and report to them everything the Lord has done for you; and tell them that he had mercy on you." (Mark 5:18-19)
I am an ardent proponent of education, especially for those who are going to be teachers of the Word. I, like the apostle Paul, encourage anyone who has to step up in front of a group of people on a Sunday morning to handle the Word correctly (see 2 Timothy 2:15). That means that we have to understand what the original author (the Holy Spirit) intended to communicate using the gifts of the original writer. We can only do that as we study the Word, and become more competent with it.
Obviously, for this reason, I also believe that if one is called to be a teacher, one should learn the original languages of the Bible. One of the reasons I am choosing to publish these translations, is to spark that desire in some of this blog's readers. Knowing the original languages can help you delve into things that you will never see when you are at the mercy of translations or commentaries. You will become a better teacher when you can confidently access the language of the original writer.
But having said that, I am not a preaching snob. I don't think you have to know the original languages to be a great preacher as a prophet, apostle, evangelist, or pastor. I know preachers who don't know a shred of Greek or Hebrew who can preach so eloquently and powerfully that I feel like a beginner in the art of communication compared to them. I love to watch God pour through such gifted individuals.
That brings me to the man mentioned in the verses at the start of this article. He was the first man that Jesus commissioned as a missionary to the Gentiles. Paul wasn't the first missionary commissioned to go to the Gentiles; it was the Gentile man whom Legion had possessed. Jesus commissioned him to go to his family and friends in the Gentile region of the Decapolis, and to explain how he had been changed. Only hours before, he had been a poor demonized soul that no one was able to control, but then Jesus freed him and spent several hours instructing him about the ways of God. In that short time span he had become a missionary of the gospel of the Kingdom. That is an amazing transformation, and it reminds us all that it isn't the amount of education that we have that makes us into useful tools in God's hands, it is our experience of his grace.
There is no doubt, that with time, the man acquired more knowledge and insight that he could share about God (I might point out that he already knew Greek), however, Jesus sent him out as a missionary based upon the testimony of God's grace in his life. That qualified him for his mission, as it qualifies us for ours.
So while I love working with the original languages, I understand that it is only the experience of God's grace that truly qualifies any of us for the role he has called us to play in his Kingdom. And I might add, that if you are called to be a teacher, his grace will make learning Greek and/or Hebrew fun . . . eventually.
Mark 5:1-43
A Translation by Randal Cutter
5:1   Then they came to the other side of the sea near the region of the Gerasenes, where Gentiles lived.*
5:2   When he had traveled away from the boat, a man with an unclean spirit came quickly out from the tombs to meet him.
5:3   This man made his shelter among the tombs because it was no longer possible to bind him, even when they used chains.
5:4   For he had often been bound with shackles and chains, but he tore the chains apart and smashed the shackles; no one was strong enough to restrain him.
5:5   As a result, night and day he continually cried out among the tombs and in the hills, even cutting himself with sharp stones.
5:6   When he saw Jesus from a distance away, he ran and threw himself down before him.
5:7   He cried out with a deafening shriek, and then he said, "Why are you harassing me, Jesus, Son of the Most High God! Swear by God that you will not torture me!"
5:8   For Jesus had been commanding him, "You unclean spirit, come out from the man!"
5:9   Jesus also kept asking him, "What is your name?" Finally the man answered him, "My name is Legion, because we are many."
5:10  He continued to beg Jesus with increasing urgency, hoping that he would not send them out of the region.
5:11   It so happened that in that place a large heard of pigs was grazing near a hillside.
5:12   So the spirits begged him saying, "Send us into the pigs, in order that we might enter them."
5:13   Then he permitted them. After the unclean spirits came out, they entered into the pigs, and the herd rushed headlong down the hill into the sea. There were about two thousand of them, and they all drowned in the sea.
5:14   Those who were feeding the pigs fled, and carried the news into the city and throughout the countryside. As a result, the residents came to see what had happened.
5:15   So they approached Jesus, and they saw the man who had been possessed by the legion of demons sitting clothed and in his right mind. Then they were afraid.
5:16   Those who had been watching, carefully explained what had happened to the demonized man, and also about the pigs.
5:17   In response, they began to beg him to depart from their territory.
5:18   But while Jesus was entering the boat, the man who had been demonized begged him that he might stay with him.
5:19   However, Jesus did not permit him, but said to him, "Go to your home, to your family and friends, and report to them everything the Lord has done for you; and tell them that he had mercy on you."
5:20   Then the man went away and began to proclaim in the Decapolis* everything Jesus had done for him, and everyone was astonished.
5:21   After Jesus crossed over in the boat again to the other side, a large crowd gathered together around him. So he stayed beside the sea.
5:22   It wasn't long before Jairus, one of the officers of the synagogue, arrived. When he saw Jesus, he fell at his feet
5:23   and begged him earnestly saying, "My young daughter is near death. I beg you to come so that you might lay your hands upon her that she might be healed and live."
5:24   Then Jesus went with him. But the large crowd kept following him, and crushed against him on every side.
5:25   There was a woman behind Jesus who had suffered from an unusual flow of blood for twelve years.
5:26   She had endured much under the care of many physicians, and had exhausted all of her savings without receiving any benefit. In fact, she only grew worse.
5:27   When she heard about Jesus, she came up from behind him and touched his clothing.
5:28   For she thought to herself, "Even if I only touch his clothes, I will be delivered."
5:29   Her flow of blood dried up at once, and she felt in her body that she was healed from the affliction.
5:30   At that very moment, Jesus stopped and turned to the crowd following him and said, "Who touched my clothes?" For he felt in his body that power had gone out from him.
5:31   Then his disciples responded to him, "You see the crowd crushing all around you, yet you ask, 'Who touched me?'"
5:32   But he continued to look around to see who had done it.
5:33   Finally the woman, shaking with fear, came and fell before him. She knew what had happened to her, and revealed the whole truth to him.*
5:34   Then he said to her, "Daughter, your faith has saved you. Go in peace, be whole and leave your affliction behind."
5:35   While he was still speaking, messengers came from the family of the synagogue officer saying, "Your daughter has died. Why continue to trouble the teacher?"
5:36   But Jesus ignored the report and said to the synagogue officer, "Do not fear, only trust."
5:37   At that time he did not permit anyone to accompany him except Peter, James, and John the brother of James.
5:38   Then they came to the house of the synagogue officer. Jesus saw the uproar, as well as the paid mourners* who were loudly weeping and wailing,
5:39   and he entered the house and said to them, "Why are you so distressed, and why are you weeping? The child has not died, but she is sleeping."
5:40   But they began to laugh scornfully at him. Then Jesus himself cast them* all out of the house. He took the child's father and mother and those he brought with him, and he went into where the child was.
5:41   Jesus held the child's hand, and said to her, "Talitha koum!" Which is translated, "Little girl, I say to you, 'Stand up!'"
5:42   Immediately the little girl arose and walked about as if nothing had happened, for she was only twelve years old.* Those who saw it were instantly overwhelmed with astonishment.
5:43   Then Jesus instructed them repeatedly that no one should be told about it;* he also suggested that they give her something to eat.
——————————————————————
5:1   Where Gentiles Lived: The italics remind you that this phrase is not in the original text. I added it so that modern readers would understand what Mark's first readers already understood. This area and the Decapolis was a region of ten Greek cities populated mostly by Gentiles. This helps us understand why there was a herd of pigs on the hillside.
5:20 The Decapolis: This means "the ten cities." These were ten cities, populated mostly by Gentiles, where the first language was Greek. This was the first missionary Jesus sent to the Gentiles.
5:33 Revealed the whole truth: The whole truth included the fact that she was ceremonially unclean, and that anyone she touched was unclean, and that by touching the teacher, she had made him unclean (potentially disqualifying him from helping Jairus' daughter until he had bathed and the sun had set). She was shaking with fear because she expected Jesus and the crowd to turn on her for her impudence, and for making them unclean.
5:38 The paid mourners: The Greek text literally reads, "those who were weeping and wailing." However, everyone who read this in Mark's time understood that the reference was to the paid mourners and minstrels who were hired to lament the death of a loved one. Since Jairus was an important official, his stewards would have made arrangements for quite a number of these professional mourners, and it would have been quite a cacophony.
5:40 Jesus himself cast them: There are two things to note here. The first is that Mark makes certain that we understand, through emphasis, that Jesus himself was the one who drove the professional mourners and the other skeptics away. The second is that Mark chose to use the same word as when Jesus cast out demons. I have translated it in a way that preserves Mark's choice to portray these folks as a demonic horde that needed to be cast out.
5:42 As if nothing had happened, for she was only twelve years old: Mark adds a reason ("for she was only twelve years old") without specifically stating what had happened that he felt needed explaining. I have added the reason that is evident in the context, however, of course it is in italics since it is not in the Greek text.
5:43 Then he repeatedly instructed them: Jesus knew what every fiber in Jairus' being would soon be longing to do. Jairus was a synagogue ruler. That is quite a pulpit from which to broadcast these events. Jesus was making certain Jairus did not proclaim the intimacy of these events from his pulpit, something any preacher or teacher would most naturally do.
——————————————————–
Subscription Notice: I have found that the most dependable way of notifying subscribers of a new post is through email. So I have added an email subscribe option below. Just add your email address and click subscribe (you will receive an email asking you to confirm your subscription—so check your spam folders if you don't). You will receive an email alert whenever I publish an article. Your emails will be used for no other purpose.
Image credit: Randal Cutter/iPhone 6s/Photoshop Oil Paint Filter
Share on Facebook