A Translation of Mark Chapter 6
May 10, 2016, 6:00 am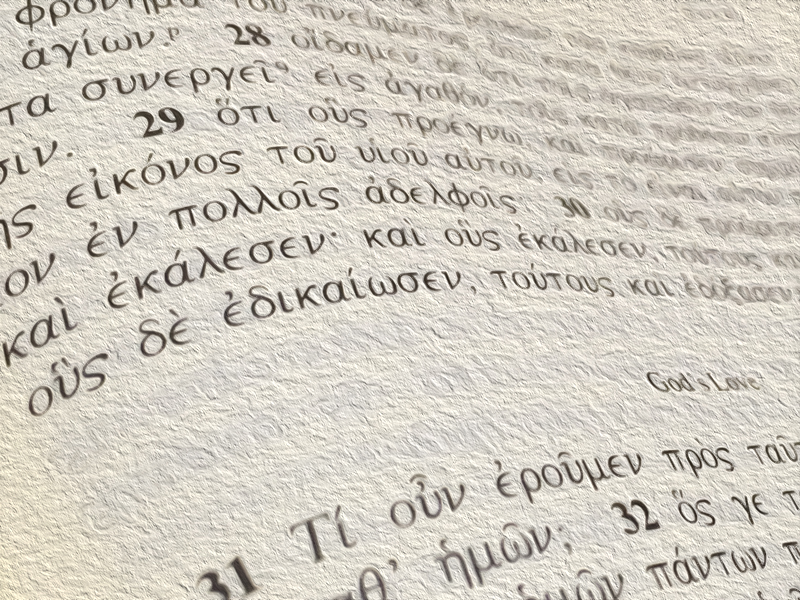 Pay attention to this verse. It will give you some amazing keys for living: "Jesus could see his disciples being painfully tested as they rowed, because the wind was against them. Around the fourth watch of the night, he came near them walking upon the sea; he was intending to pass by them." (Mark 6:48)
This verse contains so much raw understanding of how things really work, that we need to pay close attention. It will help you through difficult times.
After promising his disciples a quiet time away with him because they were so busy they could not even find time to eat, the disciples and Jesus head for parts unknown. However, the crowds see them, race along the shore, and actually get to the place of rest before Jesus and his disciples. Jesus and his team once again spends hours ministering to these crowds, and then Jesus has the disciples serve dinner to what probably amounted to about twenty thousand people. Then immediately, he compels them to get in their boat and head straight into a wind that makes their crossing of the lake the trip from hell. They had started before sunset. At 3:00 AM they were still rowing, and still had quite a distance to go. Can you imagine how tired and discouraged they were at this point? Yet when Jesus started for home walking on the water, he intended to walk right by them. We need to get our mind around this in order to understand how he works with us.
I translated the main verb in one of the sentences in verse 48, "Jesus could see his disciples being painfully tested." I think that is a fair description. The Greek verb, baésanos, was originally used by inspectors of coins, then the word became a commercial term for checking calculations, later it was used figuratively for testing, and finally it came to signify putting to the test by torture (Theological Dictionary of the New Testament). While most of the translations I have seen capture the torturous struggle, they miss the testing part. At Jesus' time the word could refer to torture, or it could refer to testing afflictions. Obviously, torture is bad, but testing afflictions can purify us and grow us in ways that help us.
While Jesus will not give us more than we can bear (see 1 Corinthians 10:13), he knows we can bear a lot more than we think we can. He will not short circuit the growth process when it can only help us. The disciples were undergoing a test. Jesus intended on letting the test continue for their benefit. He only changed his course when the circumstances changed. The disciples caught sight of Jesus, misunderstood what was happening, and were overwhelmed with fear. At that point Jesus intervened on their behalf so that they would not be undone.
I believe this story can strengthen our resolve when trials come upon us. No matter the source of the trial, or the intensity, when we strenuously work through it, it can have a beneficial purpose. It might even feel so difficult it can feel like torture—I can imagine the disciples were in that frame of mind—and yet the Lord knows the difference. He will allow the testing to accomplish its purposes, but he will also intervene if we become undone.
We should also note, that although Mark doesn't reference it, Peter instantly recovered from his fear, and asked Jesus to invite him on to the water. Apart from Jesus, Peter was filled with fear. When he fixed his eyes on Jesus, he was able to walk on water with Jesus. Though he eventually relapsed into fear, his quick recovery is an amazing testimony of how quickly the people of God can move from fear to faith when Jesus is in the picture.
These are important keys of understanding from this section of Mark.
For your information, I have now caught up to where my congregation and I are as we study through (and translate) the book of Mark. I will post chapter seven when I finish teaching through it in several weeks.
Mark 6:1-56
A Translation by Randal Cutter
6:1   Then Jesus left that area, and went to his hometown; his disciples also accompanied him.
6:2   When the Sabbath came, he began to teach in the synagogue, and many of those who listened were overwhelmed with amazement. They began to ask, "Where did this man get these teachings? Where did he receive this wisdom? How are such miracles being done through his hands?"
6:3   "Isn't this the carpenter, the son of Mary, and the brother of James, Joseph, Judas, and Simon? His brothers are also here among us, aren't they?" So they were shocked and angered by him.
6:4   Jesus said to them, "A prophet is not usually despised except in his hometown, among his own relatives, and in his own house."
6:5   As a result, he was not able to do any miracles there, except that he did place his hands on a few sick people and healed them.
6:6   He was amazed at their unbelief, so he went instead to the surrounding villages teaching them.
6:7   Later, he called the twelve and began to send them out two by two. He also gave them authority over unclean spirits.
6:8   He also commanded them, "Take nothing on the road except a single staff. Do not take any bread, nor a bag for provisions, nor money folded into your belts."
6:9   "Of course you may wear sandals, but do not wear two tunics."
6:10   He also said to them, "Remain at the location where you have been welcomed into a home until you depart from that town."
6:11   "But the place that does not welcome you, and the people that do not listen to you, as you leave that town, shake the dust from under your feet as a witness to them."
6:12   Then they went out and preached so that the people might repent.
6:13   They also cast out many demons, and they anointed many sick people with oil and healed them.
6:14   At that time, "King" Herod* heard about Jesus, for his name had become well known. Some were also saying, "John the baptizer has been raised from the dead,* and for this reason miraculous powers are working in him."
6:15   But others were saying, "It is Elijah." Still others were saying, "He is a prophet like one of the Prophets."
6:16   However, when Herod heard, he said, "It is John, whom I beheaded. He has risen from the dead."
6:17   Herod himself had sent men and arrested John, and bound him in prison. It was all because of Herodias, the wife of his brother Philip, whom Herod had married.
6:18   For John had been saying to Herod, "It is against the Law for you to marry your brother's wife."*
6:19   Herodias was furious with John, and wanted to kill him; but was not able to do so
6:20   because Herod was afraid of John and was protecting him. He knew John was a righteous and holy man. He listened to him often, but was perplexed by him. Yet he enjoyed listening to him.
6:21   The perfect time to make an attempt on John's life arrived on Herod's birthday, when he put on a banquet for his nobles, military commanders, and the chief men of Galilee.
6:22   When the daughter of Herodias herself came in and danced, she delighted Herod and those dining at the table with him. The "king" said to the teenage girl,* "Ask me whatever you wish, and I will give it to you."
6:23   He swore emphatically to her, "Whatever you ask of me, I will give to you, even up to half my kingdom."
6:24   She went out and asked her mother, "What shall I ask?" Her mother said, "Ask for the head of John the baptizer."
6:25   She went to the "king" quickly and asked urgently, "I want you, without delay, to give me the head of John the baptizer on a serving tray."
6:26   The "king" was filled with profound sorrow, but on account of the oaths and those dining at the table, he did not want to reject her request.
6:27   The "king" immediately sent a messenger and commanded the executioner to bring John's head. Then the executioner went and beheaded John in the prison,
6:28   and brought his head upon a serving tray. He then gave it to the teenage girl, and the little girl gave it to her mother.
6:29   When John's disciples heard, they came and carried his body away, and placed it in a tomb.
6:30   After their mission, the apostles gathered around Jesus and reported everything they had done and taught to him.
6:31   At that time he said to them, "Come by yourselves to an uninhabited place and rest alone for a little while." He said this because so many were coming and going that they could not even find time to eat.
6:32   Then they went in the boat to an uninhabited place by themselves.
6:33   But the crowds saw them as they left, and many recognized them. People from all the cities ran together on foot to the uninhabited area, and they arrived before Jesus and the disciples.
6:34   When they arrived, Jesus saw the large crowd and felt compassion for them, because they were like sheep who did not have a shepherd; so he began to teach them many things.
6:35   When many hours had gone by, Jesus' disciples came to him and said, "The place is remote, and many hours have already passed."
6:36   "Send the people away so that they can go to the countryside and the surrounding villages, and buy something to eat for themselves."
6:37   But he responded to them, "You give them something to eat." They asked him, "Shall we go and buy two hundred denarii* worth of bread and give it to them to eat?"
6:38   He questioned them, "How many loaves do you have? Go and see." When they found out they said, "Five loaves and two fish."
6:39   Then he commanded them all to sit as if arranged for a banquet in rows upon the green grass.*
6:40   They sat down in orderly groups of hundreds and fifties.
6:41   At that point, Jesus took the five loaves and the two fish, and looking up to heaven he pronounced a blessing and broke the bread into pieces. Then he gave it to his disciples in order that they might serve it to the people, and he shared the two fish with everyone
6:42   so that they all ate as much as they wanted.
6:43   They also carried away twelve baskets of leftover pieces of bread, along with the fish.
6:44   Those who ate the bread numbered about five thousand men.
6:45   As soon as the meal was finished, Jesus forced his disciples to get in the boat and journey across the sea to Bethsaida, while he personally sent the crowd away.
6:46   After he sent everyone away, he went up a mountain to pray.
6:47   By the time the sun had set, the boat was in the middle of the sea while Jesus was alone on the land.
6:48   Jesus could see his disciples being painfully tested as they rowed,* because the wind was against them. Around the fourth watch of the night, he came near them walking upon the sea; he was intending to pass by them.
6:49   When they saw him walking upon the sea, they cried out in terror, thinking he was a phantom;
6:50   they all saw him and were trembling with fear. But he quickly responded and said to them, "Take courage, it is I; stop being afraid."
6:51   He went to them in the boat, and the wind stopped. They were utterly overwhelmed with amazement,
6:52   for they did not understand about the loaves; their hearts had become insensitive.
6:53   They crossed over and came to shore near Gennesaret, and they anchored the boat.
6:54   When they disembarked from the boat, the people of the region immediately recognized him,
6:55   and they rushed throughout that entire region spreading the news. Then they began to carry the afflicted around on stretchers wherever they heard that he was.
6:56   Wherever he went, whether it was in a village, a city, or in the countryside, the residents would place those who were sick in the marketplace, and beg him to let them touch the hem of his garment. All those who were sick, who touched him, were healed of their illness.*
——————————————————————
6:14  "King" Herod: Herod never attained the rank of king; he was only a tetrarch. In fact, when he attempted to get the title of king in 39 A.D., Caligula banished him. This was a well-known story in Rome. Since Mark wrote to the Romans, he knew he could call Herod king, and the Romans would get the message about the self-important and pompous ambitions of this man.
6:14   John the Baptizer: The word translated "Baptizer" is a participle, which is verbal in nature. Rather than making the word into the static noun "Baptist," I have chosen, for variety's sake, to maintain some connection to the verbal action. However, the word "Baptist" is also a quite acceptable translation of the Greek participle.
6:18   For John had been saying: The Greek verb form used has the idea of repeated or continuous action. John hadn't said this only once. It was a repeat message he probably delivered every time he had the opportunity.
6:18   It is against the Law: Note that I capitalized Law. John was concerned with the Law of Moses, which Herod should have honored by following.
6:22   The king said to the teenage girl: The Greek word, used repeatedly throughout this section, is the same word Jesus used when he said, "Little girl, I say to you, rise up." This is a very young teenager, at best, who is exciting Herod's lusts. The same word is used twice in verse 28 (for emphasis I translate it once as teenager, and once as little girl), again to emphasize how young she was as she carried out her horrific role in this grisly drama.
6:37   Two hundred denarii: A denarius was a day's wage for a laborer or soldier. Since the average work year is three hundred days, the NIV's translation of "eight month's wages" is as good as any. However, I chose to retain the name of the Roman coinage for consistency as I translate.
6:39   Arranged for a banquet: The word used in this verse reflects getting into position to eat. In the next verse the word used to describe the order of the people doesn't have anything to do with food, but rather describes the appearance of a neatly arranged garden bed.
6:48   Being painfully tested: The Greek word that I translate "painfully tested" often means torture. However, it can also refer to a strenuous test. The disciples were in the midst of a spiritual test. This helps explain why Jesus intended to pass by them. They were supposed to pass this test on their own, and only their terror over his presence changed his course.
6:56   Touch the hem of his garment: Obviously, the story of the woman healed of the flow of blood had spread far and wide.
——————————————————–
Subscription Notice: I have found that the most dependable way of notifying subscribers of a new post is through email. So I have added an email subscribe option below. Just add your email address and click subscribe (you will receive an email asking you to confirm your subscription—so check your spam folders if you don't). You will receive an email alert whenever I publish an article. Your emails will be used for no other purpose.
Image credit: Randal Cutter/iPhone 6s/Photoshop Oil Paint Filter
Share on Facebook