A Translation of Mark Chapter 7
June 7, 2016, 6:00 am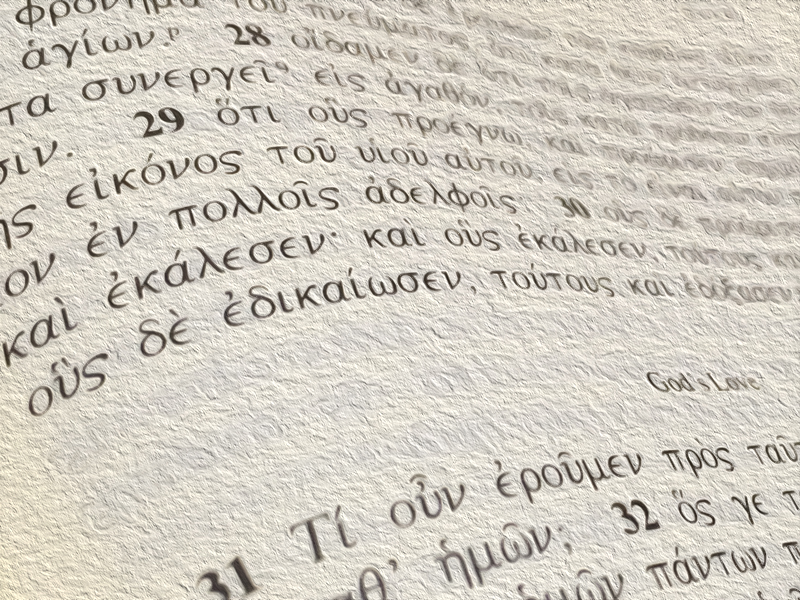 "In addition, when they come from the marketplace, they do not eat unless they baptize themselves. They also cling to many other traditions that they have inherited, such as the baptizing of cups, pitchers, copper vessels, and dining couches. " (Mark 7:4)
Before I comment on this verse, I should mention that in my congregation we practice baptism through immersion. I grew up Lutheran, and as most of you know, Lutheran practice is not immersion, nor would it be appropriate, since they baptize babies. However, when I left the Lutheran Church I shifted to adult baptism by immersion both for theological and practical reasons.
Before we move on, perhaps I should point out that most Christians believe this key truth about baptism: Baptism is for infants. Let that sink in for a minute. Now let's finish the thought: Some Christians believe that baptism is for physical infants, and some believe it is for spiritual infants (new believers). This means that we agree about a very basic truth about baptism, and that our only disagreement (from this perspective) is about whether the application is physical or spiritual. There, I've just solved a theological rift that has plagued the Christian Church for centuries. You are welcome.
More seriously, since I am about to write some potentially unpopular things, I thought I would state clearly what I currently practice so that you realize that I am not grinding a theological ax in what I write below. I am a truth-seeker. I also want you to be one. I know I can help with that by stating my position up front.
In order to be a truth-seeker, we need to allow the Scripture to form our theological opinions, our theological opinions cannot form Scripture. Since this is a translation article, I will put it this way: When we desire to determine the meaning of a word, we can approach the topic in one of two ways. We can determine the meaning of a word theologically, that is, we determine what our theology states that the word should mean, and we then make the word mean that. The other approach, which I believe is more appropriate, is to determine a word's meaning linguistically. That means, among other things, that we look at the various contexts in which we find a word, and then determine its meaning based upon the obvious context.
Thus we turn our attention to the verse I have quoted above.
I know that most translations do not use the word "baptize" in their translation of this verse. However, the Greek word that the Holy Spirit moved Mark to use was baptizo. As I did a survey of other translations, I found that most translations, except Young's Literal Translation (YLT), chose to translate baptizo by using the word "washing" instead of the more familiar "baptize." I would not normally have a problem with that choice, except that it obscures something that we really need to see in order to undertand the meaning of the Greek word baptizo.
Of course, volumes have been written on the meaning of baptizo, and I do not intend to add another volume. I will only point out that the vast majority of manuscripts of Mark 7:4 include the Greek word that is translated "dining couches" (table in the KJV/NKJV). That means that the Pharisees baptized their dining couches, a significant trick if baptizo means "to immerse" in this instance.
Of course, many translations simply drop dining couch, or demote it to a footnote stating that the most important manuscripts do not have it included. Let us be clear; there are thousands and thousands of copies of the Greek New Testament that have been passed down to us through the millenia telling us that the Pharisees baptized their dining couches. Relatively speaking, there are only a handful that do not have the word for dining couches. Even though the NIV and other translations choose to drop "dining couches" from their translations, it is included in the vast majority of the Greek manuscripts, and those who have compiled the Greek New Testament have always included it.
Actually, in one sense, it does not matter whether Mark himself actually used the word for dining couches or not. I believe he did, and that manuscript evidence supports that fact, but that really doesn't matter. What does matter is that thousands of ancient Greek-speaking and ancient Greek-writing copyists did include the word in their manuscripts, and had no difficulty with the idea that the Pharisees baptized their dining couches, which the Pharisees most certainly did not do by immersion.
If you believe that baptizo only ever means immersion, this is where you will find out if you approach Scripture from a theological perspective, or a linguistic perspective. If you approach this passage from a theological perspective, you will be offended at the idea that dining couches could be included in this passage. So even though it is included in the vast majority of the Greek manuscripts, and even though the compilers of the Greek New Testament have consistently included it in all their versions and updates, you might be tempted to drop it so that you do not have to deal with the implications. If you approach this passage from a linguistic perspective, though you may be offended that the idea of dining couches being baptized, you will let the text speak to you. You will then be open to the conclusion that, at least in this one instance, baptizo might mean something other than immerse.
You now know into which category you fall.
On to our translation:
Mark 7:1-37
A Translation by Randal Cutter
7:1   At another time the Pharisees and some of the scribal scholars came from Jerusalem and gathered around him.
7:2   They saw some of Jesus' disciples eating bread with ritually unclean hands, that is, with hands that had not been ritually washed.*
7:3   For the Pharisees and all the Jews did not eat unless they performed a ritual washing of their hands by making a fist,* clinging to the tradition of the elders.
7:4   In addition, when they come from the marketplace, they do not eat unless they baptize themselves. They also cling to many other traditions that they have inherited, such as the baptizing of cups, pitchers, copper vessels, and dining couches.
7:5   The Pharisees and the scribal scholars questioned Jesus: "Why are your disciples not walking according to the tradition of the elders, but instead eat bread with ritually unclean hands?"
7:6   In response he said to them, "Isaiah prophesied accurately about you hypocrites, as it is written, 'This people honors me with their lips, but their heart is far away from me.'
7:7   'They worship me without accomplishing anything, because they are teaching the commandments of men for their doctrines.'
7:8   "You have abandoned God's command, and are clinging to the traditions of men."
7:9   He also said to them, "You are good at overruling the commands of God in order to keep your traditions."
7:10   "For Moses said, 'Honor your father and mother,' and, 'The one mocking his father or mother spitefully should be put to death.'"
7:11   "But you say, 'If a man says to father or mother, 'Whatever financial support you might have received from me is Corban, that is, a gift for the temple treasury,'
7:12   "you no longer allow him to provide for his father or mother."*
7:13   "You are invalidating the word of God by the traditions which you have handed down; you also do many other things just like this."
7:14   When Jesus summoned the crowd again, he said to them, "Everyone, listen to me and understand!"
7:15   "There is nothing outside of a man that is able to defile him when it goes into him; but the things coming out of a man are able to defile him."
7:16   "If anyone has ears to hear, let him hear."*
7:17   Later when they went into a house away from the crowd, his disciples questioned him about the parable.
7:18   He asked them, "Are you so without understanding? Do you not understand that everything that enters a man from the outside is not able to defile him?"
7:19   "It can't defile him because it does not go into his heart, but into his stomach, and then goes out of his body into the latrine." Jesus said this, thus cleansing all foods.*
7:20   He also said, "The things that come out of a man defile the man."
7:21   "For from within—from the heart of men—evil thoughts arise, also sexual immoralities, thefts, murders,"
7:22   "adulteries, lusts, wicked deeds, deceit, unrestrained sensuality, envy, slanders, arrogance, and willful ignorance."*
7:23   "All these evil things come from within, and they defile a man."
7:24   Then Jesus left and went into the region of Tyre. He arrived at a house, but did not want anyone to know. However, he was not able to remain hidden;
7:25   in fact when a woman whose daughter had an unclean spirit heard about him, she immediately came and fell at his feet.
7:26   But the woman was a Greek who was Syrophoenician by birth. She requested that he cast the demon out of her daughter.
7:27   He said to her, "Let the children be fed first. For it is not healthy to take the children's food and feed it to the house dogs."
7:28   But she responded and said to him, "Yes Lord, but the house dogs* eat the scraps of the children that fall under the table."
7:29   He said to her, "On account of this answer, you may go; the demon has gone out of your daughter."
7:30   Then she went to her house and found the child collapsed upon the bed,* but the demon had left her.
7:31   Jesus again went out from the region of Tyre, and came through Sidon, and then traveled along the Sea of Galilee to the middle of the region called the Decapolis.
7:32   The residents of the region brought a man to him who could not hear, and had difficulty speaking; and they begged Jesus to lay hands on him.
7:33   Jesus took the man from the crowd for privacy, placed his fingers into his ears, spit in his hand, and held the man's tongue.*
7:34   He looked up to heaven, groaned, and said to the infirmities, "Ephphatha," which means, "Open up!"*
7:35   Immediately the man's hearing was opened up, the restriction on his tongue was removed, and he began to speak clearly.
7:36   Jesus gave them explicit instructions that they tell no one. But the more he instructed them, the more they spread the news,
7:37   because they were overwhelmed with astonishment; they were reporting, "He has done all things well. He even makes the deaf hear and the mute speak."
——————————————————————
7:2  Ritually unclean hands/ritually washed: There is no doubt from the context that the issue is the ceremonial washing that the Pharisees legalistically observed. I have translated this verse in a way that makes this obvious.
7:3  By making a fist: Literally "with a fist." This refers to the practice of how they held their hands as they washed. Some translations simply drop the word "fist" because they feel it is an obscure reference. I have included it because it is in the Greek text, and I don't believe that it is appropriate to edit out things simply because I might not understand them.
7:12  Jesus may be referring to a celebrated case where a man rashly vowed to dedicate all his money to the temple rather than helping his parents with it. The issue would be about what is more important, honoring father and mother with financial support or keeping a vow to God. The rabbis chose the vow. Jesus chose the honor since to do otherwise was to mock the relationship with father and mother.
7:16  This verse is skipped in some translations because of a bias toward the Alexandrian family of Greek manuscripts. As in the case of dining couches, the vast majority of Greek manuscripts have the verse. My rule of thumb is, when a version states that "the earliest and most reliable manuscripts" don't have something, it probably should be included in the translation. When a translation uses that wording, it is a sign that it is submitting to an inappropriate bias toward a very limited number of manuscripts that some have chosen to call "the most reliable." That is an opinion, and a tenuous one at best. But the NIV and the ESV have succumbed to it.
7:19  Cleansing all foods: Legalists (including all those who want to yoke Christians under the law again) would prefer that this verse wasn't here. Remember that Mark was writing to Roman Gentile readers. They put all sorts of things they called "food" in their mouths. Jesus is clearly saying that if you can digest it, it is clean. He is not making some obscure point that the item has to first qualify as food under the terms of the Mosaic Code. That is not what the Greek word for food means, but modern day Christian legalists will often say something like  that simply because they never stop trying. You may continue to enjoy your pork chops without guilt. They are clean for those who are not under the Law of Moses. Of course, the people around Jesus in this incident were still under the Law. They not only would not have understood that Jesus was cleansing all food for the new covenant, Jesus had not yet instituted that covenant.
7:22  Willful Ignorance: In this section of Mark, Jesus refers to thinking, or not thinking, four different times. It is important that he includes willful ignorance in his list of negative things that come from the heart. Those who choose not to use their minds when they approach topics of importance are not being spiritual, they are manifesting a very negative trait.
7:28  House dogs: The word Jesus uses does not refer to the wild dogs that traveled in packs, but rather to puppies, or to a house dog. One of the points of this story is that this woman, through faith, recognized that Gentiles were in the house—and standing on that revelation, she stepped into great faith.
7:30  Collapsed upon the bed: The Greek text indicates that she was thrown there, probably as the demon left. At the time her mother found her, she was resting quietly.
7:33  Held the man's tongue: The Greek word indicates a firm touch or grasp. I chose to translate it as Jesus holding the tongue to emphasize the firm contact. However, he may simply have been pressing down firmly. In any case, I'm sure the man was quite startled by the whole thing.
7:34  Note three reasons why I believe that the best understanding is that Jesus was speaking directly to the infirmity rather than to the man (the Greek could go either way): First, the man was deaf, so Jesus clearly wasn't speaking to him. Second, since Jesus was in the region of the Decapolis (the ten Greek cities), this man most likely did not speak Aramaic, and would not have understood Jesus even if he could hear. Third, Jesus commanded, and the infirmity obeyed the command, showing us to whom or what Jesus was speaking.
——————————————————–
Subscription Notice: I have found that the most dependable way of notifying subscribers of a new post is through email. So I have added an email subscribe option below. Just add your email address and click subscribe (you will receive an email asking you to confirm your subscription—so check your spam folders if you don't). You will receive an email alert whenever I publish an article. Your emails will be used for no other purpose.
Image credit: Randal Cutter/iPhone 6s/Photoshop Oil Paint Filter
Share on Facebook