A Translation of Mark Chapter 8
June 30, 2016, 2:01 pm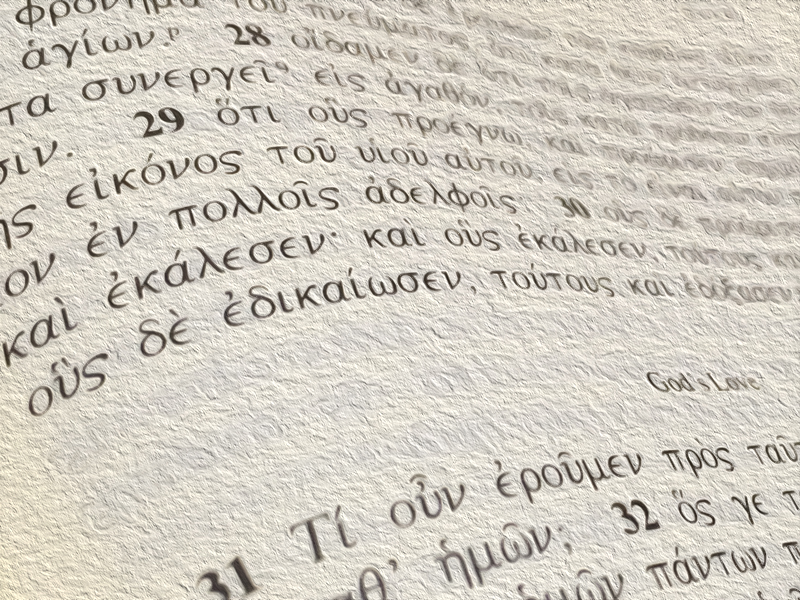 "Jesus knew their thoughts and said to them, "Why have you concluded that I said this because you did not bring bread? Don't you yet know or understand? Are your hearts hard? You have eyes, but do you not see? You have ears, but do you not hear?" (Mark 8:17-18)
Jesus spoke the words quoted above to some very dull disciples. Jesus had already fed the five thousand with five loaves of bread, and the four thousand with seven loaves of bread, and yet the disciples somehow concluded that he would be upset because they forgot to pack lunch.
When we eventually get to watch the video of this scene, I want to listen to Jesus' tone as he spoke these words, and watch the expression on his face. It almost seems impossible that his disciples could have seen the miraculous feedings of such huge crowds of people, and still demonstrated such a focus on the fact that they had forgotten lunch for a dozen or so. That is what makes Jesus' words so poignant. "Don't you yet know? Don't you yet understand? Are your hearts hard? Can't you see? Can't you hear?"
Of course, we can be just as dense as Jesus' disciples. There are so many things that happen around us that demonstrate God's love and presence, and yet we too can focus on the petty needs of the moment, instead of the big picture of what God is doing. It is a part of our human condition. But we don't have to stay there. We can remember what God has done for us in the past, and apply it to our present. That is, after all, what faith does. It lives up to its level of experience of God. If the Lord has moved on your behalf in the past, it is only common sense to expect him to do so in the future. If he has affirmed his love for you during trying circumstance, it is only faith to expect that he will continue to do so.
The disciples demonstrated little faith when they forgot to apply their past experiences to their present circumstance. One way we can avoid this trap is by making a list of times when we just know that God has intervened on our behalf. Then when we pray, we can thank God for those times, and ask him to do it again. I believe he is absolutely thrilled by such prayers since they are manifestations of faith, and we know it is by faith from first to last (see Romans 1:17).
On to our translation:
Mark 8:1-38
A Translation by Randal Cutter
8:1   At that time, a large crowd gathered around Jesus again. Since they did not have anything to eat, he called his disciples together and said to them,
8:2   "I have compassion for the crowd; they have already been with me three days, and they do not have anything to eat."
8:3   "If I send them away to their homes without food, they will become faint along the way; some of them have even come from a long distance.
8:4   His disciples responded to him, "Where would anyone find bread to feed them here in this desolate place?"*
8:5   He asked them, "How many loaves do you have?" They told him, "Seven."
8:6   So he commanded the crowd to sit down upon the ground. He took the seven loaves of bread, gave thanks, broke it into pieces, and gave it to his disciples for them to distribute. Then they distributed the bread to the crowd.
8:7   They also had a few small fish. He blessed them and told his disciples to also distribute the fish.*
8:8   The people ate and had as much as they wanted. The disciples picked up seven larger baskets* of leftover fragments,
8:9   even though there were about four thousand men. After this Jesus sent the people home.
8:10   He immediately embarked in a boat with his disciples, and traveled to the region of Dalmanutha.
8:11   Just then the Pharisees came out and began to badger him, testing him by seeking a sign from heaven from him.
8:12   He sighed deeply in his spirit and said, "Why is this generation seeking a sign? I am telling you the truth, no sign will be given to this generation."
8:13   He left them, boarded the boat again, and crossed over to the other side.
8:14   However, the disciples had forgotten to bring bread, except for one loaf they had with them in the boat.
8:15   At that time Jesus gave them clear instructions telling them, "Watch out for the yeast of the Pharisees and the yeast of the Herodians."*
8:16   The disciples concluded among themselves that Jesus said this because they had no bread.
8:17   He knew their thoughts and said to them, "Why have you concluded that I said this because you did not bring bread? Don't you yet know or understand? Are your hearts hard?"
8:18   "You have eyes, but do you not see? You have ears, but do you not hear? Don't you remember"
8:19   "when I broke five loaves for the five thousand? How many full baskets of fragments did you pick up?" They said to him, "Twelve."
8:20   "When I broke seven loaves for the four thousand, how many larger baskets full of fragments did you pick up?" They said to him, "Seven."
8:21   He said to them, "You don't yet understand?"
8:22   After this they arrived at Bethsaida. The people brought a blind man to Jesus, and urged him to touch the man.
8:23   Jesus took the hand of the blind man, and brought him outside of the village. He spit in the man's eyes, laid his hands on him, and asked him, "What do you see?"
8:24   Then his sight returned, and he said, "I see men walking about, to be specific, I am seeing them like they are trees."*
8:25   Jesus laid his hands on the man's eyes again, and he saw clearly; his sight was fully restored, and he could see everything distinctly.
8:26   After that Jesus sent the man to his own house saying, "Do not go into the village."
8:27   Some time later Jesus and his disciples went out to the villages of Caesarea Philippi. While they were on the road, he began to question his disciples asking them, "Who do men say that I am?"
8:28   They responded to him saying, "Some say John the Baptizer, others say Elijah, and others say that you are one of the prophets."
8:29   He asked them, "But who do you say I am?" Peter answered and said to him, "You are the Christ."
8:30   Then Jesus strongly warned them that they should say nothing to anyone about him.
8:31   He also began to teach them that it was necessary for the Son of Man to suffer many things; to be rejected by the elders, the chief priests, and the scribal scholars; and to be killed and raised to life after three days.
8:32   He spoke this message openly to them, but Peter took him aside and began to rebuke him.
8:33   But Jesus turned his back on Peter, and when he saw his disciples, he rebuked him and said, "Quit haunting me, Satan! Peter, you are thinking from the perspective of men, not God."*
8:34   After that he called the crowd together with his disciples and said to them, "If anyone desires to follow after me, he must deny his own will, take up his cross, and follow me."
8:35   "For whoever desires to save his soul will lose it, but whoever loses his soul for my sake, and for the gospel, will save it."
8:36   "For what benefit is there for a man to gain the whole world and suffer loss to his soul?"
8:37   "For what can a man give in exchange for his soul?"*
8:38   "For whoever is ashamed of me and my words in this adulterous and sinful generation, the Son of Man will also be ashamed of him when he comes in the glory of his Father with his holy angels."
——————————————————————
8:4  Desolate Place: There are two things we should realize. First, the disciples are clearly throwing the ball back into Jesus' court in their response to him. They certainly didn't forget the feeding of the five thousand. In essence, they were inviting him to do it again. The second thing that we can note, is that this miracle is taking place in the region of the Decapolis (the Ten Greek Cities). There can be no doubt that this was a mixed crowd. The feeding of the five thousand was done with a mostly Jewish crowd. The feeding of the four thousand was also an outreach to the Gentiles.
8:7  The fish: Mark makes it clear that the fish were almost an afterthought. It may be that while they were distributing the bread, someone in the crowd let the disciples know they also had some fish. In this way, the fish would have been provided so that they also could be multiplied and distributed.
8:8  Larger baskets: At the end of the feeding of the five thousand, the disciples picked up twelve personal baskets of leftovers. These were the personal baskets that most of the people of the time would take with them when they left their homes. However, in this instance, it is a much larger basket that is used, not the personal one. They may have had far more left over than they had from the first feeding.
8:15  The yeast of the Pharisees and Herodians: In spite of the fact that the Pharisees and Herodians had seen many miracles, they wanted a sign from heaven to validate the signs on earth. The yeast, then, is that thing which works in us so that we do not believe even when we see something obviously supernatural. This is not to say that we must believe everything that people call miracles, but it certainly reminds us that there is a point when you can no longer intellectually deny a miracle, and at that point it is dishonest to require even more proof than has been given.
8:24  I see people walking as trees: I believe that the reason that this is a two-part miracle, is that it is a message about our spiritual journey. When our eyes are first opened, we can see certain spiritual truths, but not others. However, as we grow in our connection to Jesus, our eyes are opened further, and we can see better. This growth in our ability to see helps us see people better (and appreciate who they are even more).
8:33  Jesus turned his back on Peter: I have translated this verse to capture a bit of the activity that is portrayed in the verse a bit more fully. I have often pictured Jesus looking into Peter's eyes and saying, "Get behind me, Satan," as if he were calling Peter by the name of Satan. However, it is clear that Jesus has already turned from Peter by the time he speaks, and although he is certainly rebuking Peter, I am no longer certain he is calling Peter by Satan's name. I have indicated that Jesus may truly be addressing the Tempter first, and then addressing Peter in the second half of his statement.
8:37  Soul: I have deliberately translated the Greek word as soul instead of life as some other translations do, so that we understand Jesus' point. He is speaking to our self-will. The soul is the location of our mind, emotions, and will. We can do things our way, and lose everything even while we live (happiness, satisfaction, contentment). The only path to a happy soul is by denying our own self-will, and doing it God's way.
——————————————————–
Subscription Notice: I have found that the most dependable way of notifying subscribers of a new post is through email. So I have added an email subscribe option below. Just add your email address and click subscribe (you will receive an email asking you to confirm your subscription—so check your spam folders if you don't). You will receive an email alert whenever I publish an article. Your emails will be used for no other purpose.
Image credit: Randal Cutter/iPhone 6s/Photoshop Oil Paint Filter
Share on Facebook