Hurricane Irma Postscript
September 15, 2017, 10:17 am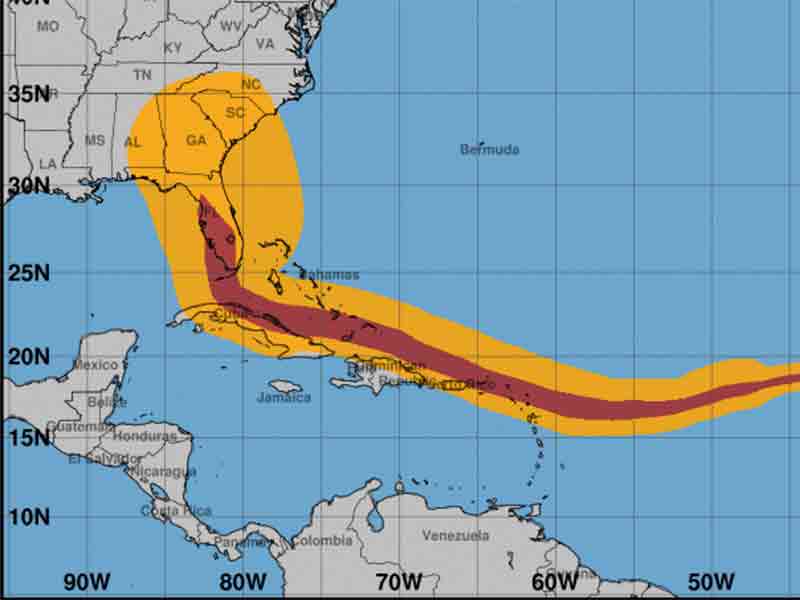 Irma has whirled into history, and has impacted millions of people. My heart goes out to all those who faced Irma's strong winds, and to all those whose homes and livelihoods have been severely disrupted. My prayers also go out to those who have lost loved ones to this storm. I pray that God's peace that passes understanding rest on them. And of course, we are praying for the first responders, the incredible folks restoring the electric grids, and all those providing relief efforts wherever Irma hit. Their efforts are needed, and accomplishing amazing things.
As I write this post, please remember that I am writing from a southeast Florida, Broward County perspective. God puts each of us in a geographical location to defend and protect that location. When I use the Keys of the Kingdom (see my previous post on Irma HERE for a fuller explanation of this type of prayer), my greatest authority extends over my geographical area.
What that means practically, is that while I prayed with millions of people around the world that Irma would not impact the Lesser Antilles, the people with the most authority to pray were the ones who live on those islands. My prayers, and the prayers of those from afar supplement and enhance the prayers of those who live there. I also believe that our prayers have direct impact on preserving lives through these negative events. In this sense, we have tremendous authority, wherever we live, to pray for life, because humanity is one large family.
For us, that means that as we gathered for five evening prayer meetings last week (Tuesday through Saturday evening), we started by praying for the storm to turn north before it struck the islands. We knew the best scenario, and the one everyone was praying for, was that it would turn north and spin out into the northern Atlantic. However, once it slammed the Lesser Antilles with unimaginable force, we shifted our strategy. Once a storm coming across the Atlantic gets through the first islands, there is no place to send it that doesn't impact people. At that point, we stopped praying that it would go in a certain direction, because there were no good choices, but that it would diminish. We also felt that the Lord had shown us that the islands close to us were at risk, so we prayed for the Bahamas at first, and then for the Florida Keys as it slid by the Bahamas.
But through all that, we never forgot our main calling: protect Broward County; pray for our primary area of geographical influence. This truth, that we are the ones with the most authority over our own geographic area, was hammered into me by a spiritual mentor, the late Bob Jones*, who would contact me during every hurricane season to remind me to do this job. Our trust is that other prayer warriors in their geographic areas were doing exactly the same thing. We also knew that many other congregations in South Florida were having prayer meetings, and that millions of people were praying for South Florida during the entire time.
We thank every one of you who prayed on our behalf. Those prayers were invaluable in strengthening all of us for the onslaught of fear released through the media, and through well-meaning folks who felt it necessary to remind us in the strongest terms that our lives were in danger and we should get out. Again, as I wrote in my first post on Irma referenced above, panic and fear had already set in by Tuesday. People didn't have false bravado, but for most, evacuation north is just not an option. There are too many people with too many needs.
Ultimately, like Frances and Jeanne in 2004, Katrina in 2005, and Matthew in 2016, Irma skirted Broward County so that we only received a medium strong tropical storm. The Miami-Herald's headline on Tuesday of this week was: "Irma, at least in Miami-Dade and Broward, wasn't even a Hurricane." To me, that means, our gates were shut to the hurricane. It wasn't pleasant. It was so large that tropical storm winds continued for most of a day, and that accounted for the many trees that went down as the ground saturated with water. But the good news is, in a tropical storm, the tree limbs generally stay on the ground; in a hurricane, they can become missiles and battering rams.
I don't have the time to get into what happened on Florida's west coast, but one forecaster that I read stated that Irma's path "threaded the needle" of the western population centers as it came ashore so that the impacts were less severe than they should have been. The dreaded storm surge, especially for the Tampa Bay area never materialized. Having said that, I can't imagine the rebuilding process that will now need to take place for much of southwestern Florida and the Florida Keys (as well as Cuba and the other impacted islands). Your prayers, along with those who exercise the primary geographic authority, did much to protect life.
Thank you for all your prayers, your support, and your concern. Last week was intense, but I believe we did the job the Lord has called us to do. God is good. Storms like Irma are bad. And we are those who stand in the gap between the good and the bad.
——————————————————–
*Not the Bob Jones of Bob Jones University, but a prophetically gifted man who had major spiritual insight and vision.
——————————————————–
Subscription Notice: I have found that the most dependable way of notifying subscribers of a new post is through email. So I have added an email subscribe option below. Just add your email address and click subscribe (you will receive an email asking you to confirm your subscription—so check your spam folders if you don't). You will receive an email alert whenever I publish an article. Your emails will be used for no other purpose.
Images credit: National Hurricane Center
Share on Facebook