A Translation of Mark Chapter 10
August 17, 2016, 5:27 am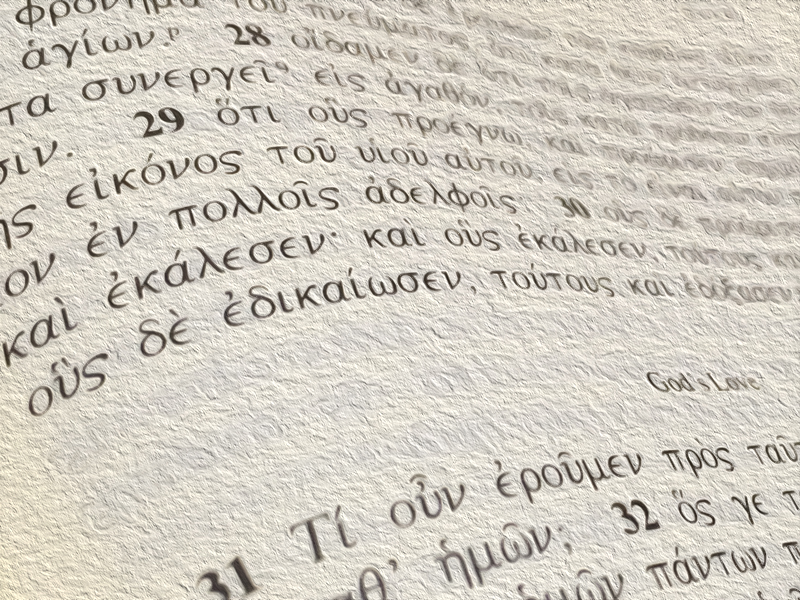 "Whoever desires to be important among you will be your servant. Whoever wishes to be first among you will be a slave to everyone." (Mark 10:43-44)
These verses remind us why human ambition is so toxic in God's Kingdom: It only leads down.
God desires to exalt his people. The apostle Peter wrote,
All of you, clothe yourselves with humility toward one another, because, "God opposes the proud but gives grace to the humble." Humble yourselves, therefore, under God's mighty hand, that he may lift you up in due time. (I Peter 5:5-6 NIV)
God's  job description is to raise us up when we have humbled ourselves. However, when we try to do his job through exalting ourselves, he opposes us. When we do our job of humbling ourselves, God does his job of raising us up. When we do his job by lifting ourselves up, he then opposes our ambition and does our job for us. Since he is so much better at doing our job than we are, we will inevitably end up as a servant or slave to everyone.
In the section of Mark I have translated below, Jesus points this truth out because his disciples were jockeying for position in his Kingdom. They wanted most important seats of honor. Jesus took the time to teach them about the inevitable result of such a quest so that they could avoid it. He is teaching us the same thing today.
On to our translation:
Mark 10:1-52
A Translation by Randal Cutter
10:1   Jesus arose and went from there to the territory of Judea and the regions beyond the Jordan. The crowds gathered around him once more, and as he was accustomed, he again began to teach them.
10:2   When the Pharisees arrived, they began to test him by asking him if it was lawful for a man to divorce his wife.*
10:3   Jesus responded to them, "What did Moses command you?"
10:4   They replied, "Moses permitted the writing of a certificate of divorce so that a man could divorce his wife."
10:5   But Jesus said to them, "He wrote this command for you because of the hardness of your heart."
10:6   "From the beginning of creation, 'He made them male and female.'"
10:7   "'Because of this a man will leave his father and his mother and unite with his wife,'"
10:8   "'And the two will be one flesh,' so that they are no longer two, but one flesh."
10:9   "Therefore what God has joined as a couple, let man not separate through divorce."
10:10   When they were in the house, his disciples again began to question him about this.
10:11   He said to them, "Whoever divorces his wife and marries another woman commits adultery against her."
10:12   "In the same way, if a woman abandons* her husband and marries another man, she is committing adultery."
10:13   At that time, they began to bring small children to Jesus so that he might hold them. But his disciples scolded them.
10:14   When Jesus saw it, he was displeased and said to the disciples, "Allow the children to come to me, do not stop them; for the Kingdom of God is made up of those who are like these children."
10:15   "I am telling you the truth, except you receive the Kingdom of God like a small child, you will never enter into it."
10:16   Then he hugged the children, placed his hands on them, and blessed them.
10:17   Later, while he was going out along the road, one man came running and knelt before him asking him, "Good teacher, what must I do in order that I may inherit eternal life?"
10:18   Jesus said to him, "Why are you calling me good? There is no one good except the one God."
10:19   "You know the commandments, 'Do not murder, do not commit adultery, do not steal, do not bear false witness, do not cheat, honor your father and mother.'"
10:20   He responded to Jesus, "Teacher, I have been careful to keep all these things from my youth."*
10:21   Jesus looked directly at him and felt love for him, so he said to him, "You still need to do one thing. Go and sell everything you own, give it to the poor, and you will possess treasure in heaven. After that, come and follow me."
10:22   The man was appalled by Jesus' statement, and he went away grieving; for he had much property.*
10:23   Jesus looked around at his disciples and said, "How difficult it is for those who are wealthy to enter into the Kingdom of God."
10:24   His teaching astonished the disciples. In response to that astonishment, Jesus again said to them, "Children, how difficult it is to enter into the Kingdom of God."
10:25   "It is easier for a camel to go through the eye of a needle than for a wealthy man to enter into the Kingdom of God."
10:26   The disciples were overwhelmed with amazement, saying to each other, "Who is able to be saved?"
10:27   Jesus looked at them, and said, "It is impossible from men's perspective, but not from God's perspective. For all things are possible with God."
10:28   The Peter began to say to him, "See, we have left everything and have followed you."
10:29   Jesus said to him, "I am telling you the truth, there is no one who has left house, brothers, sisters, mother, father, children or fields for my sake and the sake of the gospel,"
10:30   "who will not also receive a hundred times more now in this age—houses, brothers, sisters, mothers, children, and fields, together with persecutions, and in the coming age, eternal life."
10:31   "For many who are first will be last, and the last will be first."
10:32   At another time, they went up on the road to Jerusalem with Jesus leading the way ahead of them. The disciples were amazed, but those who were following them were afraid. He again took the twelve to the side, and began to explain to them what was about to happen to him,
10:33   "Pay close attention! We are going up to Jerusalem, and the Son of Man will be handed over to the chief priest and the scribal scholars. They will condemn him to death, and hand him over to the Gentiles."
10:34   "They will mock him, spit on him, whip him, and kill him. But after three days he will come back to life."
10:35   After this, James and John, the sons of Zebedee, approached him petitioning him, "Teacher, we want you to do for us whatever we ask you."
10:36   He responded to them, "What do you wish that I might do for you?"
10:37   They said to him, "Grant to us that one of us might sit on your right hand, and one of us might sit on your left hand in your glory."
10:38   But Jesus said to them, "You do not know what you are asking. Are you able to drink the cup which I personally am drinking, or to be baptized with the baptism I myself am experiencing?"
10:39   They responded to him, "We are able." Jesus said to them, "You will drink the cup I personally am drinking, and you will be baptized with the baptism that I myself will experience."
10:40   "But the ability to sit on my right or my left is not mine to give, but it is for those for whom it has been prepared."
10:41   When the twelve heard, they began to be angry with James and John.
10:42   However, Jesus called them and said to them, "You know that those who are recognized as rulers of the Gentiles reign over them, and their important men exercise authority over them."
10:43   "This is not the way you are to do it. Instead, whoever desires to be important among you will be your servant."*
10:44   "Whoever wishes to be first among you will be a slave to everyone."
10:45   "For even the Son of Man did not come to be served, but to serve and to give his life as a ransom price for everyone."
10:46   At that time they arrived at Jericho. While Jesus, his disciples, and a large crowd were leaving Jericho, Bartimaeus (the Son of Timaeus), a blind beggar, was sitting along the road.
10:47   When he heard that Jesus the Nazarene was there, he began to cry out and to say, "Jesus, Son of David, have mercy on me!"
10:48   Many in the crowd were admonishing him to be quiet. But he cried out even more, "Son of David, have mercy on me!"
10:49   Jesus stopped and said, "Call him." They called the blind man telling him, "Take courage. Get up. He is calling you."
10:50   He threw off his cloak, jumped up, and came to Jesus.
10:51   Jesus responded to him and asked, "What do you wish that I do for you?" The blind man said to him, "Rabbi, that I might see again."
10:52   Jesus said to him, "Go! Your faith has rescued you." Immediately he was able to see, and he began to follow Jesus on the road.
——————————————————————
10:2  Testing Jesus: Since Jesus was in Herod's territory, there is relevant conjecture that those who opposed Jesus may have hoped that he would refer to Herod's adulterous union, as John had done before Herod put him in prison. Herod had divorced his wife, and Herodias had abandoned her husband. It would have been a natural application.
10:12  If a woman abandons her husband: Jesus uses the same verb in verses 11 and 12. The verb is usually translated "divorce" in a context about marriage. However, in Jewish culture a woman had no right to divorce. Her husband could divorce her, but she could not divorce her husband. The people around Jesus would have understood the word to mean "abandon" since that is all a woman could do.
10:20  From my youth: He is referring to the time he was considered responsible under the Law, about age thirteen.
10:22  He went away grieving: Jesus had taught that we must become like children to enter the Kingdom. If you gave a child a simple formula to achieve his goals, that child would rejoice that the path was clear and obvious. This man could not rejoice, because he was not like a little child. He allowed his fears for the future, and his appreciation for his wealth, to compromise his ability to enter the Kingdom.
10:25  The eye of the needle: It has become popular to teach that Jesus was speaking about a camel kneeling to get through a Needle gate. I will quote from a commentary on the topic, "As Rawlinson (p. 141) says, it [the idea of a camel kneeling to enter a needle gate] has 'no authority more trustworthy than the imaginative conjectures of modern guides to Jerusalem.'"
10:43  Will be your servant: Jesus uses the future tense of the verb here. Many translations choose to translate the future as an imperative ("Must be your servant") believing that Jesus was giving a command about how to become first in the Kingdom. I have translated it as a simple future rather than a command on how to achieve our ambitions to be first. Anyone who desires to be important in the Kingdom, will inevitably slip to the position of a servant. Anyone who desire to be first, will inevitably become a slave.
——————————————————–
Subscription Notice: I have found that the most dependable way of notifying subscribers of a new post is through email. So I have added an email subscribe option below. Just add your email address and click subscribe (you will receive an email asking you to confirm your subscription—so check your spam folders if you don't). You will receive an email alert whenever I publish an article. Your emails will be used for no other purpose.
Image credit: Randal Cutter/iPhone 6s/Photoshop Oil Paint Filter
Share on Facebook