Sowing and Reaping
May 12, 2010, 10:21 pm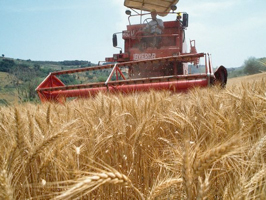 Last Sunday I spoke on the topic of sowing and reaping as a part of a mini-teaching during the offering (teaching available HERE). As the Lord has been renewing my confidence in the grace he has been extending to this nation (see post on this topic HERE), he has also been increasing my confidence in the specific grace that he is extending to his people. This grace is being released in many different ways, but I believe he especially wants to steady the economic ship of his people. Many of his people have experienced economic tremors along with our nation. I believe he is releasing grace to counter this problem so that we can become hilarious givers again.
He is using the principle of sowing and reaping to release this grace. Seedtime and harvest is a creation principle that is specifically restated to Noah after the flood:
"As long as the earth endures, seedtime and harvest,
cold and heat, summer and winter,
day and night will never cease."
(Genesis 8:22)
Paul, the apostle, makes certain that we understand that this principle also applies to our finances:
So I thought it necessary to urge the brothers to visit you in advance and finish the arrangements for the generous gift you had promised. Then it will be ready as a generous gift, not as one grudgingly given. Remember this: Whoever sows sparingly will also reap sparingly, and whoever sows generously will also reap generously. Each man should give what he has decided in his heart to give, not reluctantly or under compulsion, for God loves a cheerful giver. And God is able to make all grace abound to you, so that in all things at all times, having all that you need, you will abound in every good work. (2 Corinthians 9:5-8)
In this section of 2 Corinthians, Paul was speaking about a special offering he was taking for the saints in Jerusalem. As he explained the benefit of giving into such offerings, he invoked the principle of sowing and reaping. He wanted the Corinthians to understand the benefits of sowing into such offerings. The money we give is like seed that we sow. When the farmer sows a small amount of seed, he will not reap as much as if he had sown a larger quantity of seed, even if he has a spectacular return on each seed planted. That is a basic principle of our over-and-above giving (as opposed to our tithes/firstfruits giving, which has a whole different creation principle associated with it).
As Paul teaches on this principle, he adds that God loves a cheerful (more graphically: hilarious) giver. When you factor in what Paul says a little bit later about God's plan for this type of giving, you understand why we can be cheerful. He adds this eye-opening point:
Now he who supplies seed to the sower and bread for food will also supply and increase your store of seed and will enlarge the harvest of your righteousness. You will be made rich in every way so that you can be generous on every occasion, and through us your generosity will result in thanksgiving to God. (2 Corinthians 9:10-11)
Paul clearly teaches that God supplies the seed for us to sow. In fact he states that God will supply seed to sow, and will increase the amount that we have, so that we can generously sow even more and receive an even greater return.
But here is the key that trips most Christians up: When God supplies seed to sow, we often mistake it for bread for food and eat it, thus stopping the increase of our seed.
So, our critical need is discernment. If God is going to steady his people's economic ship using the principle of sowing and reaping, we need to be able to tell what is seed and what is bread.
Our normal paycheck is most often our bread for food (though if we make an abundant amount more than we need to live on, a large portion of that may also be seed). We give firstfruit offerings (tithe) on our normal paychecks and the protective blessings recorded in Malachi are released:
Test me in this," says the LORD Almighty, "and see if I will not throw open the floodgates of heaven and pour out so much blessing that you will not have room enough for it. I will prevent pests from devouring your crops, and the vines in your fields will not cast their fruit," says the LORD Almighty. (Malachi 3:10-11).
That is an incredible promise. I love it when my car doesn't break down, when my clothes don't wear out, and our appliances are not acting up. Tithing is like an extended warranty service on our lives.
However, when we want to see increase, the principle of sowing and reaping gives us the key to our strategy. We need to identify our seed and sow it in faith that God will honor his promises. His promise is that he will increase our seed for sowing and will enlarge our harvest on every righteous level.
So here is our strategy to live above the economy in our country no matter what it is doing: Generous giving. But some of you who are reading this have been shaken by the economy and don't think you have any seed to sow. The answer is simple; ask God for some. He will give you seed. You will sow it. You will see a return. You will sow even more. You will see a return. You will cheerfully sow even more as your faith grows incredibly.
In this fashion, hilarious giving is just around the corner. And so is economic stability.
Might I be so bold as to suggest that if you do not have good ground into which to sow, you will find good ground at New Dawn Community Church. You can make online donations at the bottom of our "Contact Us" page located HERE. However, if you have a church in which you are a member, make certain to find special funds that they have running, or simply give over-and-above into their regular offering. You, and they, will be blessed.
Share on Facebook