Hurricane Matthew Report
October 7, 2016, 12:09 pm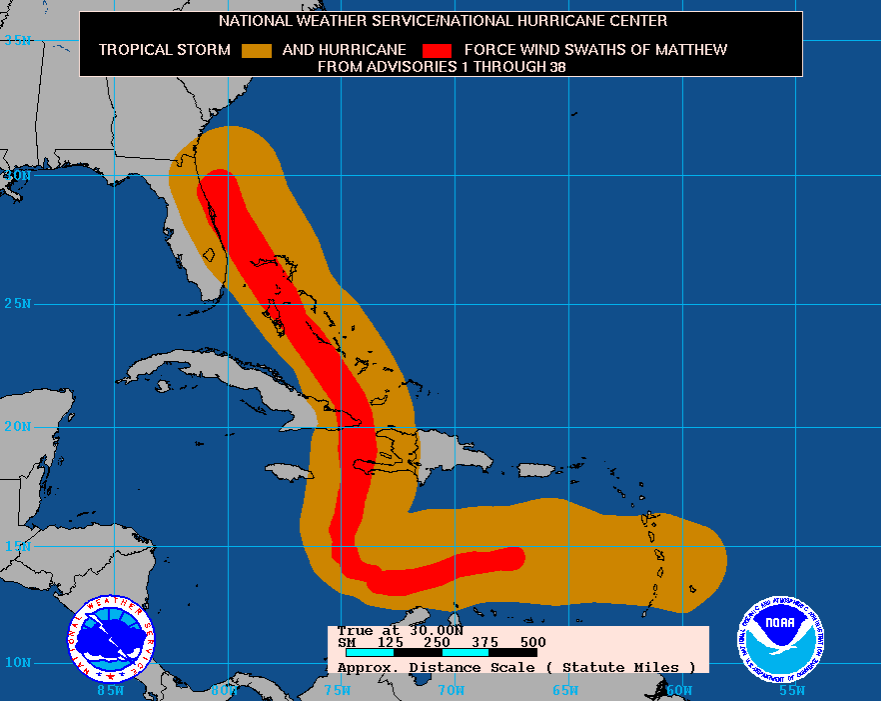 Almost from its inception, Matthew drew people's attention. Its quick development in the face of strong shear will be cause for much discussion in the scientific community in the days ahead.
Although our congregation held three evening prayer meetings (Friday, Tuesday, Wednesday), I haven't posted on Hurricane Matthew, simply because of a hectic schedule (including those prayer meetings).
I wanted to send this update to all those who were praying for us, and to thank you for the prayers. As you can see from the wind field graphic to the left, hurricane force winds (the red line in the graphic) did not come to South Florida. It appears at this point, that the storm will not make landfall in Florida, and perhaps it will not make landfall in the United States on this pass. Obviously, there is still room to pray for those who continue in harms way. Hurricane paths are tricky things, and it could yet make landfall. There is also room to act, as Haiti, Cuba, and the Bahamas did not fare as well with this storm as we did yesterday. Please be generous as you consider how to help those who have been harmed.
If you don't know where to give, consider Food for the Poor (Click Here for their website). Several of my congregation members have worked there over the years (some still do), and it is a worthy charity that helps the people of Haiti and other poor nations in many different ways.
Thanks again for the prayers, and the well wishes. They are appreciated.
——————————————————–
Subscription Notice: I have found that the most dependable way of notifying subscribers of a new post is through email. So I have added an email subscribe option below. Just add your email address and click subscribe (you will receive an email asking you to confirm your subscription—so check your spam folders if you don't). You will receive an email alert whenever I publish an article. Your emails will be used for no other purpose.
Image credit: NHC
Share on Facebook