A Whale Watches Over Israel
May 14, 2010, 3:30 pm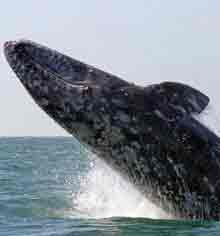 A friend sent me a link to this article the other day. The article is entitled, "Scientists stunned as grey whale sighted off Israel." This doesn't appear to be earthshaking news, except that the Lord has been speaking to us about whales for the last year or so. In the imagery of the prophetic, at least as the Lord has been speaking to us, he and his purposes have been represented by a whale.
So the article is certainly intriguing. It starts out by saying, "The appearance of a grey whale off the coast of Israel has stunned scientists, in what was thought to be the first time the giant mammal has been seen outside the Pacific in several hundred years."
This certainly is interesting timing, especially when you factor in recent reports that Israel is under threat of imminent attack by its enemies (See this nine minute video for an explanation of the threat). Those of us who recognize that God wants to communicate with his people using whatever means is at hand, certainly are alert to such juxtapositions of content. One report tells us that Israel is under threat, the next report is that a gray whale, not seen outside of the Pacific Ocean for several hundred years, just happens to show up off the coast of Israel. Add the fact that God has been using the whale to speak of his provision and protection, and you have a prophetic picture to share.
We live in times where tensions can flare up at any moment. Isn't it good to know that the Lord is on the job?
Share on Facebook