This Hurricane Season
May 25, 2010, 3:43 pm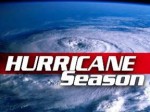 Well, the good news is that we have tremendous authority. The even better news is that we will have opportunity to exercise that authority this season!
Excited? Well, we should be. We are told that in the book of Daniel, that as we approach the difficulties that accompany the end of our age, ". . . the people who know their God shall be strong, and carry out great exploits" (Daniel 11:32 NKJV). It looks like we will have an opportunity to do exploits this hurricane season.
I am at the MorningStar Fellowship of Ministries conference. I am enjoying renewing many relationships, but I am also paying close attention to what the Lord is saying in this setting. Bob Jones spoke this morning. He told us that years ago the Lord had shown him a demon in the gulf that would feed on oil. He believes that the oil spill that is out there now is a fulfillment of that revelation. He also mentioned that the Lord had shown him that another demon would rise up in a hurricane to the south of the oil spill, and would become a major threat in the area.
I also met with Bob briefly, and he concurred with my assessment when I said that the Lord was showing me we would have an active season.
This is probably a great time to remind everyone that we have set the first and third Friday nights of June to pray over the hurricane season. We have been given some targets. It is time for exploits.
Share on Facebook