The United States' Glory
May 20, 2010, 12:12 pm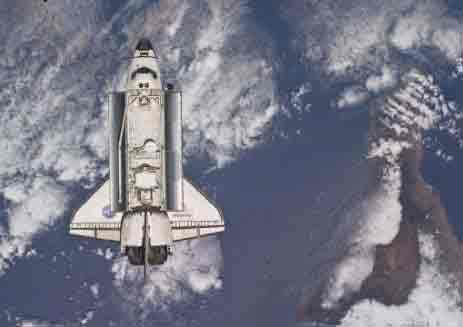 I had a dream the other night that speaks about the path the United States is charting at this moment. It was encouraging, but it also was firmly steeped in the reality of our current situation.
In the dream I was watching the space shuttle as it was lifting off. As usual it was an impressive sight. However, as it got further up into the higher atmosphere, it began to fly erratically. Then it eventually took a downward turn and descended on a flight path toward a crash landing. At that point in the dream, an elderly intercessor I know was called on to go in and pick up the pieces.
Encouraged yet? First, be aware that I do not believe this is about an actual shuttle launch. We have had some tragedies with our shuttles, and we certainly do not want another. However, the space shuttle has been one of those premier evidences of the preeminent glory of the United States in the world. When I have a space shuttle dream, it is usually about what is going on in the United States.
The shuttle's launch represents the founding of our nation. That makes perfect sense when you realize that the shuttle's launch requires an amazing amount of energy, a lot of shaking, and a slow build up of momentum. You could use that same description to refer to the founding of our nation.The picture still works for the subsequent history of our nation when you recognize that as the shuttle picks up momentum, the ride smooths out a bit, and great distances are covered in little time. You could easily build a time-line of the United States that reflects such shaking, followed by major advances in short periods of time.
At this point, you might be focused on the crash. Don't be. All nations eventually crash. They plant the seeds of their own destruction or dissolution through unwise policies adopted while they are attempting to achieve orbit. Nations do reap what they sow. Since most nations eventually turn away from the wisdom of biblical moral and economic principles, they will eventually harvest decay and even destruction. So, of course the United States is going to end its "glory tenure" at some point in the future. Our prayers (as U.S. citizens praying for the good of our nation) are that it is later rather than sooner. However, even when that day comes, there is hope for the United States. The elderly intercessor in the dream represents Godly wisdom "picking up the pieces" of the United States' standing and position in the world, and building anew.
At this point in our history, I believe that we are on the erratic part of the path. In that part of the dream, the shuttle's flight path began to become wildly erratic. During that time it was still ascending for quite a long time. However, it certainly didn't look very pretty.
I believe that this dream is a message that the United States isn't about to lose its preeminent position among the nations just yet. From administration to administration, and decade to decade, we may have challenging policy shifts that could cause whiplash to those who are not properly "belted in." But for those who are part of God's intercessory Kingdom that cannot be shaken (the "belted in" ones), we will always be around to pick up the pieces after man's wisdom runs out.
I am encouraged by this dream. It recognizes the fickle nature of our current policies, and indicates that not even this will stop the United States' continued climb in the near term. However, inevitably, we will eventually reap what we have sown, and lose that status. It won't be a swift fall as we follow a descending path, but it will be steady. After that, intercessors will undergird the next phase of our nation's history.
So what is the application of the dream? I believe that the Lord is helping us understand that substantial swings in our country's political and economic climate are going to be a normal part of our future. If we take our stand on the rock, we will not become disoriented or distracted. Since his Kingdom cannot be shaken, the sudden course changes will only unsettle us if we allow them to do so. If we stay in peace, we can thrive and prosper through the continued, erratic ascent of our nation.
Share on Facebook