Watching the Lightning
May 30, 2010, 8:14 am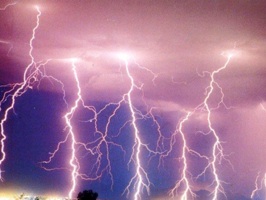 A few months ago the Lord repeated something that he has been speaking to us. He told us to watch the lightning activity this year. He spoke of a cleansing (natural and spiritual) that he would release through it. I posted two articles on it HERE and HERE.
I was reminded of this direction as Bill Perry and I drove into Hartsville, SC on Friday afternoon. Hartsville had an unusual weather event going on this past Friday. A thunder storm developed over it and sat on it for four hours or so. There was intense rain and lots of lightning. When we checked the weather radar, we noted the storm was circulating in an odd fashion that kept it stationary over Hartsville.
When we drove into town, we could not get through to our destination because lightning had struck an outbuilding at the site of a Hartsville landmark, and fire equipment was blocking the road. Complicating matters, the local high school's graduation was scheduled, and traffic piled up on the streets of this normally quiet rural town so that you could not get there from here ("there" meaning: anywhere you really wanted to go).
Through it all, the lightning kept hitting loudly in close proximity. I can miss key prophetic indicators just like anyone else. But when an unusual weather event sits on top of your head for hours, and gets the whole town buzzing about it, it is pretty hard to miss the prophetic neon sign flashing, "Pay Attention! This is a Message!"
What is the message? That God is moving in this area. That cleansing is coming in new and fresh ways. I'll leave the application up to Bill and the others who labor in the area, since they know the needs better than I do. However, I did see one headline about the weather that read, "Hartsville High postpones 2010 graduation." In the article, the NBC affiliate from Myrtle Beach reported that the graduation was postponed until Saturday morning because of the inclement weather.
There could be a message in that for all of us. We all want desperately to graduate into the things of God's Kingdom. We want to get our spiritual diplomas and get on with our callings. We certainly do not want any delays. However, God is thorough, and he will complete every last bit of his preparation so that the ground is completely prepared for our advance. From our perspective, it may delay things a bit, and it may look like inclement weather. But once the cleansing is past, we can move on with our callings, and graduate into the freshness of a rain-washed morning on a beautiful day in May in South Carolina.
From South Carolina: I'm watching the lightning.
Share on Facebook