Risking Much in the Gulf
June 1, 2010, 9:08 pm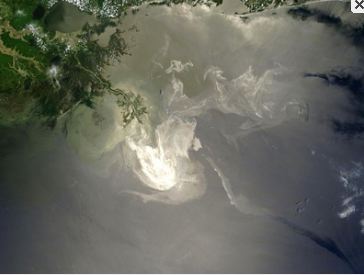 The latest news out of the Gulf of Mexico is that British Petroleum is attempting a "cut and cap" procedure on the gushing oil well. This procedure is intended to cut off the damaged pipe that is spewing oil, and then capping it. Oil industry analysts have described this attempt as risky. It is risky because it will initially increase the discharge of oil by about twenty percent. It is also risky because the equipment hasn't been used at the depths they are now working. BP issued a statement that reads in part:
"Systems such as the LMRP containment cap have never before been deployed at these depths and conditions, and their efficiency and ability to contain the oil and gas cannot be assured."
Hmm. Let me get this straight. They are attempting a procedure that will increase the oil flow by twenty percent, and they are already making excuses for why it will not stop the oil.
I had an opportunity to speak to Bob Jones about the oil spill this past weekend. He told me that this was an extremely dangerous situation and that only God will be able to stop the oil flow (in answer to prayer). He also told me that BP could make it a lot worse as they attempt to seal the well.
What that means is that we need to pray fervently that the Father give those in charge the wisdom and skill necessary to stop this thing. If human skill cannot stop it, then we must ask for divine intervention. We also need to continue to pray for the shore lines, spawning grounds, and fisheries in harms way.
This is an environmental and economic catastrophe occurring in slow motion. We need to use our authority and pray that it stop.
Share on Facebook