An Important Date I Almost Missed
June 4, 2010, 6:29 pm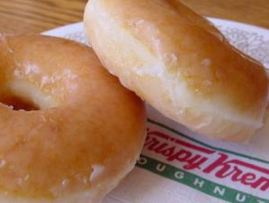 Today is National Doughnut Day.
Let that bit of splendid news sink in.
I didn't realize that we have a day dedicated just to doughnuts, but now that I think about it, it is a great idea. We have been told ad nauseam that the food we eat is going to kill us. When we eat a doughnut, we have been programmed to say, "This isn't really good for me," even though all food is sanctified by prayer and thanksgiving for healthful use. This "death in the doughnut" approach to food is a bit of grace-stealing legalism that most Americans enjoy . . . almost as much as they enjoy doughnuts.
So, enjoy National Doughnut Day. Eat boldly and in faith, without fear for your health. Don't eat too many, though. While I have lots of faith for benefit from the food we eat, I haven't yet figured out how to stop doughnuts from appearing around my waist if I eat too many. I suspect you are the same way.
And since many of those reading this article will have missed the actual day of the event, I, by the power invested in me as a grace loving, faith living doughnut connoisseur, declare that tomorrow is "Second Chance National Doughnut Day" for everyone who missed today's festivities.
Share on Facebook