The BP Oil Spill and the End of the World
June 21, 2010, 10:28 pm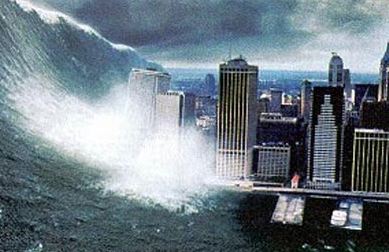 I knew the title would get your attention. I think it is a good title simply because I have done a lot of reading today on the BP oil gusher in the Gulf of Mexico. Depending on what sites you visit, the spill is either a terrible environmental disaster, an apocalyptic fulfillment of prophetic scriptures, or the end of all coastal communities around the gulf up to fifty miles inland (except for Florida, which will be total toast).
As I have perused these sites today, I have seen recommendations for all families with small children to leave the gulf coast, as well as recommendations for everyone to leave Florida. Fortunately, none of these recommendations are coming from credible authorities, or anyone who isn't obviously dealing with a spirit of fear, manipulation, or in some cases, an obvious case of emotional instability. I have also noticed sites that are publishing lurid scenarios in an attempt to boost their page count and make more money on their advertising (people can be wicked).
My favorite scenario involves a volcanic steam reaction at the bottom of the gulf that sends a tsunami of between twenty and eighty feet in height that totally destroys Florida. One person who posted this stated that this makes sense because Florida is only a couple inches above sea level. The folks in Orlando, at 106 feet above sea level, would be a bit surprised to hear that. Florida's mean elevation is 98 feet above sea level. Even in southeast Florida, where things are pretty low, we are more than a "couple inches" above sea level (Coral Springs is at thirteen feet above sea level). The idea that an eighty foot tsunami would devastate all of Florida is ludicrous beyond belief, and yet it is being spread by email and web site posts even as you read this. Fear does not have to be rational.
I did a bit of study on how far a tsunami would travel inland in Florida. As I looked around, I noted that even the scientists that have promulgated the Canary Island Tsunami canard (an impossible scenario that cable television runs again and again for ratings) have the decency to point out that a 50 meter (164 feet) high tsunami smashing into Florida would only inundate a couple of kilometers of coastal area (slightly over a mile inland). Anyone that states that an oil/steam/methane (take your pick) explosion in the gulf would generate a tsunami that would destroy Florida is writing fiction. Unfortunately, when you haven't taken the time to research the scenarios, that fiction can stir a lot of fear and anxiety in people.
The BP oil spill is bad. It will probably get a lot worse and it could change all of our lives for the worse in some ways. However, we must respond to that bad news with focused prayer, not fear. We don't need to make things up about it, nor do we need to listen to those who do. When Bob Jones spoke to me about this in May, he told me that it was worse than most people realized, and that we needed to persevere in prayer over it. We will need God's help to stop this thing. He responds to faith. Let's stay far away from the fear. After all, it is not the end of the world.
Share on Facebook