Hurricane Alex/The Rest of the Season
June 30, 2010, 10:14 pm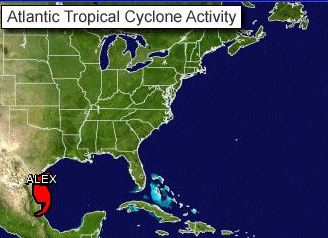 As I write this, Hurricane Alex is just coming ashore along the Mexican coast about 110 miles south of Brownsville, Texas. Alex is a category two hurricane with sustained winds of 100 mph. While it can't be pleasant on the Mexican coast, and we will know tomorrow whether this barely-category-two storm does any serious damage, we can certainly thank the Lord for his mercy. If Alex had gone up through the oil mess in the northern gulf, things would be even worse than they are.
It certainly is too soon to celebrate, especially since the Lord showed Bob Jones a major hurricane in the gulf for this year. Since these things are not normally foreordained, bur rather warnings for the purpose of prayer, we can certainly continue to pray for mercy, joining with like-minded people of faith to establish a hedge of protection in the northern gulf. We also can already start praying against any hurricane attaining major hurricane status in the gulf this season.
The Lord hasn't spoken to me personally about hurricanes this year that I am aware. However, he did tell Bob Jones about one that we must be concerned about. While Bob has never told me the name of a hurricane that is coming our way, he has accurately predicted seasons that we were in harms way. So I respect Bob's prophetic warning, and as in the past, expect to be able to turn any storms away from our immediate area of responsibility through focused prayer. Intercessors to the north and south of our area should already be praying to deflect this storm from their shores. It is always encouraging to see a storm turn from our coast, but it is never fun to see it make landfall further up the coast. Please pray that the Lord raise up intercessors all along the coast of Florida (and beyond) to turn any storms away.
Back in 2002 a friend of mine had a dream that Hurricane Irene's sister was coming. Those of you who remember the Irene saga (read about it HERE), know that Irene's sister is Bonnie. The dream did not give any time frames about Bonnie. But in the cycle of hurricane names, the last time the name Bonnie was used was in 2004. There was a tropical storm Bonnie that season, but it did not come anywhere near us. Now that Alex has been named, the next named storm will be Bonnie. Of course, we don't know if this Bonnie is the one mentioned in the 2002 dream, but it at least piques our interest about this next storm, and keeps us on prayer alert. I'm letting you know about this dream so that you might be on prayer alert with me.
I'll share more about this season as it develops. In the meantime, keep praying for mercy and grace.
Share on Facebook