44th Presidential Term
July 2, 2010, 10:20 pm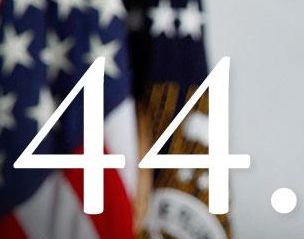 For many years the Lord has spoken to us—and many other Christians—using the number 44. In essence, he helped our congregation understand that the number represents dying-to-self in order to release the power of God. He showed us that self-sacrificial action (the epitome of true agape love) would release the promise and power of his kingdom.
He also showed us that if you do not voluntarily fall on the rock in order to be broken (dying-to-self), that rock will fall on you and you will be crushed to pieces (see Luke 20:17-18). The number 44 then, is a powerful symbol of God's people releasing his Kingdom while they sacrificially serve him. It is also a powerful symbol of what happens when we choose not to do it God's way.
The Lord has reiterated this message to us through the number 44 repeatedly. For that reason, even before our current president was elected, I was looking toward the term of our forty-fourth president with interest and concern. On the one hand, with the correct president—meaning one who was willing to fall on the rock—I believe there would have been great opportunity for advancement in our nation. On the other hand, with a president who would not fall on the rock, I believed our nation would go through some difficult times as rocks of humbling began to do their work of drawing our attention back to God.
I think most who are reading this blog understand which direction we have gone.
All of the above is a precursor and explanation for what I am about to write. Many prophetic people and atmospheric prognosticators have declared that we are in for a difficult hurricane season. I have been feeling the same thing. I think that Hurricane Alex has put the exclamation point on that feeling. The following is part of a report I read this evening on the Weather Underground site:*
Hurricane Alex, the strongest June hurricane in 44 years, is now Tropical Storm Alex,
thanks to passage over the rugged terrain of Mexico. Alex made landfall at 9pm CDT last
night, 110 miles south of Brownsville, Texas, as a Category 2 hurricane with 105 mph
winds. Alex was the strongest June hurricane since Hurricane Alma of 1966,
which had 125 mph winds as it skirted the west coast of Florida.
Hurricane Alex was the strongest June hurricane in 44 years. So the first hurricane of this season is the strongest in forty-four years. Hmm. I say, "Hmm," because hurricanes make some mighty big rocks.
Keep praying for mercy and grace during this season. Even if our nation must have some rocks fall on it, members of God's Kingdom—those who have fallen on the rock—will experience something far different as we intercede for our nation. We will see his Kingdom come.
————————————————————-
*As you read the report from Weather Underground, it is obvious that it was written on Thursday morning, July 1. I didn't see it until this evening, and the interesting thing is, I should not have seen it today. I selected Dr. Jeff Master's current (July 2) report. Somehow I got to the July 1 report instead, which starts out with the words above. I have not been able to reproduce the error that lead me to the July 1 report. I believe the Lord wanted me to see it because of the message it contains. He wants his people praying to turn these storms away from our areas of authority. A humbling may be coming through these storms, but that humbling does not have to happen in our areas of influence. This calls for dying-to-self and praying ardently for the safety of our coastal areas. The very message of 44.
Share on Facebook