Untangling the Mess
July 8, 2010, 11:32 am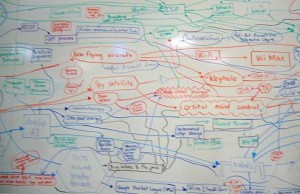 I want to share an encouraging thing that the Lord spoke to us this week: He is going to untangle the mess that is the current situation in the United States.
I am encouraged by this word because of the many strands and tentacles of deceit, manipulation, and control that have developed from the top down in our government and institutions. We, along with many other Christians, have been praying that the Spirit of Truth would move on our land. While we have certainly seen the Spirit revealing truth on a national level, it has been amazing to see what is happening even at the local level. Corrupt officials are being revealed at a startling rate as charges are filed against them. Of course this can make us wonder if we will ever be able to deal effectively with the corruption, deceit, manipulation, and control that has co-opted so many in our government. As the Spirit of Truth moves, the enormity of the situation is revealed. It can be more than a little discouraging.
Then when one turns to the national scene, things appear even worse as we find that the change promised to our nation involves a fundamental shift away from the Lord. I do not often get a chance to watch television news or commentary during the late afternoon or early evening hours, so I rarely have an opportunity to catch one of Glenn Beck's programs. But on occasion I have had opportunity to see the tangled mess of political collusion and conspiracy that Glenn portrays on his whiteboards. If he is even half right, things have grown so messy and so overgrown with Satan's agenda that it appears that we may never be able to right this ship. I have literally wondered if we were ever going to see it all untangled.
And then God speaks, and my faith in his future plans for our nation are restored. He does intend to let his light shine on and through this nation once again.
His mercy is overwhelming. His wisdom if infinite. When you put these two things together, we can look forward to better days for this nation and this world. He is able.
Share on Facebook