Nation will Rise Against Nation
July 22, 2010, 7:43 pm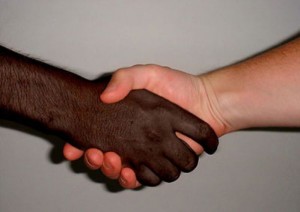 For all of the supposed distance the United States has come in race relations, the news is currently filled with reports of racial animosity. Of course, this should not be a surprise to those who understand human nature. Apart from the Holy Spirit's sanctifying power, we are a desperately fallen people who gravitate toward wickedness. While this wickedness comes out in many different ways, it easily and naturally manifests itself against those who are different than we are.
Many intercessors have been praying for a long time about the state of race relations in the United States. After a brief post-presidential election détente, we have again slipped. It feels like we are becoming more polarized rather than less. That is certainly Satan's plan. He is always trying to light fuses that will explode into racial violence.
Jesus has raised up peacemakers to counter Satan's plans. We certainly need to pray against flash point incidents that will spark racial violence, but we also need to continue to pray that the Lord release peacemakers who can make a difference. In Matthew 24:7 Jesus said that nation would rise against nation. The Greek word that is equivalent to our word "nation" is ethnos. That Greek word has come into our language in a way that reminds us that ethnic divisions started out as divisions between nations, and those divisions, rivalries, and tensions can easily flare up again. In fact, Jesus assures us that this will be the case as times reach their fulfillment.
So we must pray, against flash points and for peacemakers.
Blessed are the peacemakers,
for they will be called sons of God.
(Matthew 5:9)
Share on Facebook