Bonnie Pays a Visit
July 23, 2010, 12:00 pm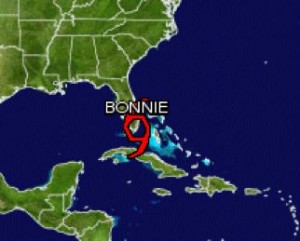 I spent a rather soggy morning playing parking lot attendant at the Coral Springs Aquatic center. Our swim club is hosting a Senior Championship meet through this weekend, and parents of swimmers are the volunteer workers that make the event possible. Tropical Storm Bonnie began its South Florida swing just after I took my post. I can tell you from up-close-and-personal experience, it has been very wet and rainy since then.
If you read my post from June 30th of this year, you were watching to see if Bonnie would come to South Florida (see post HERE). At that time I wrote:
Back in 2002 a friend of mine had a dream that Hurricane Irene's sister was coming. Those of you who remember the Irene saga (read about it HERE), know that Irene's sister is Bonnie. The dream did not give any time frames about Bonnie. But in the cycle of hurricane names, the last time the name Bonnie was used was in 2004. There was a tropical storm Bonnie that season, but it did not come anywhere near us. Now that Alex has been named, the next named storm will be Bonnie. Of course, we don't know if this Bonnie is the one mentioned in the 2002 dream, but it at least piques our interest about this next storm, and keeps us on prayer alert. I'm letting you know about this dream so that you might be on prayer alert with me.
I think we can safely say that the dream was about this Bonnie. When I posted about this on June 30, I didn't share the details of the dream. However, the dream didn't call Bonnie a hurricane, only a storm. To me that meant that if it came to visit, it would only be a tropical storm rather than a hurricane. Anyone who lives in South Florida knows that our area can easily weather a tropical storm because of the hurricane building codes. We certainly respect tropical storms, but we don't normally call special prayer meetings about them. When Bonnie formed yesterday we paid close attention to it, but it was obvious that it was only going to be a tropical event by the time it came calling here.
Current forecasts do not indicate that Bonnie will become the major storm that Bob Jones prophesied in the gulf for this year. However, my prophetic ears are piqued by the fact that the Lord drew our attention to this apparently minor storm. Perhaps it will need some focused prayer before it dissipates. I pray that the forecasters are correct, and that this storm will degenerate even further and become a non-event.
Share on Facebook